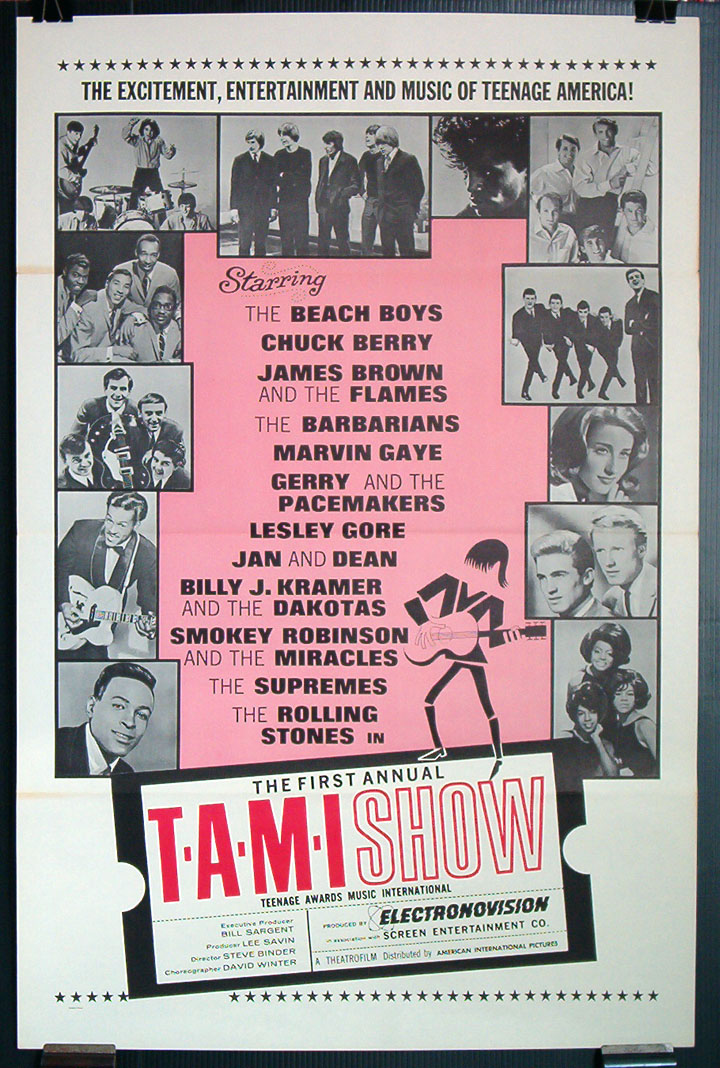 Imagine this concert bill: The Rolling Stones, James Brown, the Beach Boys, Supremes, Chuck Berry, Marvin Gaye… and that's not all. If you want to experience the vitality of rock, pop and soul in the mid-1960s, The T.A.M.I. Show has it.
The seminal live concert film was lensed on October 28 and 29, 1964 at the Santa Monica Civic Center and released theatrically two months later on December 29. After its initial run, it wasn't released again officially until 2009 when Shout! Factory issued The T.A.M.I. Show on DVD. But bootlegs and word-of-mouth made it a legend.
The acronym name alternately stands for "Teen Age Music International" and "Teenage Awards Music International." The enthusiastic audience were recruited by handing out tickets at Los Angeles area high schools.
The Rolling Stones were on their first tour of America, and Keith Richards has said that following James Brown was one of the biggest mistakes of their career. After seeing J.B.'s taut, dynamic performance backed by the Famous Flames, one can understand why Richards might say that. (Watch them below.)
Brian Wilson was soon to retire from live performing with the Beach Boys, and their harmonies live on stage were a thing of wonder. The Supremes were riding high on the pop charts and showed the soulful sophistication of the Motown Sound.
Among the go go dancers: Future musical artist Toni Basil (of 1982 #1 hit song "Mickey" fame) and actress Teri Garr. The backing band was members of the Wrecking Crew: Glen Campbell, Leon Russell, Hal Blaine, Tommy Tedesco, Plas Jonnson and others (see our review of the documentary about the L.A. session players here and interview with its director here). The musical director was Jack Nitzsche, at the time Phil Spector's arranger, later to work with the Rolling Stones and Neil Young.
Watch the Rolling Stones' performance
It was all filmed and performed live, conveying how adept the rising stars it showcased were both musically and as performers. The T.A.M.I. Show is preserved in the Library of Congress as a '"culturally, historically, or aesthetically significant" film (check! on all three counts), and is a progenitor of many rock concert movies to follow as well as MTV.
A year later, The Big T.N.T. Show followed, featuring such new stars as the Byrds, Donovan and the Lovin' Spoonful, established R&B greats Ray Charles and Ike & Tina Turner, country star Roger Miller, folk great Joan Baez and others. The T.A.M.I. Show was released on Blu-ray, along with The Big TNT Show, in 2016, as part of the two-disc Blu-ray set T.A.M.I. Show/The Big T.N.T. Show Collector's Edition, from Shout! Factory.
Related: Our feature story on The T.A.M.I. Show with interviews of many of those involved

Latest posts by Best Classic Bands Staff
(see all)