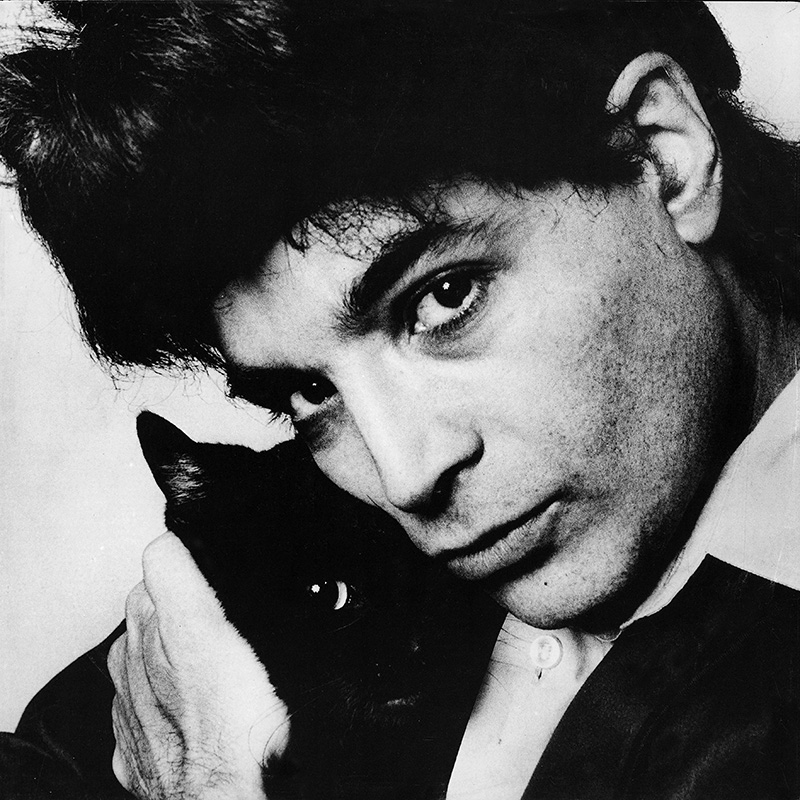 If influence, vision and being ahead of the curve naturally translated directly into fame and fortune, Alan Vega, who died on Saturday (7/17) at age 78, would have enjoyed the renown and rewards he merited if not earned. Nonetheless, the pioneer Downtown New York proto-punk singer/writer for the band Suicide and street art innovator had his high-profile and ardent followers and left his indelible mark.
Chief among Suicide fans was Bruce Springsteen, whose song "State Trooper" from his album Nebraska bore the band's influence. He also closed the shows on his 2005 Devils & Dust Tour with a solo keyboard version of Suicide's "Dream Baby Dream" and recorded it on his 2014 album High Hopes. The Boss once said, "If Elvis came back from the dead I think he would sound like Alan Vega."
Some of the band's other admirers, many of whom also displayed their minimalist, electronic and/or raw expressionistic influence, include Henry Rollins (who announced Vega's passing on his website), U2's Bono, R.E.M., Devo, Ric Ocasek of The Cars (who produced Vega's third solo album), Joy Division/New Order, Soft Cell, Sonic Youth, Radiohead, Ministry, Nick Cave, Nine Inch Nails, OMD, Pet Shop Boys, Tears for Fears, Spacemen 3, The Chemical Brothers, Daft Punk and The Fleshtones (who covered Suicide's "Rocket USA") and more.
Vega was born Boruch Alan Bermowitz on June 23, 1938 in Bensonhurst, NY, and was thought by most who knew him to be a good 10 years younger than he was (and encouraged the perception. He studied art and physics at Brooklyn College and was active on the New York City progressive art scene throughout the 1950s and '60s.
A 1969 show by The Stooges turned Vega's attention to music, and he formed Suicide with Martin Reverby, pka Martin Rev, using cheap electronic keyboards and primitive drum machines to create a surprisingly full and quite potent sound. They were part of a burgeoning Downtown Manhattan music scene that bubbled up at venues like the legendary Mercer Arts Center and later at CBGB and Max's Kansas City.
The duo released their self-titled debut album in 1977 on Red Star Records, run by former New York Dolls manager Marty Thau. It was released in England on Bronze Records (Motorhead's label), and the following year Suicide toured England and Europe with The Clash and Elvis Costello. In Belgium the band incited a riot that was recorded by their Bronze A&R rep Howard Thompson and released as "23 Minutes Over Brussels" on the 2000 reissue of their first album.
Suicide made five studio albums through 2002 and had most recently performed in London in 2009 at the All Tomorrow's Parties festival and the following year opening for The Stooges, both times playing the Suicide album in full. Vega released 18 solo and collaborative albums. He suffered a stroke in 2012, and reportedly died in his sleep, no cause given.
"Alan Vega was the quintessential artist on every imaginable level," says Rollins. "His entire life was devoted to outputting what his vision commanded of him.
"One of the greatest aspects of Alan Vega was his unflinching adherence to the demands of his art. He only did what he wanted. Simply put, he lived to create."
As BCB contributor and former Boston Globe music critic Jim Sullivan wrote in 1990, "Suicide was never intended to have a negative or personal connotation. [Vega] has had to explain this to a lot of people for a number of years. He doesn't really mind. 'They keep going `Why are you so negative?,' says the loquacious Vega on the phone from New York, 'and I say, `Man, it's been 20 years! Haven't you gotten the message yet?' This is the slowest suicide in history.'
"And the message is? 'Life goes in stages. Sometimes you get into a rut or you can't move on, especially if you're an artist. Sometimes you've got to figuratively kill yourself mentally, to end part of your life, to move onto the next stage.'"
Don't miss a post! Sign up for Best Classic Bands' Newsletter; form is on every page.
"I recall a telling Suicide show in, if memory serves me, 1980, when they played a just-opened and briefly lived new wave club called The Eighties on East 86th Street, aka Manattan's yuppie central," said BCB Editor Rob Patterson. "Alan and Marty came on, and the moment Suicide started to play, half of the crowd rushed towards the stage. The other half of the crowd fled to the back of the room and most of them soon quickly out the door. It was a brilliant moment.
"Alan was also a fixture on the Downtown nightlife scene, not unlike the late Joey Ramone. New York City has sadly lost another living embodiment of its most creative Bohemian era."

Latest posts by Best Classic Bands Staff
(see all)