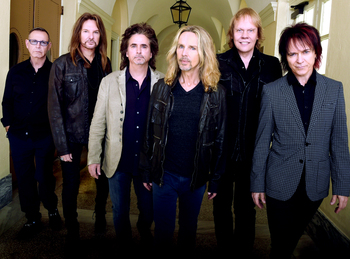 Styx have announced a new studio album, Crash of the Crown, their first in four years. The June 18 release coincides with the start of their 2021 summer tour. They'll be appearing with many other classic rock bands including REO Speedwagon, .38 Special, and Collective Soul. Tickets for many of the dates, as well as exclusive VIP packages, are on sale here. See the itinerary below.
Listen to the title cut from the new LP, announced on May 6, below.
In the April 20 tour announcement, Styx's Tommy Shaw said, "Hello friends… Man, have we missed you all! After all this time off, (whew!) and now to get together with this masterful band of storytelling troubadours, we can't wait to see you all again live and in person, performing an evening of music we love."
Styx–James "JY" Young (lead vocals, guitars), Tommy Shaw (lead vocals, guitars), Chuck Panozzo (bass, vocals), Todd Sucherman (drums, percussion), Lawrence Gowan (lead vocals, keyboards) and Ricky Phillips (bass, guitar, vocals)–had previously announced their return to Las Vegas with a two-night engagement at The Venetian Theatre inside The Venetian® Resort Las Vegas on Sept. 25 and Sept. 26, which will include an exclusive set list and brand-new stage production.
The first two shows quickly sold-out, and a third date has been added on Sept. 24.
The title song of the new album is the first cut in the band's history to feature three lead vocalists. It begins with Young, continues with Shaw heading up the middle section, and concludes with Gowan for the final verse.
Listen to "Crash of the Crown"
Styx have earned eight Top 10 singles on the Hot 100, beginning with "Lady" and "Come Sail Away." Others include their #1, "Babe," as well as "The Best of Times" and "Too Much Time on My Hands." Their multi-platinum albums include 1981's Paradise Theatre and 1977's The Grand Illusion. Their 16th studio album, The Mission, was released in 2017.
Watch Styx perform in 2019
Collective Soul–Ed Roland (vocals/guitar), Dean Roland (rhythm guitar), Will Turpin (bass/background vocals), Jesse Triplett (lead guitar/background vocals), Johnny Rabb (drums/background vocals)—have performed a handful of socially distanced shows within the past few months, including a sold-out New Year's Eve show in Kissimmee, Fla., as well as a three-night sold-out stint at the Coca Cola® Roxy in Atlanta, GA.
Their biggest hits include "Shine" and "December." Their self-titled 1995 album has sold in excess of three million copies. Collective Soul's tenth studio album, Blood, was released in 2019.
Styx 2021 Tour (Tickets are available here)
Jun 16 – St. Augustine, FL – St. Augustine Amphitheatre (Styx only)
Jun 18 – Alpharetta, GA – Ameris Bank Amphitheatre (with Collective Soul)
Jun 19 – Southaven, MS – Landers Center (with Collective Soul)
Jun 20 – Brandon, MS – Brandon Amphitheatre (with Collective Soul)
Jun 22 – Louisville, KY – Waterfront Park (with Collective Soul)
Jun 24 – Lincoln, NE – Pinewood Bowl Amphitheatre (with Collective Soul)
Jun 25 – Bonner Springs, KS – Providence Medical Center Amphitheatre (with Collective Soul)
Jun 26 – Camdenton, MO – Lake Ozarks Amphitheater (with Collective Soul)
Jun 27 – Oklahoma City, OK – Zoo Amphitheatre (with Collective Soul)
Jul 03 – Dubuque, IA – Five Flags Center (Styx only)
Jul 04 – Chain-o-Lakes, MO – Heritage and Freedom Fest (Free concert)
Jul 09 – Prior Lake, MN – Lakefront Music Fest (with Cheap Trick, .38 Special)
Jul 10 – Greenville, WI – Catfish Festival (with .38 Special)
Jul 11 – West Fargo, ND – Red River Valley Fair (Styx only)
Jul 22 – Fort Wayne, IN – Performance Pavilion (Styx only)
Jul 24 – York, PA – York Fair Grandstand (with REO Speedwagon)
Jul 25 – Whitehouse Station, NJ – New Jersey Lottery Festival of Ballooning (Styx only)
Jul 31 – Jim Thorpe, PA – Penn's Peak (Styx only)
Aug 05 – Clearwater, FL – Ruth Eckerd Hall (Styx only)
Aug 06 – Augusta, GA – Bell Auditorium (Styx only)
Aug 11 – Durham, NC – Durham PAC (Styx only)
Aug 18 – Des Moines, IA – Iowa State Fair Grandstand (with Tesla)
Aug 19 – Evansville, IN – Old National Events Plaza (Styx only)
Sep 04 – Milwaukee, WI – Summerfest
Sep 11 – Brighton, CO – Adams County Fairgrounds (with Jefferson Starship)
Sep 14 – Salt Lake City, UT – Utah State Fairpark (Styx only)
Sep 22 – Puyallup, WA – Washington State Fair (with REO Speedwagon)
Sep 24 – Las Vegas, NV – The Venetian Theatre (Styx only; on sale April 23)
Sep 25 – Las Vegas, NV – The Venetian Theatre (Styx only; SOLD OUT)
Sep 26 – Las Vegas, NV – The Venetian Theatre (Styx only; SOLD OUT)
Oct 01 – Atlantic City, NJ – Tropicana Showroom (Styx only)
Oct 06 – Hampton Beach, NH – Hampton Beach Casino Ballroom (Styx only)
Oct 15 – Lake Charles, LA – Country Club at the Golden Nugget
Oct 16 – Biloxi, MS – IP Casino Resort and Spa
Oct 23 – Austin, TX – Nutty Brown Amphitheatre
Related: Links to 100s of current classic rock tours

Latest posts by Best Classic Bands Staff
(see all)