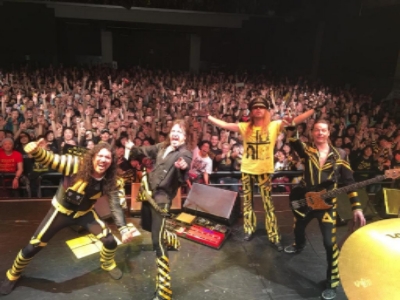 The iconic Christian metal band Stryper will be celebrating the 30th anniversary of their Grammy nominated, multi-platinum album To Hell With The Devil this year. And to mark the occasion, all four original members, complete with the original yellow and black costumes, will be resurrected for a world tour this fall (see below).
Released by Enigma Records on October 24, 1986, To Hell with the Devil was the band's third studio album and the first Christian metal album ever to achieve platinum status. "To Hell with the Devil literally changed our lives," said frontman Michael Sweet. "During that tour we went from playing theaters and mid-sized clubs to arenas, all in a very short amount of time. We never could have predicted the wild popularity of those songs and videos, especially in the mainstream market."
Throughout 1987, the music videos for "Free" and "Honestly" ranked #1 on MTV's list of most requested videos, and the video for "Calling on You" reached #2. "Honestly" is Stryper's highest-charting song, peaking at No. 23 on the Top 40 charts.
Founded in 1984, Stryper recorded such classic '80s metal albums as The Yellow and Black Attack, Soldiers Under Command, To Hell with the Devil and In God We Trust. Stryper is still comprised of all four original members with Michael Sweet on vocals and guitar, Robert Sweet on drums, Tim Gaines on bass and Oz Fox on guitar.
After a sabbatical for much of the 1990s, Stryper returned in the early 21st century. Since then, the band has released six studio albums including Reborn (2005), Murder by Pride (2009), The Covering (2011), Second Coming and No More Hell to Pay (2013). Their latest effort, Fallen, was released in 2015 and peaked at #44 on the Billboard album chart.
Stryper 2016 Tour Dates (Click here or here for tickets):
Sept. 29 – Atlanta, GA – Center Stage
Sept. 30 – Lake Buena Vista, FL – House of Blues
Oct. 1 – Jacksonville, FL – Murray Hill Theatre
Oct. 4 – Charlotte, NC – Amos' Southend
Oct. 5 – Valdosta, GA – Salty Snapper
Oct. 6 – New Orleans, LA – House of Blues
Oct. 8 – Houston, TX – White Oak Music Hall
Oct. 9 – Dallas, TX – Gas Monkey Live!
Oct. 14 – Riverside, CA – Riverside Municipal Auditorium
Oct. 15 – San Diego, CA – House of Blues
Oct. 16 – Anaheim, CA – City National Grove of Anaheim
Oct. 26 – Denver, CO – Summit Music Hall
Oct. 28 – Omaha, NE – Sokol Underground
Oct. 31 – Chicago, IL – House of Blues
Nov. 2 – Minneapolis, MN – Cabooze
Nov. 4 – Peoria, IL – Limelight Eventplex
Nov. 5 – Hazard, KY – The Forum
Nov. 6 – Louisville, KY – Mercury Ballroom
Nov. 8 – St. Louis, MO – The Ready Room
Nov. 9 – Nashville, TN – Venue TBA
Nov. 11 – Grand Rapids, MI – Intersection
Nov. 12 – Cleveland, OH – Agora Theater
Nov. 13 – Columbus, OH – Alrosa Villa
Nov. 16 – Detroit, MI – St. Andrews Hall
Nov. 19 – Asbury Park, NJ – The Stone Pony
Nov. 20 – New York, NY – Gramercy Theatre
Nov. 21 – Raleigh, NC – City Limits Saloon

Latest posts by Best Classic Bands Staff
(see all)