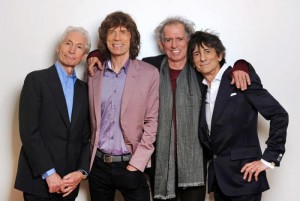 That's what Keith Richards has been saying in recent interviews for his new and third solo album, Crosseyed Heart. He revealed that he and his fellow Rolling Stones – Mick Jagger, Charlie Watts and Ron Wood – recently met in London and everyone's on board to record their first new long-player since A Bigger Bang 10 years ago.
He told iHeartRadio last Tuesday (9/15) that the meeting resulted in "definite plans" to regroup in the studio. "Don't know where, don't know when yet…."
Earlier this year, Jagger was a wee bit more cautious on the subject in a talk with Rolling Stone. "I've got a lot of new songs and songs I've written over the last couple of years. I've done really good demos for all of them, which I would love to record. So, let's hope so," he offered.
Richards seems psyched on the idea, saying they might even meet up to lay down tracks before the end of the year, but also speculating that the holidays may get in the way of doing so. If not then, he notes, then perhaps following their planned South American tour in February and March of next year (dates yet to be announced). Then again, Richards also says he'd like to get a solo tour in sometime soon..
Since the World's Greatest Rock'n'Roll Band did cut two new numbers – "Doom and Gloom" and "One More Shot" – to add to the various versions of the 2012 compilation GRRR! (which came in 40, 50 and 80-track packages), the stars appear to be aligning well for a Stones LP out sometime before the end of 2016 (get the betting pool going). We'd say cross your fingers even if the odds look good, but don't hold your breath for a release date.

Latest posts by Best Classic Bands Staff
(see all)