Stevie Nicks' 'Edge of Seventeen' and That Chugging Guitar
by Greg Brodsky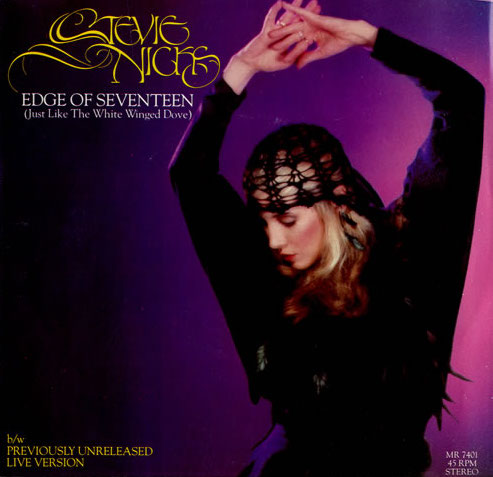 Where to start? With the misheard lyrics? The list of accomplished musicians who perform on it? Its inspiration? Its success that helped its album reach #1 in sales? We're talking about "Edge of Seventeen" from Stevie Nicks, who was selected for induction into the Rock and Roll Hall of Fame's Class of 2019 for her solo career, which began with the release of Bella Donna in 1981.
Well, let's start at the beginning, with Waddy Wachtel's chugging guitar, which opens the song and is heard throughout, mostly in the background. And then, at the 3:11 mark, producer Jimmy Iovine brings it back to the forefront. It's hypnotic.
It's based on echo effects used on "Bring On the Night," a 1979 song by the Police. Iovine played it for Wachtel in the studio. "I don't use effects," the guitarist told Best Classic Bands in 2021. "That's not the way to do it," Wachtel told Iovine. "I'm just gonna play it… here I'll show you." As he picked up the guitar, "I went 'chugga chugga chugga' and Jimmy said, 'Whoa! That's great!'
"I wanted to physically do that instead of create it with sonics."
When Nicks sings, repeatedly, "Just like a white winged dove," you listen, almost in a trance. (That particular lyric has often been misheard by listeners. Our favorite is "Joust like a whirlwind does.") She was 32 at the time and her commanding vocals grab the listener from the outset.
Wachtel is one of more than 20 guest musicians on Bella Donna, including most of Tom Petty & the Heartbreakers: keyboardist Benmont Tench is credited as Musical Director. Others include Eagles members Don Henley, with whom she sings the #6 single "Leather and Lace," and Don Felder. Drummer Russ Kunkel, the E Street Band's pianist Roy Bittan and Little Feat's pianist Billy Payne are among the others whom Nicks and Iovine enlisted.
The album's first single was "Stop Draggin' My Heart Around," released on July 8, 1981, and preceded the album's July 27 release by several weeks. (Nicks, born May 26, 1948, was 31 at the time.) The classic rock favorite, written by Petty and Mike Campbell, is essentially a Heartbreakers' track, with Booker T. and the M.G.'s bassist Donald "Duck" Dunn filling in for Ron Blair. (Iovine and Nicks were romantically involved at the time; he was also in the midst of a several-year run of producing, with Petty, several Heartbreakers albums.)
Related: Nicks, Petty shared the stage in 2017 for the final time
The song was a smash, peaking at #3 (and ironically remains the highest-charting single of Petty's career). In just over two months, Bella Donna went platinum. "Leather and Lace" was released as the second single and it, too, was a huge hit, reaching #6 on the Hot 100.
"Edge of Seventeen," the first track on the LP's second side, was finally released as a single on February 4, 1982, edited to 4:10 from its original 5:28 length. It narrowly missed the Top 10, peaking at #11.
Listen to the album version
The song was inspired by the deaths of one of rock's greatest stars, as well as Nicks' uncle, which both occurred in December 1980. "Jimmy [Iovine] was absolutely best friends with John Lennon," she told music writer J.D. Considine. "So when that happened, a hush came over the house that was so overwhelming that there was nothing that I could do to help." Nicks flew home to Arizona. "I went straight over to my uncle's house. He died right there with me holding his hand."
The song's title came from a conversation with Jane Petty, the musician's wife at that time. "She told me that when she met Tom he was 'at the age of seventeen'," Nicks told NBC Radio's The Source in 1981. "But she had this incredible Southern drawl so it sounded like 'edge of seventeen'."
Watch Wachtel and Nicks perform the song decades later
Bella Donna has gone on to sell more than five million copies in the U.S. Nicks has released many more solo albums over her career and earned several other Top 5 singles, but none compare to the impact of her solo debut.
On April 7, 2020, she recalled the song in a series of tweets.
In 1980 I was flying home from Phoenix Arizona and I was handed a menu that said, "The white wing dove sings a song that sounds like she's singing ooh, ooh, ooh. She makes her home here in the great Saguaro cactus that provides shelter and protection for her…" pic.twitter.com/UzqvdnVv0p

— Stevie Nicks (@StevieNicks) April 7, 2020
Several days ago, outside my room, I started to hear the sound of a bird singing the same thing over and over. One little Ahhh~ and then three OOH's~ over and over again. I thought it was an owl, but a friend said, "No, that's a dove!"

— Stevie Nicks (@StevieNicks) April 7, 2020
I started to cry. This dove had come here to watch over me.
So we filmed her singing her song & I'm sending her out to you.

With love,
Stevie Nicks

p.s. She's been here for days. I think she's here for good

— Stevie Nicks (@StevieNicks) April 7, 2020
Incidentally, of the roughly two dozen musicians on the album, none were members of Fleetwood Mac. Nicks has many dates with her own band, with Wachtel as musical director. Tickets are available here.
Nicks, born May 26, 1948, and her fellow Rock Hall Class of 2019 inductees, were inducted on March 29 at the Barclays Center in Brooklyn, NY.
Related: Our recap of Nicks' induction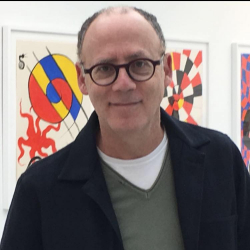 Latest posts by Greg Brodsky
(see all)