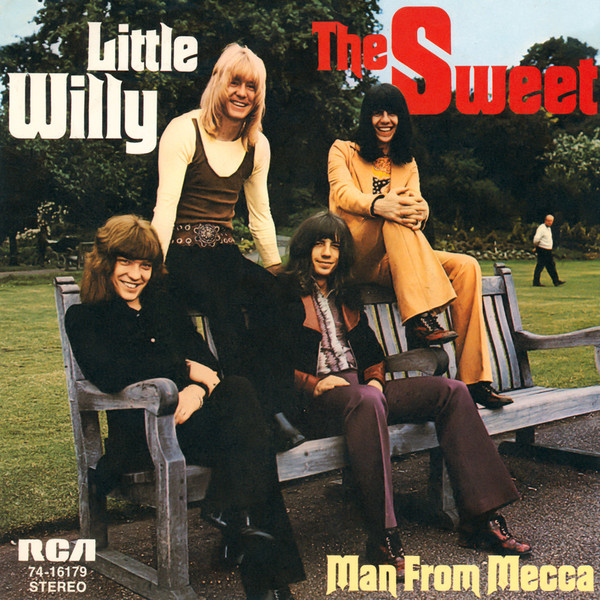 Steve Priest, the original bass guitarist and backup vocalist for the glam rock band the Sweet, died June 4, 2020, at 72. The announcement was made by his wife, Maureen O'Connor, a longtime publicist for Capitol Records, and was shared on one of the group's Facebook pages. The cause of death was later revealed to be complications from pneumonia; it's known that Priest had an extended stay in a Los Angeles hospital earlier in the year. The band, formed in London, England, and often referred to simply as Sweet, earned worldwide success throughout the 1970s, particularly with such hits as 1972's catchy "Little Willy" and 1975's "Fox on the Run."
Those two singles were Top 5 hits in the U.S., as was 1973's "The Ballroom Blitz." Before they broke through in the U.S. market, they also earned success in many other countries with a pair of 1971 songs, "Funny, Funny" and "Co-Co."
Most of their early singles were written by the songwriting team of Nicky Chinn and Mike Chapman.
Priest was born in Middlesex, U.K. on Feb. 23, 1948, and played in local bands as a teenager. He formed Sweet in 1968 with vocalist Brian Connolly, bassist/vocalist Priest, drummer Mick Tucker and guitarist Frank Torpey (later replaced by Mick Stewart and, subsequently, by Andy Scott).
"Little Willy" was released in the U.S. in September 1972 and ranked as one of 1973's biggest hits.
Upon hearing of his passing, Andy Scott wrote, "I am in pieces right now. [Steve] was the best bass player I ever played with. The noise we made as a band was so powerful. Rest in Peace brother."
In 1973, the band earned their first U.K. #1, "Block Buster." Sweet toured extensively and continued to chart with Chinn and Chapman compositions.
Fans were increasingly attracted to the heavier rock songs written by the group, which appeared on the B-sides of their singles, and the struggle for creative control ultimately led to a split with Chinn and Chapman. 1975's "Fox on the Run" (the band's first self-penned single) reached the #2 spot in the U.K. and top five in the U.S. charts.
That's Priest singing the "fox is on the run" line in the song's chorus.
Sweet bounced back onto the charts in 1978, scoring a final top 10 hit in both the U.S. and the U.K with "Love is Like Oxygen." After Connolly's departure in 1979, Sweet carried on as a three-piece outfit for three more albums before disbanding in 1981. They earned 10 Top 10 singles in their native U.K.
Priest published his autobiography, Are You Ready Steve?, in 1994. The book's title was taken from the opening of Sweet's "The Ballroom Blitz," in which Connolly introduces the song by checking in with the band members.
In 2008, Priest assembled his own version of the Sweet in Los Angeles. The current lineup includes Los Angeles native Richie Onori, Smith's bandmate in Heaven & Earth, on drums. The bass guitarist is ex-Crow and World Classic Rockers alumnus Stevie Stewart. Mitch Perry is on lead guitar. Paulie Z is lead vocalist, and Dave Schultz is the new keyboardist.
The new lineup released a medley of Sweet's hits, in tribute to Priest.
They released a new song, "System of the Slaves," in 2021.

Latest posts by Best Classic Bands Staff
(see all)