A day after it was reported that longtime Journey singer and songwriter Steve Perry had taken legal action to prevent his former bandmates Neal Schon and Jonathan Cain from filing trademarks for numerous Journey songs, Schon reacted with a blistering public attack.
One day after posting a scenic photo on his Twitter feed noting "What a beautiful day in Miami FL!," Schon shared a Sept. 20, 2022, story that appeared on Ultimate Classic Rock headlined, "Steve Perry Sues Neal Schon and Jonathan Cain Over Journey Songs." In its reporting, UCR noted that Perry had filed a petition "to cancel trademark registrations for 20 Journey songs" filed by Schon and Cain between February and May of this year. The classic rock website noted "Perry says they violate an earlier agreement that stipulates decisions like these must be made with," quoting the petition, "prior, written unanimous consent of all partners in each instance."
The songs involved include such Journey classics as "Separate Ways," "Open Arms," "Anyway You Want It," "Who's Crying Now."
In its Sept. 20 reporting, Ultimate Classic Rock noted Perry also charged Cain and Schon with using "false or misleading information" in securing the trademarks.
On Sept. 21, the website Blabbermouth.net noted that Perry's petition "claims the trio had an agreement that required unanimous consent for any business decision related to the trademarks and that he had not authorized said consent." He accused the pair of "fraud on the trademark office" by what he claims is inaccurate information about the trademark.
On Facebook, Schon attacked back. "What a bunch of total crap," he wrote. Jon Cain calls a board of directors meeting out of nowhere then before I found out about the meeting Jonathan came to me and said he didn't like what they (Ross Smith Perry and Herbie ) were planning." [Schon is referring to former Journey members Ross Valory and Steve Smith, and their longtime manager, Herbie Herbert.]
"On that meeting Steve Ross Smith and Herbie voted myself and Cain off the board of directors and Steve and all voted Ross in my place and Smith in Jons.
"They all knew at this time I'd been investigating our Trade marks for years trying to get to the bottom of all corruption as we found ( my wife and I ) that nothing had ever been Trade Marked besides our music. They all went for a take over and it didn't work. Quite simple.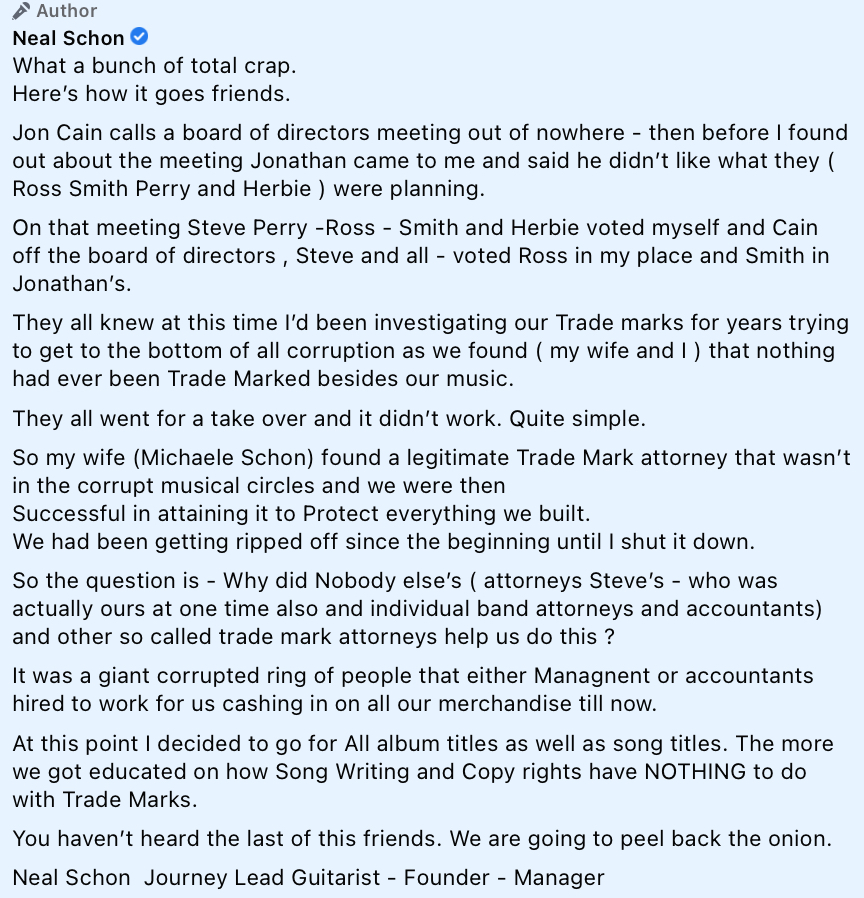 "So my Wife Micheale Schon found a legitimate Trade Mark attorney that wasn't in the corrupt musical circles and we were then Successful in attaining it to Protect everything we built. We had been getting ripped off since the beginning until I shut it down.
"So the question is Why did Nobody else's ( attorneys Steve's – who was actually ours at one time also and individual band attorneys and accountants) and other so called trade mark attorneys help us do this ? It was a giant corrupted ring of people that either Managnent or accountants hired to work for us cashing in on all our merchandise till now.
"At this point I decided to go for All album titles as well as song titles. The more we got educated on how Song Writing and Copy rights have NOTHING to do with Trade Marks.
"You haven't heard the last of this friends. We are going to peel back the onion."
It's believed the last time that Schon and Perry were together in-person was at Journey's 2017 induction into the Rock & Roll Hall of Fame, when past issues were put aside.
In their Sept. 21 article, headlined "Neal Schon Fires Back at Steve Perry in Battle Over Journey Trademarks," Blabbermouth.net referenced the singer's 2018 interview with Rolling Stone. When asked about future collaborations, Perry responded, "Please listen to me. I left the band 31 fucking years ago, my friend. You can still love someone, but not want to work with them. And if they only love you because they want to work with you, that doesn't feel good to me."

Latest posts by Best Classic Bands Staff
(see all)