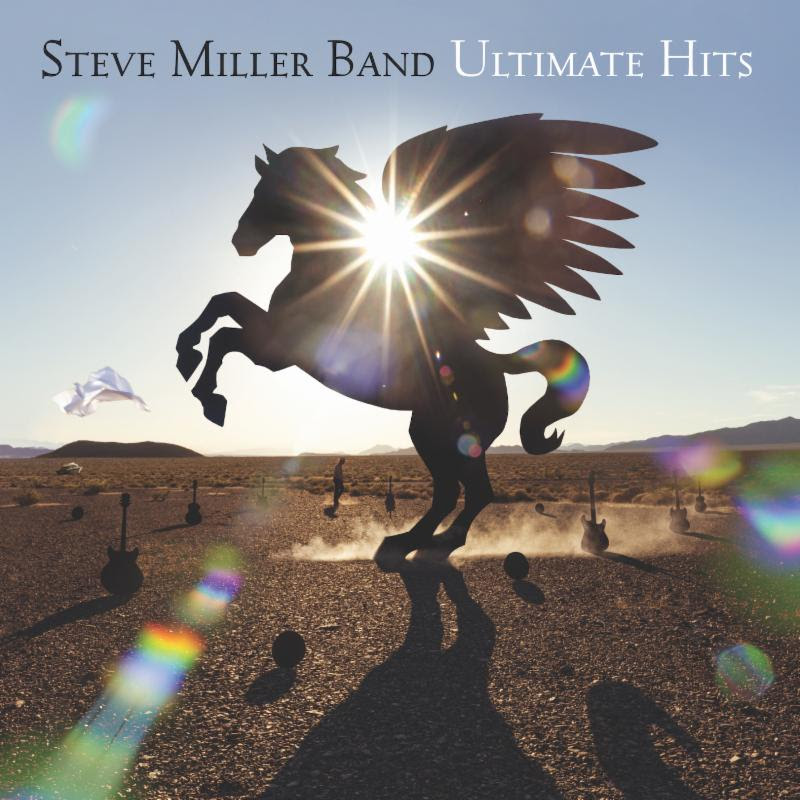 Two new, career-spanning Steve Miller Band Ultimate Hits collections, produced and personally directed by the artist, will be released Sept. 15 by Capitol/UMe. Ultimate Hits is available now for preorder in a 1-CD and digital edition featuring 22 Steve Miller Band tracks, including three previously unreleased rarities, and in an expanded 2-CD and digital deluxe edition with 40 tracks, including the band's top hits, live tracks and eight previously unreleased recordings from the studio and the stage.
On Oct. 27, both editions will be released on 180-gram vinyl in 2-LP and 4-LP deluxe packages, which are also available now for preorder.
Pre-order the single CD here.
Pre-order the 2-CD edition here.
Pre-order the 2-LP set here.
Pre-order the 4-LP version here.
Both Ultimate Hits editions feature the Steve Miller Band's biggest worldwide chart-toppers, including "Take the Money and Run," "Rock'n Me," Jet Airliner," "The Joker," Abracadabra," "Jungle Love," and "Fly Like an Eagle."- The 1CD and digital edition adds two previously unreleased live recordings, "Living in the USA" and "Space Cowboy."
Listen to a never-before-released Steve Miller solo recording of "Seasons"
The 2-CD and digital deluxe edition also features those rarities, plus five more previously unreleased studio and live recordings, including a demo for "Take the Money and Run."
It was recently announced that has brought his entire catalog of recorded music to Capitol, where he originally began his recording career in 1967. Miller has opened his vault/warehouse of music, footage, photos, memorabilia, artwork, handwritten notes, journals and more to Capitol/UMe to include in his upcoming releases.
Related: BCB's interview with Steve Miller
"Selecting material to include in these two collections and revisiting the creation of these recordings I'm reminded of how I learned to make multi-track recordings from Les Paul and play lead guitar from T Bone Walker. I've been blessed to work with so many wonderful musicians and engineers and friends over the years. Mostly I want to thank you our fans who come out to our shows and listen to our records. I hope you enjoy this as much I did putting this together for you," says Miller in a press release.
Steve Miller Band: Ultimate Hits [1-CD; Digital; 2-LP]
1. Harmony Of The Spheres 2
2. Steve Miller at age five talking to his Godfather Les Paul
3. Take The Money And Run
4. Rock'n Me
5. The Stake
6. Threshold
7. Jet Airliner
8. The Joker
9. Abracadabra
10. Jungle Love
11. Swingtown
12. Dance, Dance, Dance
13. Serenade From The Stars
14. Space Intro
15. Fly Like An Eagle
16. Wild Mountain Honey
17. Living In The USA (Live – Previously Unreleased)
18. Space Cowboy (Live – Previously Unreleased)
19. Seasons (Previously Unreleased)
20. I Want To Make The World Turn Around
21. Winter Time
22. The Window
Steve Miller Band: Ultimate Hits (Deluxe Edition) [2-CD, Digital; 4-LP]
CD 1
1. Steve Miller at age five talking to his Godfather Les Paul
2. Gangster Of Love (Live – Previously Unreleased)
3. The Joker
4. Baby's Callin' Me Home (Previously Unreleased)
5. My Dark Hour
6. Little Girl
7. Living In The USA (Live – Previously Unreleased)
8. Space Cowboy (Live – Previously Unreleased)
9. Seasons (Previously Unreleased)
10. Journey From Eden
11. Shu Ba Da Du Ma Ma Ma Ma
12. Going To Mexico
13. Kow Kow Calculator (Live – Previously Unreleased)
14. Come On In My Kitchen (Live)
15. Sugar Babe (Live)
16. The Lovin' Cup (Live)
17. Dance, Dance, Dance
18. Take The Money And Run
19. Rock'n Me
20. Space Intro
21. Fly Like An Eagle
CD 2
1. Wild Mountain Honey
2. The Window
3. Take The Money And Run (Demo) (Previously Unreleased)
4. In The Midnight Hour (Previously Unreleased)
5. Jungle Love
6. Threshold
7. Jet Airliner
8. The Stake
9. Swingtown
10. Serenade From The Stars
11. True Fine Love
12. Heart Like A Wheel
13. Abracadabra
14. I Want To Make The World Turn Around
15. Italian X Rays
16. Don't Cha Know
17. Cry Cry Cry
18. Stranger Blues
19. Behind The Barn
Watch the video for "The Joker"

Latest posts by Best Classic Bands Staff
(see all)