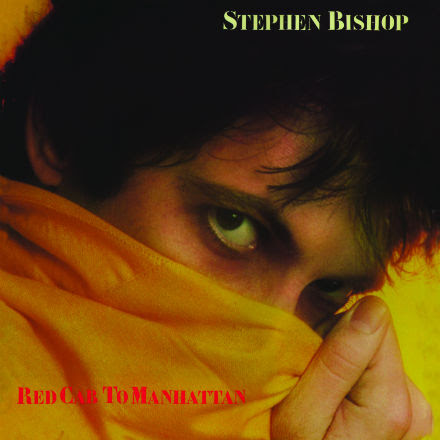 On May 11, Blixa Sounds, a new Los Angeles based label, will reissue Red Cab to Manhattan, the third album from singer/songwriter Stephen Bishop, original released in 1980.The album is notable for the inclusion of guest artists Eric Clapton, Phil Collins and Art Garfunkel. Also on the album are Procol Harum's Gary Brooker on piano, Buzz Feiten on guitar Steve Gadd on drums and others.
The album has been digitally remastered from the original tapes and contains previously unreleased bonus tracks.
Pre-order the album here.
Bishop's debut album Careless, which featured the hits "On and On" (his biggest hit, reaching #11) and "Save It For A Rainy Day," was released in 1976. Both the Careless album and his follow-up effort, Bish, went gold.
When asked about the reissue of Red Cab to Manhattan, Bish replied, in a press release, "I'm especially excited because Red Cab is my favorite album. It has a lot of variety on it. It has great players including Eric Clapton, Phil Collins and Art Garfunkel. Plus, there are a lot of cool production things including great computerized keyboard work from Mike Mainieri, who co-produced the album with Tommy Mottola."
Related: What were some of the other top albums of 1980?
Bishop grew up in San Diego and discovered his love of music at the age of 12 when he learned to play the clarinet. When his brother gave him a guitar for his 13th birthday, Bishop began writing music. At the age of 17 he had already written 200 songs and decided to take his talent to Hollywood. "I ended up walking around Hollywood trying to get a deal and got a songwriting contract with a publisher for $50 a week," says Bishop. "I was still writing weird songs back then like 'There's a Hair in Your Enchilada' and 'She Took All My Kumquats' and I would go to my publisher and say, 'Hey, I've got a great song for Cher – "She Took All My Kumquats!'"
He got his first big break when friend Leah Kunkel (Cass Elliot's sister) gave his tape to Art Garfunkel. "Art ended up doing two of my songs on his Breakaway album and we also started being friends—we've been friends for 40 years now."
In addition to the 18 albums Bishop's released over the years, he has also performed and/or written numerous songs that have been featured in films, including Animal House, The China Syndrome and Tootsie. His music has been recorded by a artists including Barbra Streisand and Bette Midler.
The newly released album will feature the original album cover artwork and will be presented in gatefold CD packaging.
Red Cab To Manhattan Track Listing
1. The Big House
2. Don't You Worry
3. Theif In The Night
4. Send A Little Love My Way (Like Always)
5. Let Her Go
6. Little Moon
7. The Story Of A Boy In Love
8. Living In The Land Of Abe Lincoln
9. Red Cab To Manhattan
10. Sex Kittens Go To College
11. City Girl
12. My Clarinet
Bonus Tracks
13. Hit The Road Jack
14. Send A Little Love My Way
15. Shine On You Crazy Moon
16. Smile When You Touch Her
17.I'd Come Home For You
18.Teenage Millionaire
Listen to "Little Moon," featuring Eric Clapton, Phil Collins and Gary Brooker

Latest posts by Best Classic Bands Staff
(see all)