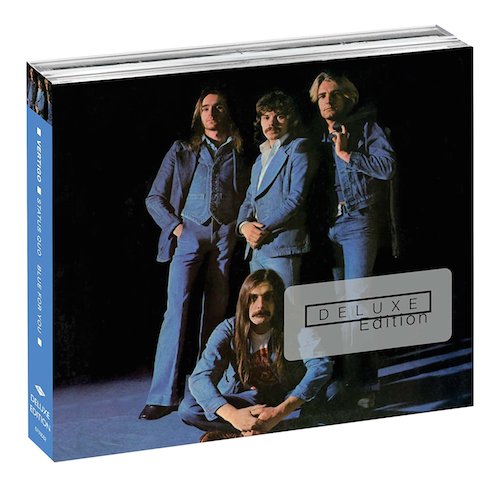 British boogie kings Status Quo have announced the release of deluxe expanded 2-CD/3-CD versions of a trio of classic albums that were originally released on the Vertigo label: Blue For You, Just Supposin' and Never Too Late. The special editions will be issued by UMe on May 26. Offering 36 previously unreleased tracks/versions between them [see track-listing], the special releases come with an enhanced booklet containing new notes and feature rare photos and memorabilia from the band's personal collection.
Related: Rick Parfitt, Status Quo guitarist, dies
Blue For You was originally released in 1976 and was the last to feature the band's classic four-piece line-up; it reached #1 on the U.K. album charts. The deluxe version is released as a 2-CD and has been remastered by Andy Pearce with Bob Young. It has a bonus disc of demos and live material from the band's vault.
Just Supposin' was released in 1980 and reached #4 on the U.K. album charts. it spawned the singles "What You're Proposing" and "Rock N Roll." Again re-mastered by Pearce with Young from original tapes, this 2-CD release includes a bonus disc of B-sides and live recordings.
Released in 1981, Never Too Late was the last album to feature drummer John Coghlan and reached #2 on the U.K. LP charts. This 3-CD deluxe edition has been remastered by Pearce and Young from the original tapes and has a bonus disc of archive recordings as well as a concert from 1981.
Status Quo are on an extensive 2017 tour. See dates here.
Track Listings
Blue For You
CD One
Is There a Better Way?
Mad About the Boy
Ring of A Change
Blue for You
Rain
Rolling Home
That's A Fact
Ease Your Mind
Mystery Song
CD Two
You Lost the Love – B-Side
Mystery Song – Single Version
Wild Side of Life – B-Side
All Through the Night – B-Side
Wild Side of Life – Demo
Bye Bye Johnny – Osaka *
Caroline – Osaka *
Don't Waste My Time – Osaka *
In My Chair – Osaka *
Roll Over Lay Down – Osaka *
Is There a Better Way – Osaka *
Rain –Osaka *
Honky Tonk Angel – Demo
CD One
What You're Proposing
Run to Mummy
Don't Drive My Car
Lies
Over the Edge
The Wild Ones
Name of The Game
Coming and Going
Rock 'N' Roll
CD Two
AB Blues – B-Side
Coming and Going – Writing 1980
Don't Drive My Car – Live – Le Mans 1981 *
Over the Edge – Live – Le Mans 1981 *
Rock N Roll – Live – Le Mans 1981 *
Something 'bout You Baby I Like – Live – Le Mans 1981 *
What Your Proposing – Live – Le Mans 1981 *
CD One
Never Too Late
Something 'Bout You Baby I Like
Take Me Away
Falling In Falling Out
Carol
Long Ago
Mountain Lady
Don't Stop Me Now
Enough Is Enough
Riverside
CD Two
Rock 'N' Roll – Single Version
Don't Stop Me Now – Austrian Flexi Disc *
What You're Proposing – Austrian Flexi Disc *
LP Overview – Austrian Flexi Disc *
Something 'Bout You Baby I Like – Austrian Flexi Disc *
Something 'Bout You Baby I Like – demo acoustic instrumental
Caroline – St Austell 1981 *
Roll Over Lay Down – St Austell 1981*
Backwater – St Austell 1981*
Little Lady – St Austell 1981 *
Don't Drive My Car – St Austell 1981*
Whatever You Want – St Austell 1981*
Hold You Back – St Austell 1981*
Something 'Bout You Baby I Like – St Austell 1981*
Rockin All Over the World – St Austell 1981*
Over the Edge – St Austell 1981*
CD Three
Rock N Roll – St Austell 1981*
Dirty Water – St Austell 1981*
4500 Times – St Austell 1981*
Big Fat Mama – St Austell 1981*
Don't Waste My Time – St Austell 1981*
Roadhouse Blues – St Austell 1981*
Rain – St Austell 1981*
Down Down – St Austell 1981*
Drum Solo – St Austell 1981*
Bye Bye Johnny – St Austell 1981*
*Previously unreleased
Watch Status Quo perform "Rain" in 1976

Latest posts by Best Classic Bands Staff
(see all)