Update (March 17): Squeeze have made a video for "Nirvana" where Tilbrook and Difford play an old married couple in a rut. Difford dons a blonde wig to portray the matronly wife; watch it below. The group – as well as Difford-Tilbrook acoustic – have some scattered dates scheduled for 2016 here.
Monday was Glenn Tilbrook's birthday, and what better way to celebrate than to share news about one of our favorite British bands. Squeeze have a new album Cradle To The Grave coming November 13th, their first set of new material in 17 years.
Read Best Classic Bands' interview with Glenn Tilbrook here.
The British pop-rockers have adjusted their lineup a bit, adding Lucy Shaw on bass in recent weeks. Shaw played bass on roughly half of the new LP and contributed a large part of the string arrangements. She'll be joining vocalist/guitarist Tilbrook and his Squeeze co-founder, songwriting partner and vocalist/guitarist Chris Difford, manic keyboardist Stephen Large and drummer Simon Hanson on a U.K. tour that runs from September 25th to October 24th.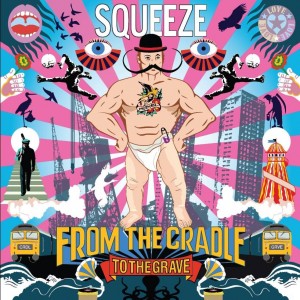 Difford and Tilbrook follow those dates with an acoustic U.S. tour from November 13 through December 18, billed as "The At Odds Couple." Fans that have seen the band perform live in recent years might recognize the new LP's title track and "Top Of The Form." U.S. followers who wish to purchase the new album will have to make due for now by pre-ordering it as a (costly) import. A video for the first single, "Happy Days," has been released.
Despite hook-filled songs featuring Tilbrook's pleasing vocals like "Another Nail In My Heart" and "Black Coffee In Bed," Squeeze has never gotten their just due at U.S. pop radio despite the Difford/Tilbrook songwriting partnership being favorably compared to Lennon/McCartney. They found only modest chart success in the 1980s with three Top 40 singles – "Hourglass" scoring the highest at #15 on the Hot 1oo – and no albums ever reaching the Top 30 of the sales charts. Even "Tempted," with vocals by Paul Carrack (who was briefly a band member), failed to connect at the time though it has endured as a fan favorite.
Difford/Tilbrook Duo Acoustic US TOUR (Order tickets here.)
13 Nov – Grove Of Anaheim, Anaheim, CA
14 Nov – Wilshire Ebell, Los Angeles, CA
15 Nov – HOB, San Diego, CA
17 Nov – Canyon Club, Agorua Hills, CA
18 Nov – City Winery, Napa, CA
19 Nov – City Winery, Napa, CA
20 Nov – Great American Music Hall, San Francisco, CA
21 Nov – Great American Music Hall, San Francisco, CA
24 Nov – Cedar Cultural Center, Minneapolis, MN
25 Nov – Cedar Cultural Center, Minneapolis, MN **Just Added – due to popular demand**
27 Nov – Park West, Chicago, IL
28 Nov – Park West, Chicago, IL
29 Nov – The Ark, Ann Arbor, MI
1 Dec – Beachland Ballroom, Cleveland, OH
2 Dec- Beachland Ballroom, Cleveland, OH
4 Dec – The Rex Theater, Pittsburgh, PA
5 Dec – Scottish Rite, Collingwood, NJ
6 Dec – Birchmere, Alexandria, VA
7 Dec – Count Basie, Red Bank, NJ
9 Dec – Tarrytown Music Hall, Tarrytown, NY
10 Dec – The Wilbur, Boston, MA
11 Dec – The Ridegefield Playhouse, Ridgefield, CT
12 Dec – Paramount Theater, Huntington, NY
13 Dec – Tarrytown Music Hall, Tarrytown, NY
14 Dec – Mayo Performing Arts Center, Morristown, NJ
16 Dec – Troy Music Hall, Troy, NY
17 Dec – The PlayStation Theater, New York, NY
18 Dec – The PlayStation Theater, New York, NY

Latest posts by Best Classic Bands Staff
(see all)