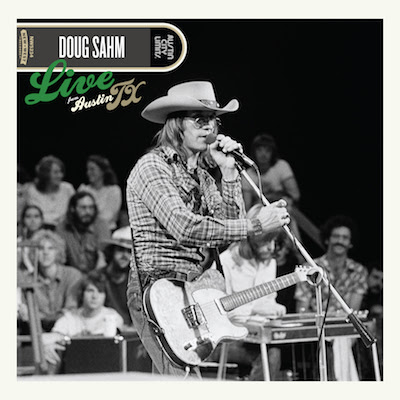 New West Records will release two archival Doug Sahm/Sir Douglas Quintet live recordings as a part of its Live From Austin, TX series on April 13. Both live recordings were originally filmed for the PBS television series Austin City Limits and will be issued for the first time on vinyl as 180 gram double LPs housed in gatefold sleeves. The LPs have been remastered from original sources, feature liner notes from Austin City Limits founder and producer Terry Lickona.
Recorded on October 14, 1975, Doug Sahm—Live From Austin, TX was filmed after Sahm had temporarily retired the Sir Douglas name and features original member Augie Meyers along with Martin Steitle, John Barber, Steve McDaniels and Harry Hess. It features the Sir Douglas Quintet classics "She's About a Mover," "Mendocino" and "Rains Came," with Sahm venturing into other musical territory ranging from T-Bone Walker to Bob Wills. Recorded on January 21, 1981, Sahm reunited with original Sir Douglas Quintet members Augie Meyers and Johnny Perez, along with Alvin Crow on guitar and Speedy Sparks on bass.
Related: BCB's review of the 2015 Doug Sahm documentary
Producer Terry Lickona states in his accompanying liner notes, "Back in the day, the Sir Douglas Quintet was Texas' answer to the British Invasion. With the arrival of the Beatles, Sir Doug & Co. saw their chance to break out of the rough, Chicano-influenced rock they had been playing in the joints around San Antonio. They donned English-looking suits and hit the charts with 'She's About A Mover' in 1965. Nobody was quite sure where they came from, but they rode the English-pop wave to fame."
Doug Sahm—Live From Austin, TX Track Listing
1. (Is Anybody Goin' To) San Antone (3:32)
2. Cotton Eyed Joe (1:41)
3. Rains Came (3:49)
4. Papa Ain't Salty (4:01)
5. Stormy Monday (5:37)
6. At The Crossroads (6:11)
7. Nuevo Laredo (3:18)
8. Dynamite Woman (3:40)
9. Crazy Baby (1:30)
10. One Night (1:24)
11. Sometimes (0:22)
12. Wasted Days & Wasted Nights (0:55)
13. Mendocino (5:06)
14. It's Gonna Be Easy (3:40)
15. She's About A Mover (6:21)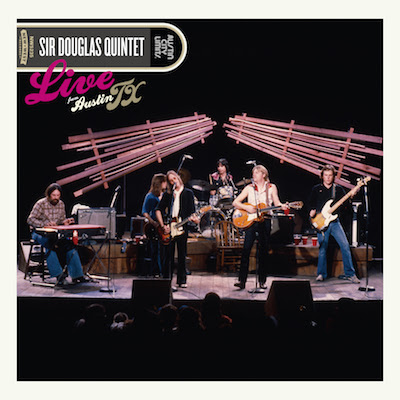 Sir Douglas Quintet—Live From Austin, TX Track Listing
1. Mendocino (2:47)
2. 96 Tears (2:28)
3. Rains Came (2:25)
4. Down On The Border (3:30)
5. It Was Fun While It Lasted (2:46)
6. I Keep Wishing For You (3:27)
7. Groover's Paradise (3:13)
8. Goin' Down To Mexico (2:49)
9. Who Were You Thinkin' Of? (2:21)
10. Who'll Be The Next In Line? (3:01)
11. Tonite, Tonite (2:04)
12. Old Habits Die Hard (2:42)
13. At The Crossroads (3:12)
14. (Is Anybody Goin' To) San Antone (5:15)
15. Ya No Llores / Chicano (4:24)
16. You're Gonna Miss Me (3:55)
17. She's About A Mover (3:02)
Watch Doug Sahm perform "She's About a Mover" live in Austin

The BCB team brings you the latest Breaking News, Contests, On This Day rock history stories, Classic Videos, retro-Charts and more.

Latest posts by Best Classic Bands Staff (see all)