Like another band that hailed from Liverpool, The Searchers did very well in the '60s, scoring 11 Top 40 hits between 1963 and 1966 in the U.K., including three #1s with "Needles and Pins," "Sweets for My Sweet" and "Don't Throw Our Love Away." There were eight hits in the U.S. including a #3 cover of "Love Potion No. 9."
By the end of the decade, the group's chart presence may have slowed down, but the Searchers didn't. They continued to hone their sound on the live circuit, adding a modern musical crunch to their incredible harmonies. After seeing the band perform, Sire Records head Seymour Stein offered them a home on his new wave flagship label (home of the Ramones, Talking Heads, Dead Boys, and soon, Pretenders).
The Searchers returned in 1979 with a self-titled release, featuring originals and covers of tracks from Tom Petty, The Records, Bob Dylan and the Mickey Jupp-penned "Switchboard Susan"—a concurrent hit for Nick Lowe. Produced by Pat Moran (Be Bop Deluxe, Dr. Feelgood, and Rush —yes, that Rush), it was a sonic powerhouse. That album was followed the next year by Love's Melodies (titled Play for Today in the U.K.), with Ed Stasium (Ramones, Talking Heads, Smithereens) joining Moran as co-producer. More originals, and more covers (Big Star, John Fogerty, and others), and another great album.
Related: Who shared the charts with the Searchers in early 1965?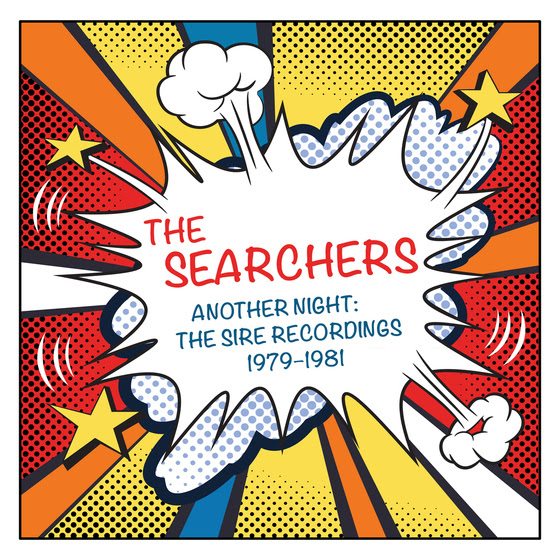 Both records were released multiple times in different territories, with different track lists, B-sides and mixes. They have been unavailable for the past decade. Another Night: The Sire Recordings 1979-1981 straightens out all those matters by compiling everything onto one 2-CD set. The collection, to be released on Omnivore Recordings on Dec. 8, features 29 tracks, including a previously unissued cover of John Hiatt's "Ambulance Chaser."
Packaging contains album cover artwork from the different territories, and an essay from Scott Schinder, with new interviews from the band's Mike Pender, John McNally and Frank Allen.
Watch the trailer for Another Night: The Sire Recordings 1979-1981
Track Listing
DISC ONE:
1. Hearts In Her Eyes
2. Switchboard Susan
3. Feeling Fine
4. This Kind Of Love Affair
5. Lost In Your Eyes
6. It's Too Late
7. No Dancing
8. Coming From The Heart
9. Don't Hang On
10. Love's Gonna Be Strong
BONUS TRACKS:
11. It's Too Late (Alternate Mix)
12. Love's Melody (Alternate Mix)
13. Silver (Alternate Mix)
DISC TWO:
1. Silver
2. Infatuation
3. She Made A Fool Of You
4. Almost Saturday Night
5. Little Bit Of Heaven
6. You Are The New Day
7. Love's Melody
8. Everything But A Heartbeat
9. Radio Romance
10. Murder In My Heart
11. September Gurls
12. Another Night
BONUS TRACKS:
13. Sick And Tired
14. Changing
15. Back To The War
16. Ambulance Chaser (previously unreleased)
Watch the video for "Hearts in Her Eyes"

Latest posts by Best Classic Bands Staff
(see all)