Scott Weiland, the former frontman for Stone Temple Pilots and later with Velvet Revolver, died on December 3, 2015, at 48.  Weiland had struggled with drug addiction for years and several weeks later, the cause of death was deemed to be an accidental overdose of alcohol and drugs.
On December 3, 2016, the first anniversary of his passing, his STP bandmates shared a heartfelt message that read, in part: "We often think of you and are reminded of you daily with many memories. We miss you Scott."
Here's the full tribute…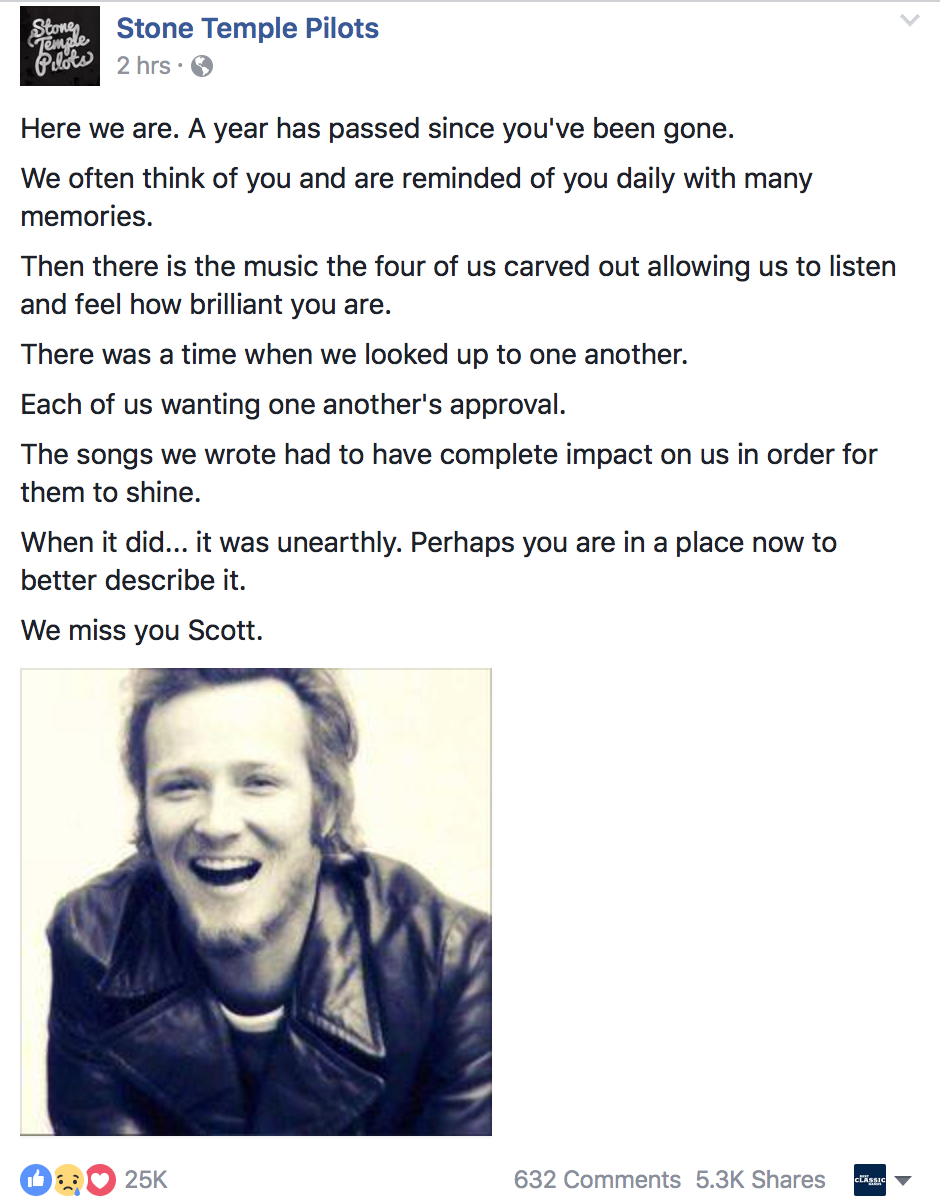 On Dec. 2 2019, STP announced an all-acoustic album, Perdida, and acoustic tour. The album arrives Feb. 7, 2020. The tour commences Feb. 5. Tickets are available here and here.
At the time of his death, a brief note on the singer's Facebook page read simply:
"Scott Weiland, best known as the lead singer for Stone Temple Pilots and Velvet Revolver, passed away in his sleep while on a tour stop in Bloomington, Minnesota, with his band The Wildabouts. At this time we ask that the privacy of Scott's family be respected."
After the news broke overnight, the Los Angeles Times contacted his wife, Jamie Weiland, who confirmed his death: "I can't deal with this right now," she said, sobbing. "It's true."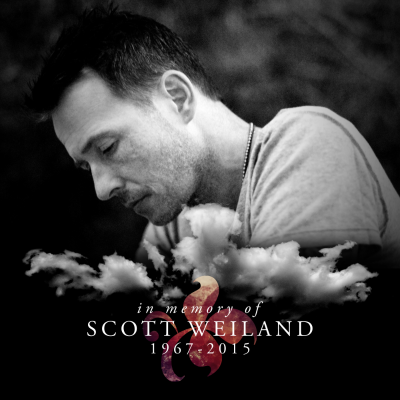 TMZ first reported Weiland's body was discovered on his tour bus near the Medina Ballroom where the band was scheduled to perform.
The Wildabouts' U.S. tour was to continue through December 22. Scroll below to see a clip from his final performance, on December 1, 2015.
In late July 2015, the band abruptly canceled a U.K. tour scheduled for that fall. They released an album, Blaster, on March 31, the day after the band's lead guitarist, Jeremy Brown, died. Reports indicate the cause of death was multiple drug intoxication.
Tributes appeared throughout that December 3, 2015 day on Twitter:
Joe Perry (@JoePerry): "Extremely saddened to have read Scott Weiland passed. Such a gifted performer. My thoughts are with your loved ones, friends & fans."
Nirvana bassist/co-founder Krist Novoselić (@KristNovoselic): "Really sorry to hear about Scott Weiland."
Alice Cooper (@RealAliceCooper): "Deeply saddened by the passing of singer #ScottWeiland. What a voice we've lost. Thoughts and prayers to his family."
Slash (a bandmate in Velvet Revolver)(@Slash): "Sad day. RIP Scott Weiland."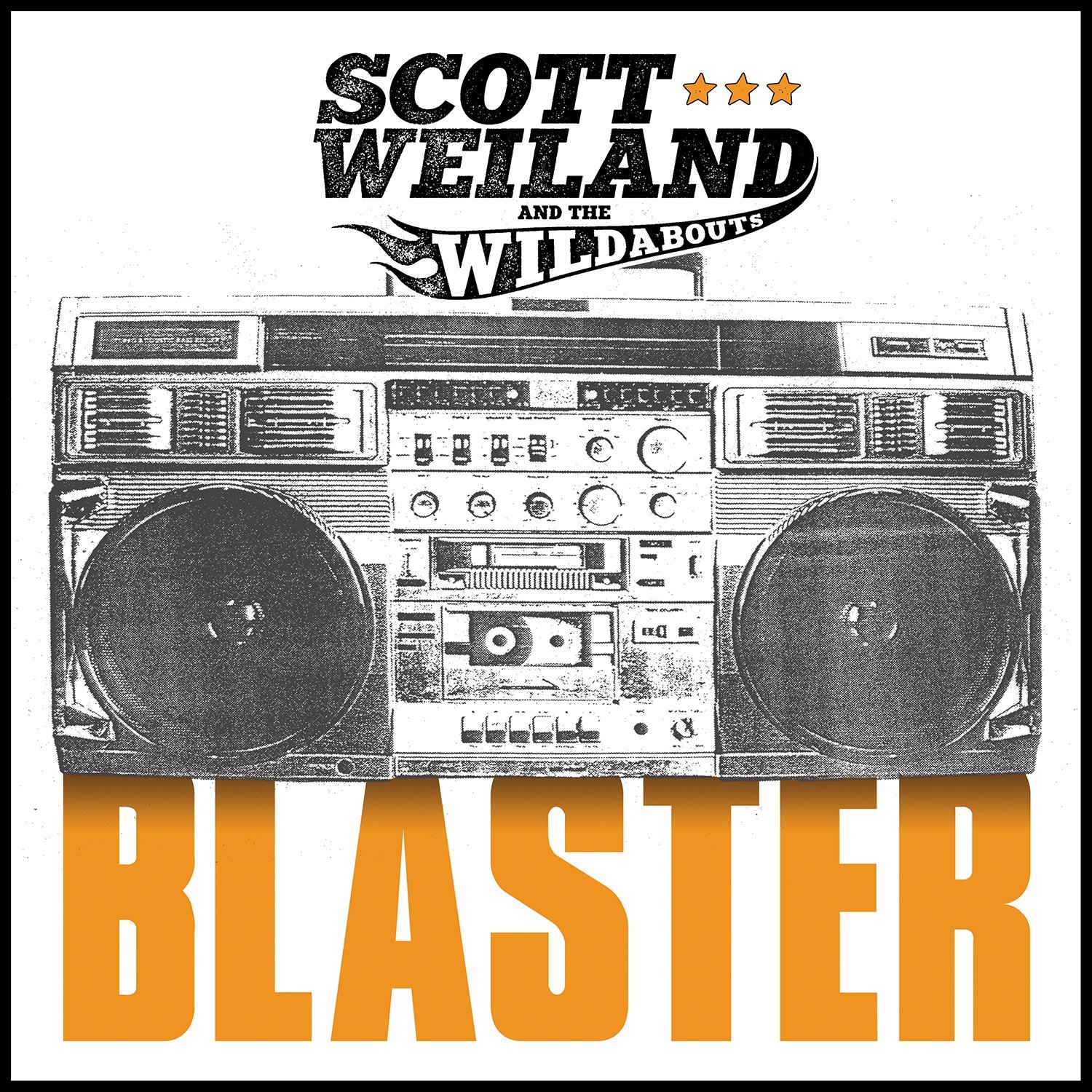 Dave Navarro (@DaveNavarro): "Its not my loss, its our loss. Send your thoughts toward the family!"
Billy Idol (@BillyIdol): "Scott Weiland was a great guy super talented..I played on shows with STP & Velvet Revolver & he owned the stage! RIP"
Tommy Lee (@MrTommyLand): "Scott Weiland was just found dead on his tour bus :(. Very sad."
Heart (@officialheart): "We have been running in Scott's circles off and on for many years. It's so very sad to us that such a crazy talented artist may have lost to the insidious demon addiction. His battles were numerous with a few victories along the way. Such a crushing waste that he could not reach his 50 th year victorious and alive making more music. #RIPScottWeiland"
Queensrÿche (@queensryche): "Just learned that Scott Weiland has died. Our hearts and thoughts are with his family. RIP Scott. #diedtoosoon #RIP"
Nikki Sixx (@NikkiSixx): "Sad to hear about Scott's passing. I hope it wasn't drugs. The saddest part of the story is his kids and family being left behind. RIP"
Foghat (@FOGHAT): "We are sad to hear about the passing of Scott Weiland. Our thoughts are with his family & friends today."
Duff McKagan (a bandmate in Velvet Revolver) (@DuffMcKagan): "We are deeply saddened to learn of the loss of our old friend and bandmate, Scott Weiland. We experienced a good chunk of life with Scott, and even in his darkest times, we all had hope and love for him. His artistry will live on, of that, there is no doubt…It's just so sad and brutal from any perspective."
Bryan Adams (@BryanAdams): "RIP Scott Weiland. The world needs more great rockers, not less. #ScottWeiland"

The BCB team brings you the latest Breaking News, Contests, On This Day rock history stories, Classic Videos, retro-Charts and more.

Latest posts by Best Classic Bands Staff (see all)