Singer-songwriter Scott Walker, who first came to fame as a member of the Walker Brothers in the mid-'60s, died of cancer in London, U.K., on March 22, 2019. He was 76. His record albel, 4AD, confirmed his passing.
Following the group's dissolution, Walker became a highly influential avant-garde solo artist, who remained active until his death.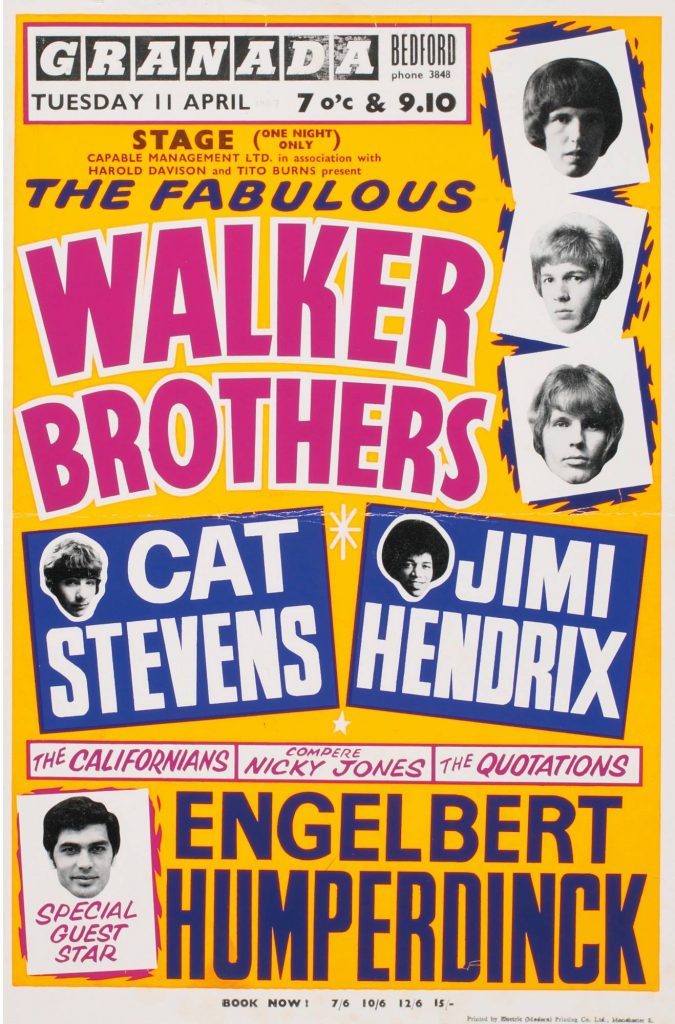 Although they were American, the Walker Brothers set up shop in England and were swept into fame as part of the British Invasion. Their two biggest hits in America were "Make It Easy on Yourself," a Burt Bacharach-Hal David composition that reached #16 in 1965, and "The Sun Ain't Gonna Shine (Anymore)," a #13 hit the following year (it reached #1 in the U.K.). Both featured Walker's booming baritone voice and colossal arrangements. Walker went on to release 14 solo albums, beginning with Scott in 1967.
4AD released the following statement on Facebook:
"It is with great sadness that we announce the death of Scott Walker. Scott was 76 years old and is survived by his daughter, Lee, his granddaughter, Emmi-Lee, and his partner Beverly.
"For half a century, the genius of the man born Noel Scott Engel has enriched the lives of thousands, first as one third of the Walker Brothers, and later as a solo artist, producer and composer of uncompromising originality.
"Scott Walker has been a unique and challenging titan at the forefront of British music: audacious and questioning, he has produced works that dare to explore human vulnerability and the godless darkness encircling it."
Listen to the Walker Brothers' "Make it Easy on Yourself"
Radiohead's Thom Yorke described Walker as "a huge influence on Radiohead and myself, showing me how I could use my voice and words."
Marc Almond of Soft Cell commented that Walker was an "absolute musical genius, existential and intellectual and a star right from the days of the Walker Brothers."
Born Jan. 9, 1943, in Hamilton, Ohio, Walker (whose birth name was Noel Scott Engel, as noted above), John Maus (who took on the name John Walker) and Gary Leeds (who became Gary Walker) formed the trio in Los Angeles in 1964 but moved to Britain the following year. They broke up in 1967 but reformed briefly in the mid-'70s. By that time Scott Walker had already been involved in his prolific solo career.
Many of his solo albums were experimental in sound and lyrical content. 2006's The Drift, said the U.K.'s The Guardian in its obituary, "reflected on Mussolini's mistress, the Srebrenica massacre, and 9/11." One song, "The Seventh Seal," from Scott 4, "reflected on the existential fantasies in Ingmar Bergman's film of the same name," said The Guardian.
Walker also recorded music for soundtracks and produced other artists (including the U.K.'s Pulp).
In addition to Radiohead's York, Walker was an influence on David Bowie, Brian Eno and other artists.
A documentary film, Scott Walker: 30 Century Man, chronicled the singer's life and work.
Listen to "The Sun Ain't Gonna Shine (Anymore)"
Related: 12 "lost" British Invasion hits

Latest posts by Best Classic Bands Staff
(see all)