Updated (10/30): With Adele in Fun City next month for her SNL appearance, she's decided to do one concert, at Radio City Music Hall. Click here for ticket info.
Updated (10/26): The news just keeps on coming… SNL announced today that Adele will be the musical guest on November 21 when actor Matthew McConaughey hosts.
Updated (10/23):Scroll down to view Adele's just-released video for her new single, "Hello"…
She ran a cryptic ad on the U.K. edition of X Factor this past Sunday night and Wednesday Adele posted on her Facebook (for the first time since March 22) and Twitter to confirm rumors (or rumours, if you prefer) that her long-awaited follow-up to 2011's 21 is finally on its way. Not surprisingly, the Interweb started blowing up as the now-27 year-old has millions of social media followers.
"My last record was a break-up record," she wrote, "and if I had to label this one I would call it a make-up record. I'm making up with myself. Making up for lost time.
Later, she writes: "25 is about getting to know who I've become without realizing. And I'm sorry it took so long, but you know, life happened. Love, Adele." (Full letter below.)
Today comes word, as Best Classic Bands told you last month, the release date for 25 is November 20th (pre-order available below), and it's reportedly the final record in her original deal with XL Recordings/Columbia Records. (2008's 19 was her first.) Insiders say she has already inked a new worldwide deal with Sony Music (which owns Columbia) valued at more than $50 million. The singer earned six Grammy Awards for 21.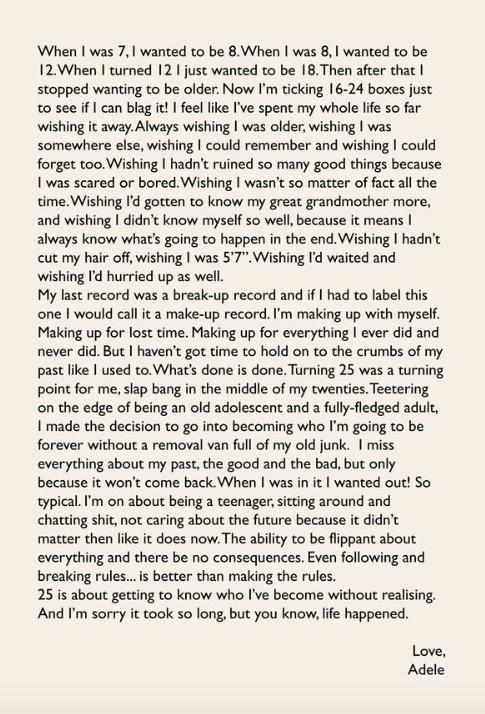 "Hello," the debut single from 25, will be available to buy and stream tomorrow (October 23rd). The cinematic video for "Hello" will also be revealed that day. It was shot in the countryside surrounding Montreal. The album track list:
1. Hello
2. Send My Love (To Your New Lover)
3. I Miss You
4. When We Were Young
5. Remedy
6. Water Under The Bridge
7. River Lea
8. Love In The Dark
9. Million Years Ago
10. All I Ask
11. Sweetest Devotion
The video was shot in mid-October outside Montreal with Canadian director Xavier Dolan. The video features a cameo by American actor Tristan Wilds (The Wire, The Secret Life of Bees).

Latest posts by Best Classic Bands Staff
(see all)