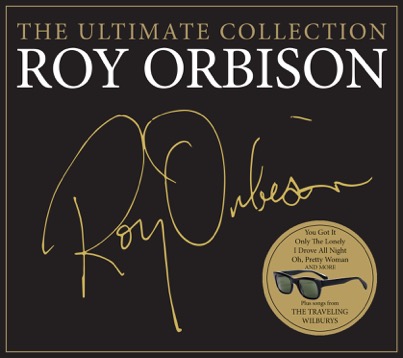 Legacy Recordings has released a new 26-track, career-spanning compilation, Roy Orbison—The Ultimate Collection. The anthology, released October 28, is available as a single CD and as a double vinyl LP set. Watch the teaser below, which Best Classic Bands is presenting exclusively.
The set spans four decades, from Orbison's start at Sun Records in the mid-1950s through his massive comeback in the late '80s. The collection chronicles Orbison's work both as a solo artist and with the supergroup Traveling Wilburys until his death in 1988 at the age of 52. According to the announcement, The Ultimate Collection marks the first time that any Roy Orbison compilation album has incorporated tracks from all of the aforementioned sources.
The set is being released in conjunction with Roy's Boys LLC, the Nashville-based company founded by the sons of Roy Orbison. It's available for purchase here.
Roy Orbison passed on December 6, 1988 at just 52 years old. His son, Roy Orbison, Jr., used the occasion of the 2016 anniversary of his father's death to reveal the birth of Roy's first grandson, Roy Orbison 3rd, who was born on March 2, 2016!
For The Ultimate Collection, Roy's son, Alex Orbison, selected songs that he felt were most representational of his father's catalog, which totals 27 studio albums, four live albums and over 60 singles, 22 of which placed in the U.S. Billboard Top 40 chart. "It is a great honor for me and my brothers, Wesley and Roy Jr., to finally and definitively distill our father's entire career onto a single disc as best one can possibly do and, certainly, as never done before," said Alex. "It is the result of years of research, archiving and listening, and it is with supreme and heartfelt pleasure that we will be able to share it with the world."
Related: Traveling Wilburys debut on streaming services
The Ultimate Collection was produced by Alex Orbison, Chuck Fleckenstein and John Jackson, and mastered by Vic Anesini at Battery Studios in New York.
Watch The Ultimate Collection teaser…
Never miss a post! Sign up for Best Classic Bands' Newsletter; form is on every page.
Track List
1 Oh, Pretty Woman
2 I Drove All Night
3 You Got It
4 Crying
5 Only The Lonely
6 In Dreams
7 Love Hurts
8 Claudette
9 Blue Bayou
10 Dream Baby
11 Walk On
12 Falling
13 Running Scared
14 California Blue
15 Leah
16 Mean Woman Blues
17 Crawling Back
18 Ride Away
19 Too Soon To Know
20 She's A Mystery to Me
21 Blue Angel
22 It's Over
23 Ooby Dooby
24 Heartbreak Radio
25 Not Alone Anymore (Traveling Wilburys)
26 Handle With Care (Traveling Wilburys)

Latest posts by Best Classic Bands Staff
(see all)