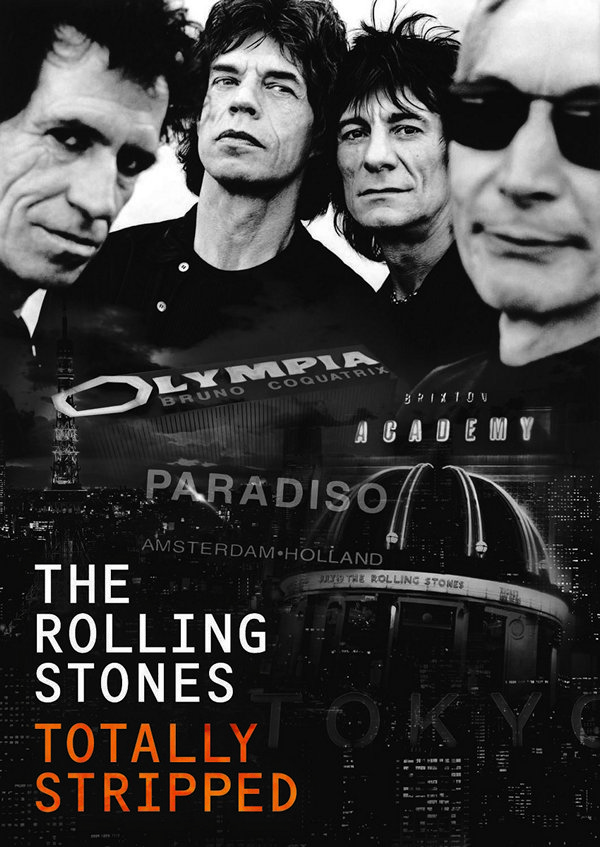 The Rolling Stones
Totally Stripped
(Eagle Rock Entertainment)
In A Word: Glimmering
The Rolling Stones have long been a bit indiscriminate about the live concerts they release, especially of late with some of the mixed and outright duff moments they've been regularly spinning out from the archives. Sad fact is that The World's Greatest Rock'n'Roll Band could often be less than that anywhere in between their 1969 and '72 tours (the "magical years") and 'round about when they made this set in the mid-1990s (as they entered the "professional years").
And, yeah, they still have the championship live rock'n'roll album belt, even after all these years, with 1970's Get Yer Ya-Ya's Out. But at the same time there's both the somewhat dodgy Still Life album (on which the best track is their cover of the Motown rave-up "Going to a Go-Go") and at times nearly painful Let's Spend The Night Together film (on which the overly brisk tempos can nearly set the listener's teeth on edge) from the band's 1981 tour.
Related: Read our "rewind" review of Get Yer Ya-Ya's Out
Then there's this: a gift to true fans and the everyday punters as well. The 14-song audio album here is a pretty fine-ass live Stones collection that brims with both sterling and rich professionalism as well as quite more than a few moments of magic.
Related: Stones' Mono box set coming
Let's just toss the Totally Stripped title – an allusion to the so-so 1995 acoustic album meant to ride the MTV Unplugged trend and partly recorded at some of the same small venue shows from which electric material on here comes. It simply does not apply to the music, confusing the point. This is muscular and on-the-money live and quite electric (and electrifying) rock'n'roll that finds the band, after taking a bit of a break (and losing Bill Wyman) in the early '90s, playing like they have something to prove.
Related: Stones working on new album
The Stone who shines brightest here is Ron Wood, playing with such invigoration he re-ignites the great debate on which two-guitar team with Richards was best: Jones, Taylor or Wood. Cases in point include Woody's whipping lead on a nicely snappy take of "Dead Flowers," his pointed riffing on "Brown Sugar," and the interwoven oomph he and Richards bring to a fiery rendition of "Jumpin' Jack Flash."
Longtime keyboard accompanist Chuck Leavell also shows his finest stuff here, honoring and enhancing the album parts by those before him like Ian Stewart, Nicky Hopkins and Ian McLagan (the electric piano bristle and bounce on "Miss You" makes the whole song). And giving us his own brilliance like the truly grand piano part he injects into "Street Fighting Man" that adds new touches of elegance and magnificence to what is already one of classic rock's greatest songs.
Related: Rolling Stones fan gets surprise of his life
But really, everyone brings their "A" game here, especially Jagger, who sings every number with an amplified sense of meaning and commitment. The six songs that play out the final near-half of the CD, from "Brown Sugar" through a stomping nine-minute "Midnight Rambler," "Jumpin' Jack Flash," a stirring seven minutes of "Gimme Shelter," "Rip This Joint" and "Street Fighting Man" are as great as rock'n'roll gets. And that's just the CD, well worth the price of admission alone.
The standard version's DVD has its wealth of riches: footage from the Stripped studio sessions, and backstage, at sound checks and onstage from the Amsterdam, Paris and London small venue shows. Spring for the deluxe set and you get all three complete superb concerts… by, at least this time out, the indisputably World's Greatest Rock'n'Roll Band.
Don't miss a post! Sign up for Best Classic Bands' Newsletter; form is on every page.

Latest posts by Rob Patterson
(see all)