The legendary 1968 concert film, The Rolling Stones Rock and Roll Circus, is being released in restored, expanded editions on June 7, with previously unheard performances from The Dirty Mac, a supergroup formed especially for the film, consisting of (John Lennon, Keith Richards, Mitch Mitchell of the Jimi Hendrix Experience and Eric Clapton).
The new versions, via ABKCO Films and ABKCO Music & Records, features Dolby Vision® and Dolby Atmos® restoration. The releases include a limited Deluxe Edition (including its first appearance on Blu-ray; more details below), an expanded 2-CD edition, and its vinyl debut (on 3-LPs). Pre-order the vinyl here and the Deluxe Edition here.
The movie, shot over two days in December 1968, features dynamic performances by The Who ("A Quick One, While He's Away"), Jethro Tull ("Song For Jeffrey"), Taj Mahal, Marianne Faithfull, impromptu supergroup The Dirty Mac (Lennon, Richards, Mitchell, Clapton), and Yoko Ono, in addition to the original lineup of the Rolling Stones who perform six songs.
In an April 1 post-screening interview, director Michael Lindsay-Hogg told the audience: "Mick called me up and said [the Stones] were interested in doing a television special. Only the Beatles or Stones were powerful enough to do that.
"It was my job to come up with an idea and for several weeks my mind was a blank. The clock was ticking. I was doodling on a sketch pad and drew a circle, and the God of Titles (visited me). There were seven words: The Rolling Stones Rock and Roll Circus."
Watch the trailer for The Rolling Stones Rock and Roll Circus
From the April 30 announcement: Filmed in a north London television studio by Lindsay-Hogg (Let It Be, Ready Steady Go!), and Cinematographer, Tony Richmond (Sympathy for the Devil / ONE PLUS ONE, Let It Be), The Rolling Stones Rock and Roll Circus was a concert filmed against a Fellini-esque circus backdrop with the band themselves as on-screen hosts in addition to performing. For the first time in front of an audience, "The World's Greatest Rock and Roll Band" performs six Stones classics ("Jumpin' Jack Flash," "Parachute Woman," "No Expectations," "You Can't Always Get What You Want," "Sympathy for the Devil" and "Salt of The Earth").
Listen to the remastered version of "Parachute Woman"
The audience, consisting of fan club members, contest winners and friends, witnessed what was initially envisioned as a BBC special to promote the band's Beggars Banquet album. Those plans were abandoned in the wake of Brian Jones' departure from the band and subsequent death. The footage was misplaced for decades; the film wasn't officially released for the next 28 years.
Watch a teaser trailer, released on June 3
"Brian died. The Stones (ultimately) toured and then they went to France for a year for tax purposes," said Lindsay-Hogg. "Thirty-six cans of film go to a small office. Ian Stewart [at the time, the band's road manager] overheard office workers saying they were in the way and asked if they should throw them out.
"Ian took the cans to his barn where they were safe. After he died in 1985, his wife was walking around the property and saw the film cans."
A limited Deluxe Edition multi-format package (Blu-Ray, DVD, and a 2-CD soundtrack) contains a perfect-bound 44-page book with David Dalton's original 1969 Rolling Stone essay, and photographs by Michael Randolf. The soundtrack has been expanded to 28 tracks, received a new mix and 192k 24 bit HD restoration. Bonus material includes three additional songs by Taj Mahal and never before heard recordings of The Dirty Mac rehearsing the Beatles' "Revolution," the aptly titled track "Warmup Jam," and an alternate take of "Yer Blues."
It's believed to be Lennon's first performance before an audience outside the Beatles. It is also the only time Tony Iommi of Black Sabbath performed with Jethro Tull. See the complete track listing below.
This enhanced version, in both original 4×3 and widescreen 16:9 aspect ratio, also features commentary tracks by Mick Jagger, Keith Richards, Tony Richmond, Michael Lindsay-Hogg, Yoko Ono and Marianne Faithfull, an on-camera interview with Pete Townshend and a host of extras.
The stunning, restored film ran briefly in theaters in April 2019.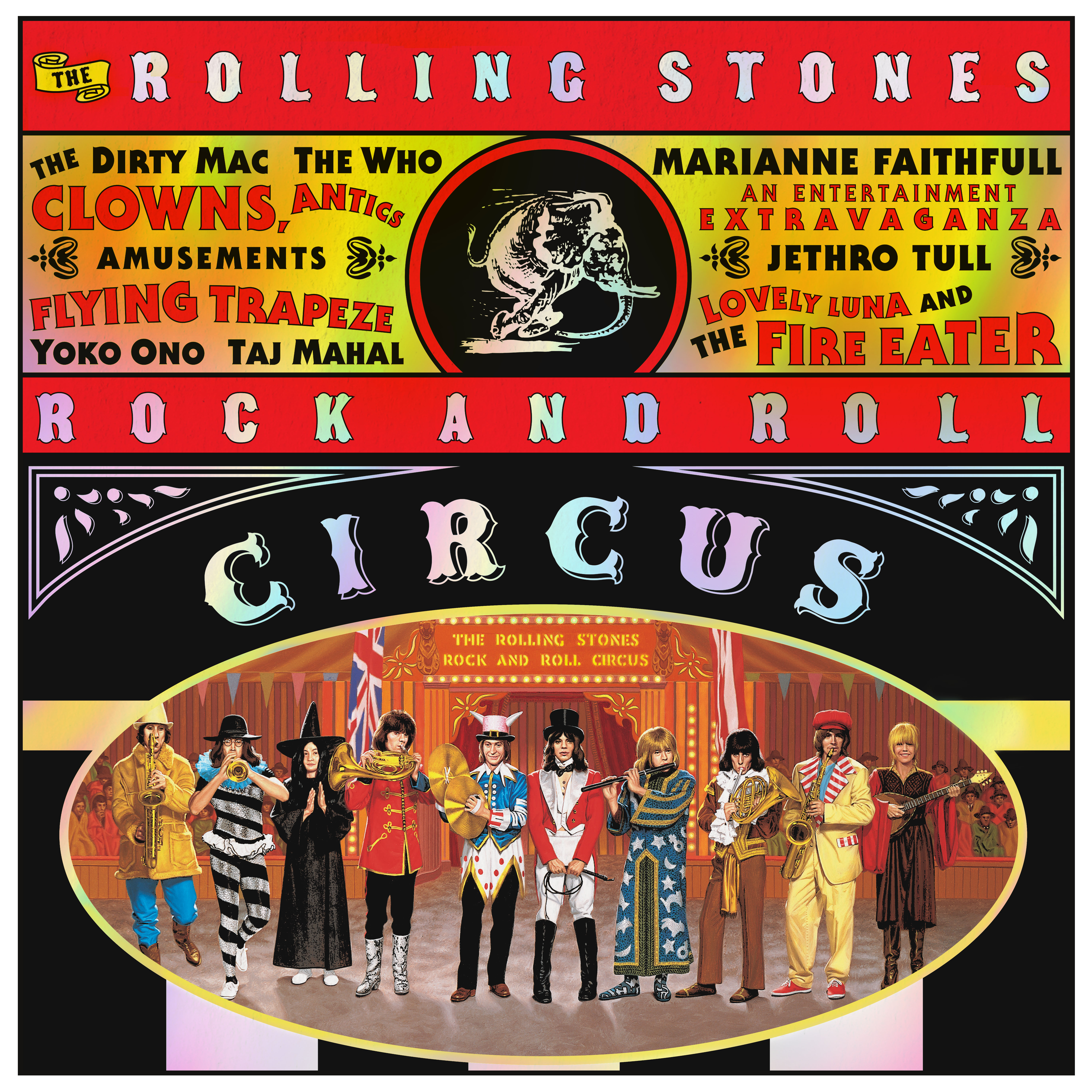 The Rolling Stones Rock and Roll Circus Expanded Audio Edition Track List
1. Mick Jagger's Introduction Of Rock And Roll Circus – Mick Jagger
2. Entry Of The Gladiators – Circus Band
3. Mick Jagger's Introduction Of Jethro Tull – Mick Jagger
4. Song For Jeffrey – Jethro Tull
5. Keith Richards' Introduction Of The Who – Keith Richards
6. A Quick One While He's Away – The Who
7. Over The Waves – Circus Band
8. Ain't That A Lot Of Love – Taj Mahal
9. Charlie Watts' Introduction Of Marianne Faithfull – Charlie Watts
10. Something Better – Marianne Faithfull
11. Mick Jagger's and John Lennon's Introduction Of The Dirty Mac
12. Yer Blues – The Dirty Mac
13. Whole Lotta Yoko – Yoko Ono & Ivry Gitlis with The Dirty Mac
14. John Lennon's Introduction Of The Rolling Stones + Jumpin' Jack Flash – The Rolling Stones
15. Parachute Woman – The Rolling Stones
16. No Expectations – The Rolling Stones
17. You Can't Always Get What You Want – The Rolling Stones
18. Sympathy for the Devil – The Rolling Stones
19. Salt Of The Earth – The Rolling Stones
Bonus Tracks
20. Checkin' Up On My Baby – Taj Mahal
21. Leaving Trunk – Taj Mahal
22. Corinna – Taj Mahal
23. Revolution (rehearsal) – The Dirty Mac
24. Warmup Jam – The Dirty Mac
25. Yer Blues (take 2) – The Dirty Mac
26. Brian Jones' Introduction of Julius Katchen – Brian Jones
27. de Falla: Ritual Fire Dance – Julius Katchen
28. Mozart: Sonata In C Major-1st Movement – Julius Katchen
Film Extras
EXTRAS
Widescreen Feature, Aspect Ratio: 16:9 (65 min)
Pete Townshend Interview, Aspect Ratio: 4×3 (18 min)
The Dirty Mac:
'Yer Blues' Tk2 Quad Split, Aspect Ratio: 4×3 (5:43)
Taj Mahal:
-Checkin' Up On My Baby, Aspect Ratio: 4×3 (5:37)
-Leaving Trunk, Aspect Ratio: 4×3 (6:20)
-Corinna, Aspect Ratio: 4×3 (3:49)
Julius Katchen:
-de Falla: Ritual Fire Dance, Aspect Ratio: 4×3 (6:30)
-Mozart: Sonata In C Major-1st Movement, Aspect Ratio: 4×3 (2:27)
Mick & The Tiger/ Luna & The Tiger, Ratio: 4×3 (1:35)
Bill Wyman & The Clowns, Aspect Ratio: 4×3 (2:00)
Lennon, Jagger, & Yoko backstage, Aspect Ratio: 4×3 (45sec)
Watch the unboxing video
Film Commentary Tracks
Life Under The Big Top (Artists) Featuring: Mick Jagger, Ian Anderson, Taj Mahal, Yoko Ono, Bill Wyman, Keith Richards (65 min)
Framing The Show (Director & Cinematographer) Featuring: Michael Lindsay Hogg, Tony Richmond (65 min)
Musings (artists, writer, fan who was there) Featuring: Marianne Faithfull, David Dalton, David Stark (50 min)
Related: Mick Jagger is recovering from his April 2019 heart valve procedure

Latest posts by Best Classic Bands Staff
(see all)