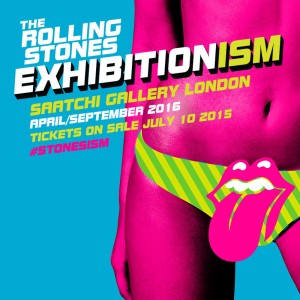 The first-ever career-spanning exhibit of Rolling Stones memorabilia, artifacts, media and other items from the band's archives, tilted Exhibitionism, will open next year on April 6, 2016 and continue through September 4, 2016 at London's Saatchi Gallery, one of 12 locations around the globe that will host it over a four year tour. Tickets are on sale here.
Over 500 pieces that include iconic stage costumes, original album cover and poster artwork, backstage and dressing room paraphernalia, musical instruments and equipment, stage set designs, personal correspondence and diaries, never before seen films and videos and rare audio tracks and more will provide an interactive journey through the group's legacy from its beginnings as a London blues combo in the early 196os through their many decades as the reigning World's Greatest Rock'n'Roll band. Collaborations and work by a vast array of artists, designers, musicians and writers will be included in the exhibition – from Andy Warhol, Shepard Fairey, Alexander McQueen and Ossie Clark to Tom Stoppard and Martin Scorsese. It will be an immersive multimedia experience within multiple spaces.
As Keith Richards notes, "While this is about the Rolling Stones, it's not necessarily just about the members of the band. It's also about all the paraphernalia and technology associated with a band as well as the instruments that have passed through our hands over the years that will make the exhibition really interesting." Exhibitionism will touch on every aspect of the group's career over more than half a century and will be the largest touring experience of this kind ever to be staged by any artist, continuing a proud tradition by the band of groundbreaking innovation with the highest production values.
Fans can purchase tickets as well as a limited VIP passes with two visits on separate dates with first admission privileges plus a souvenir ticket and lanyard. Ticket packages for groups of 15 or more are also available. See here for ticket ordering information and prices (in English pounds), and more details can be found in the Exhibitionism FAQ.
The Saatchi Gallery's location on King's Road in London's Chelsea section is in the heart of where the Stones began. "The scene was great down the King's Road in the 1960s," notes Ron Wood. "That was where you went to hang out and watch the fashions go by. So it is appropriate that our Exhibitionism will be housed at the wonderful Saatchi Gallery." No word yet on where and when it will be mounted after the London run.

Latest posts by Best Classic Bands Staff
(see all)