In London in the summer of 1969, the Stones for free in Hyde Park on July 5 was one of those "you had to be there" events. Since the latest release in the band's "From The Vaults" series isn't as much a concert like the previous ones but more a documentary, you do get a feel for what it would have been like from a wealth of crowd and context shots of some of the nearly half a million fans who were there. That alone makes this DVD a trip back in time worth taking.
It was, after all, one of those historical moments with a capital 'H.' The band hadn't played a full concert since April 1967. Mick Taylor was debuting as their new lead guitarist with very little rehearsal. Sacked founder Brian Jones had died two days earlier. And this was the first show in their rise to becoming, at least on their best nights, the World's Greatest Rock'n'Roll Band.
You only get seven of the 14 songs the Stones played that afternoon – not in running order, stage footage intercut with shots of the crowd and audience members, and it's a mixed bag indeed. "Jumpin' Jack Flash" is an almost painful mess to anyone with even a bit of relative pitch as Taylor's guitar is way out of tune and the performance is a bed of clams. On the other hand, a slightly slowed, bare bones "I'm Free" is kinda cool; "Honky Tonk Women" is nicely crunchy and slushy, with a snappy Keith Richards lead, and you can hear the potent Richards/Taylor two-guitar interlock (IMO the band's best-ever six-string partnership) starting to emerge; Taylor's slide guitar stings on "Love In Vain;" and the finale of "Sympathy For The Devil," on which the Stones are joined onstage by a troupe of African drummers, brims with the promise of the live tour de force it would soon become.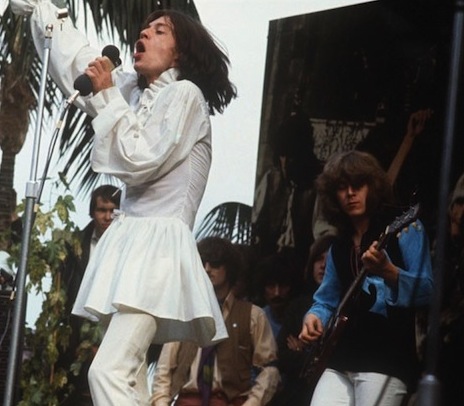 But this isn't one to watch for the music. With the famed release of the white butterflies for Brian and some behind the scenes footage to augment scenes of the audience's day, it's more of a "you are almost there" document. Just try not to groan during the interview segments with Jagger in which he comes off like – as the Brits say – a bit of a prat. Guess he hadn't yet honed what became his famed PR savvy. Or maybe Mick was just stoned.
His worst statement: "A concert's not just to hear the band as it really is. That's for the studio to do." Not with the Stones. The band's essence becomes wondrously evident at their in-concert best. And I keep hoping that From The Vaults will yield a performance that stands head and shoulders with Ya-Ya's to shout from the rooftops that this, good people, is rock 'n' roll at its very finest.

Rob Patterson began writing about music in 1976. Since his first published record review in Crawdaddy he has contributed to numerous national popular music magazines such as Creem, Musician, Circus, Spin, Request, Tower Pulse!, CD Review, Acoustic Guitar, Harp and many others along with major country music, consumer audio, musical instrument and studio recording magazines plus international publications New Musical Express and Country Music People in the U.K. From 1977 to '84 he wrote a nationally syndicated music column as well as stories for Newspaper Enterprises Association/United Feature Syndicate that ran in more than 400 daily newspapers across the nation. His work has also appeared in many weekly newspapers, onlinepublications like Salon.com and The Huffington Post, such books as the Rolling Stone Record Guide & Revised Record Guide, The Greenwood Encyclopedia of Rock History and The Year In Rock, 1980-81, plus liner notes for 20 album releases.

Latest posts by Rob Patterson (see all)