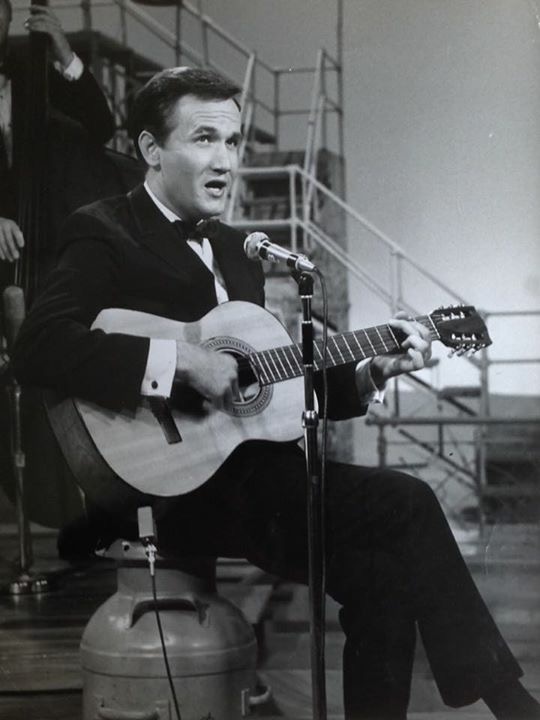 BMG will release King of the Road: A Tribute to Roger Miller on Aug. 31. The two-CD collection pays respects to the late singer-songwriter whose crossover country-pop hits included "King of the Road," "Dang Me" and "England Swings." The two-disc collection contains new renditions of Miller's songs by Ringo Starr, Dolly Parton, Eric Church, Loretta Lynn, John Goodman and more than two dozen others, including Willie Nelson, Kris Kristofferson and Merle Haggard on one track. Produced by Miller's son, Dean Miller, and Colby Barnum Wright, King of the Road offers a fresh look at the work of Miller, who died in 1992 at age 56.
Before Miller's death, the Country Music Hall of Famer had 31 Top 40 Billboard country hits (10 of which crossed over to the pop chart). He held the record for most Grammy wins in a single night until Michael Jackson and Thriller broke it in 1984. Miller wrote songs and voiced a character for Walt Disney's 1973 Robin Hood film. He also wrote the music and lyrics for the Tony-winning Big River, helping launch the career of actor John Goodman, who reprises the musical's "Guv'ment" on King of the Road.
Listen to "The Last Word in Lonesome Is Me" by Dolly Parton ft. Alison Krauss
King of the Road includes versions of Miller's biggest '60s hits, like "Chug-A-Lug" (Asleep at the Wheel ft. Huey Lewis) and "England Swings" (Lyle Lovett), and lesser-known tunes. Starr performs "Hey, Would You Hold It Down?," a song from Miller's long-out-of-print 1979 Making a Name for Myself album.
Related: What hits were on the charts the same time as "King of the Road"?
There is also a television event in the works, more information coming soon.
Listen to Willie Nelson, Kris Kristofferson and Merle Haggard sing "Old Friends"
Track List
Disc One
Greatest Songwriter (Banter)
Chug-a-Lug – Asleep at the Wheel ft. Huey Lewis
Dang Me – Brad Paisley
Leavin's Not the Only Way to Go – The Stellas/Lennon and Maisy
Kansas City Star – Kacey Musgraves
World So Full of Love – Rodney Crowell
Old Friends (Banter)
Old Friends – Willie Nelson, Kris Kristofferson, Merle Haggard
Lock Stock and Teardrops – Mandy Barnett
You Oughta Be Here With Me – Alison Krauss ft. The Cox Family
The Crossing – Ronnie Dunn, The Blind Boys of Alabama
In the Summertime – The Earls of Leicester ft. Shawn Camp
Fiddle (Banter)
England Swings – Lyle Lovett
You Can't Rollerskate in a Buffalo Herd – Various Artists
Half a Mind – Loretta Lynn
Invitation to the Blues – Shooter Jennings, Jessi Colter
It Only Hurts Me When I Cry (Live) – Dwight Yoakam
Disc Two
Hey, Would You Hold It Down? – Ringo Starr
Engine, Engine #9 – Emerson Hart ft. Jon Randall
When Two Worlds Collide – Flatt Lonesome
Oo De Lally – Eric Church
You Can't Do Me This Way and Get By With It – Dean Miller ft. The McCrary Sisters
Chicken S#$! (Banter)
Nothing Can Stop Me – Toad the Wet Sprocket
Husbands and Wives – Jamey Johnson ft. Emmylou Harris
I Believe in the Sunshine – Lily Meola
Guv'ment – John Goodman
Old Songwriters Never Die (Banter)
The Last Word in Lonesome Is Me – Dolly Parton ft. Alison Krauss
I'd Come Back to Me – Radney Foster ft. Tawnya Reynolds
Reincarnation – Cake
One Dying and a Burying – The Dead South
Do Wacka Do – Robert Earl Keen, Jr.
King of the Road – Various Artists
Listen to Brad Paisley sing "Dang Me" from the album

Latest posts by Best Classic Bands Staff
(see all)