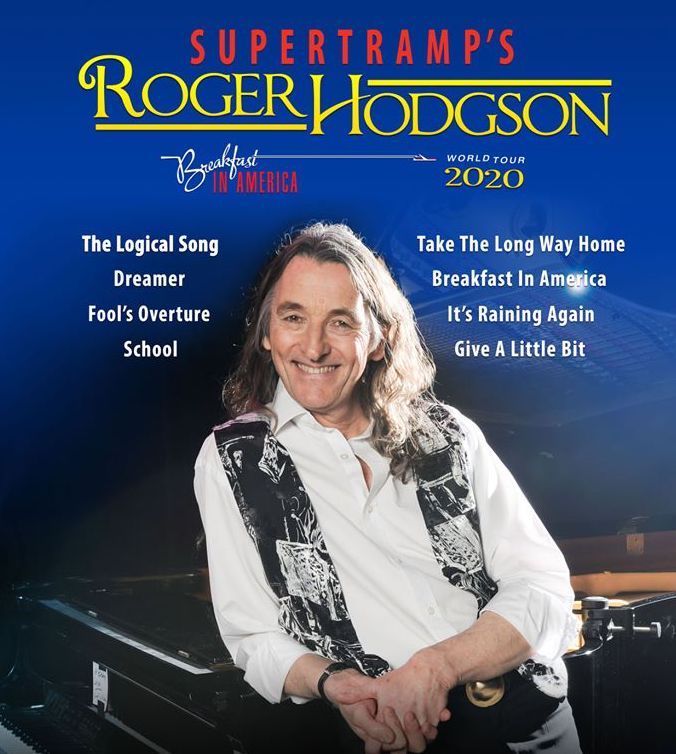 Supertramp co-founder Roger Hodgson continues his extensive Breakfast in America 40th anniversary world tour in 2020 with performances scheduled in the U.S., South America, the U.K. and Europe.
The singer-songwriter's show includes such popular songs as "The Logical Song," "Give a Little Bit," "Dreamer," "Take the Long Way Home," "Breakfast in America," "It's Raining Again" and "Fool's Overture."
The keyboardist / multi-instrumentalist co-founded Supertramp in London in 1969 with Rick Davies as the other driving force. Their initial collaborations attracted the attention of A&M Records and their self-titled album was released in 1970. From their second album forward, the pair began writing separately. However, like Lennon and McCartney, they maintained a joint writers credit on songs they recorded with Supertramp.
In 1974, the band released the album, Crime of the Century, and Hodgson's song, "Dreamer," became their first U.K. hit. Three years later, they scored their first big U.S. hit, "Give a Little Bit."
Breakfast in America was released on March 29, 1979. It reached #1 in the U.S. that May staying there for six weeks, and thanks to three huge pop singles, it was the year's #5 top-seller. Cumulative sales are a reported 20 million copies worldwide.
Hodgson left Supertramp in 1983.
Watch Hodgson perform "Take the Long Way Home in 2019"
Related: A look back at Breakfast in America
Roger Hodgson 2020 Tour (Tickets for many of the shows are available here and here)
Feb 13 – Bensalem, PA – Parx Casino
Feb 14 – Mashantucket, CT – Foxwoods Resort and Casino
Feb 15 – Ridgefield, CT – Ridgefield Playhouse
Feb 17-20 – Milwaukee, WI – Potawatomi Casino
Feb 22 – New Buffalo, MI – Four Winds Casino
Feb 23-24 – St. Louis, MO – River City Casino
Feb 26 – The Villages, FL – Sharon Morse PAC
May 06 – Uberlandia, Brazil – Arena Sabiazinho
May 07 – Sao Paulo, Brazil – Unimed Hall
May 09 – Florianopolis, Brazil – Arena Petry
May 10 – Curitiba, Brazil – Teatro Positivo
May 13 – Ribeirao Preto, Brazil – Arena Eurobike
May 15 – Belo Horizonte, Brazil – Km de Vantagens Hall
May 16 – Rio de Janeiro, Brazil
Jun 06 – Bilbao, Spain – BBK Music Legends Fest
Jun 9-10 – Brussels, Belgium – Cirque Royal
Jun 13 – London, UK – Royal Hospital Chelsea
Jun 14 – Liverpool, UK – Liverpool Empire
Jun 16 – Glasgow, UK – SEC Armadillo
Jun 17 – Birmingham, UK – Symphony Hall
Jun 20 – Hinwil, Switzerland
Jun 21 – Prattein, Switzerland
Jul 05 – Arras, France – Mainsquare Festival
Jul 07 – Brighton, UK – Brighton Centre
Jul 08 – Southend, UK – Southend Cliff's Pavilion
Jul 10 – St Nolff, France – Fete du Bruit
Jul 12 – Albi, France – Festival
Jul 13 – Aix les Baines, France – Musilac
Jul 15 – Munich, Germany – Philharmonie
Jul 16 – Hamburg, Germany – Stadtpark
Jul 17 – Eschweiler, Germany – EMF Eschweiler Music Festival
Jul 19 – Barcelona, Spain – Gran Theatre del Liceu
Jul 22 – Carcassonne, France – Festival de Carcassonne
Jul 24 – Brive-la-Gaillarde, France – Brive Festival
Jul 27 – Murcia, Spain – Plaza de Toros de Murcia
Jul 28 – Madrid, Spain – Theatre Royal
Jul 29 – Marbella, Spain – Starlite Festival
Jul 31 – Luxey, France – Festival Musicalarue
Aug 02 – Mallorca, Spain – Auditorium de Palma
Aug 07 – Salem, Germany – Schloss Salem
Aug 08 – Middelkerke, Belgium – Nostalgie Beach Festival
Aug 09 – Landerneau, France – Fete du Bruit
Aug 28 – Ritterhude, Germany – Ritterhuder Torfnacht
Sep 4-6 Amsterdam, Netherlands – Royal Theater Carre
Sep 09 – Berlin, Germany – Max Schmeling Halle
Sep 10 – Rostock, Germany – StadtHalle
Sep 12 – Randers, Denmark – Vaerket
Sep 13 – Copenhagen, Denmark – Operaen
Sep 15 – Hanau, Germany – Amphitheater
Sep 16 – Mannheim, Germany – Rosengarten
Sep 19 – Lisbon, Portugal – Coliseu Lisboa
Sep 23 – Pamplona, Spain – Navarra Arena
Sep 26 – Sevilla, Spain – Cita en Maicena Music Festival
Sep 27 – Cordoba, Spain – Teatro La Axerquia
Related: Listings for 100s of classic rock tours

Latest posts by Best Classic Bands Staff
(see all)