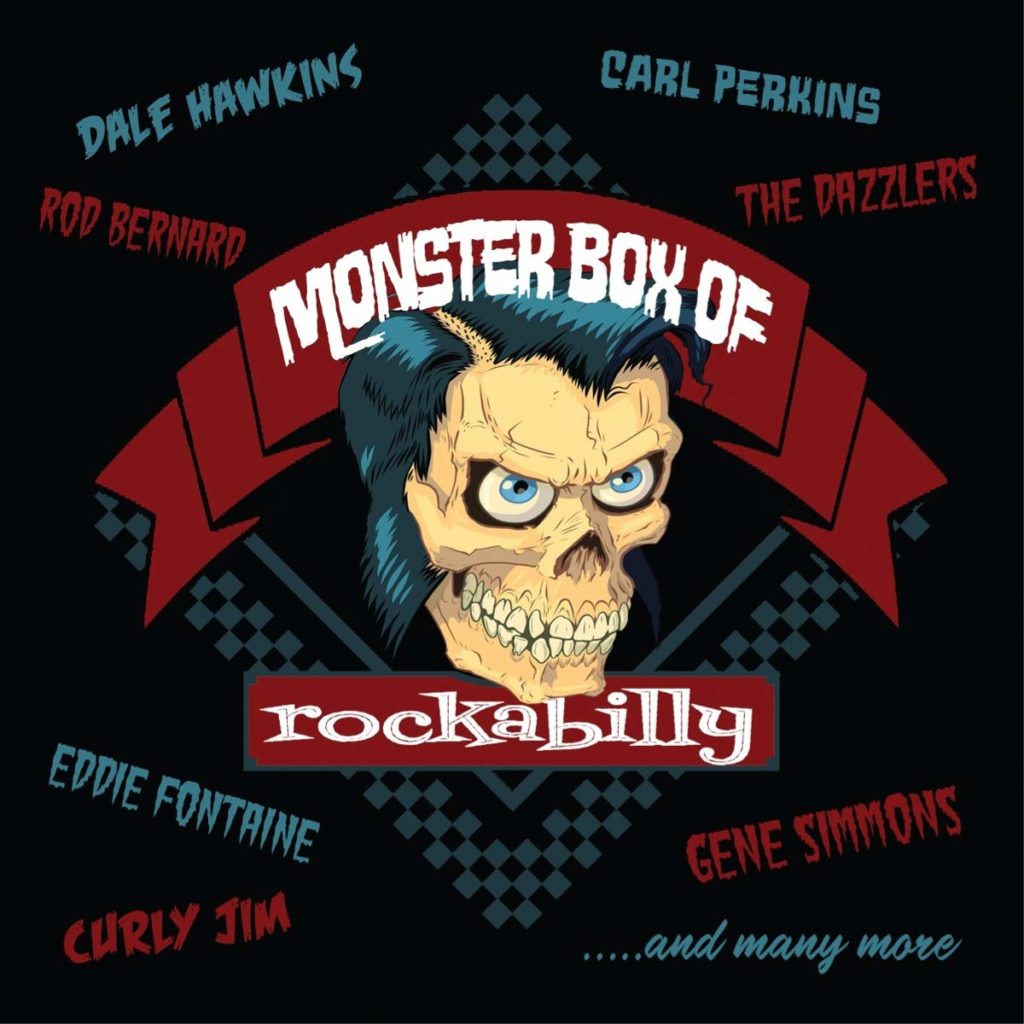 The North London reissue specialists Retroworld have released a 12-CD boxed set titled The Monster Box Of Rockabilly. The set features such stars of the genre as Gene Vincent, Carl Perkins, Buddy Holly, Jerry Lee Lewis, Wanda Jackson, Eddie Cochran, Dale Hawkins, the Johnny Burnette Trio and scores of others.
See the track listing below.
Says a press release, "Celebrating the primal sound that informed the original rock and roll era of the mid to late fifties—thrill to the crash 'n' clatter of a vigorously thrashed snare drum, the locomotion of a slapped bull fiddle, the keening twang of reverbed lead guitar and hyperactive lead vocals, and marvel at the knowledge that nothing would quite be the same ever again!"
Track Listing
Disc1
Track Artist
1 Way Out There Chuck & Bill
2 Domino Roy Orbison
3 Rad Roof Roadster Jim Foster
4 Glad All Over Carl Perkins
5 Hoy Hoy The Collins Kids
6 Funnel Of Love Wanda Jackson
7 Double Talk Baby Conway Twitty
8 My Search Ben Hewitt
9 New Shoes Lee Denson
10 Dig That Ford Doug Harden
11 Flat Tyre Bobby Johnston
12 Dangerous Redhead Jerry Raines
13 My Pink Cadillac Hal Willis
14 Race With The Devil Gene Vincent
15 Cadillac Baby Bill Sherell
16 Hot Rod The Stripes
17 Let's Bop Jack Earls
18 Long Grey Highway Frank Thayer
19 Take A Ride With Me Johnny Redd
20 Drag Strip Baby Johnny Roanne
21 You're My Big Baby Now Roy Moss
22 Stick Shift The Duals
23 Mobile, Alabama Curtis Gordon
24 Rock Your Baby Wanda Jackson
25 Yes I Do Royce Porter
Disc 2
Track Artist
1 Real Wild Child Ivan
2 Hypnotized Terry Nowland
3 Ride on Josephine Sleepy LaBeef
4 Trouble Bound Billy Riley
5 Maybe Baby Conway Twitty
6 Go!Go!Go! Roy Orbison
7 Burning The Wind Billy Wallace
8 Born To Love One Woman Don Johnston
9 Rock-a-Bye Baby Rock Connie Dycus
10 You're the One That Done It Thomas Wayne
11 Rock 'n' Roll Ruby Warren Smith
12 I Can't Help It Bing Day
13 White Lightning George Jones
14 Good Time Royce Porter
15 It'll Be Me Jerry Lee Lewis
16 Whirlwond Blues Ben Hewitt
17 Maybe Little Baby George Jones
18 The Woman I Need (Honky Tonk Mind) Johhny Horton
19 Uranium Rock Warren Smith
20 Pop, Let Me Have The Car Carl Perkins
21 Rock Around With Ollie Vee Buddy Holly
22 Big Wheel Walt Benton and the Snappers
23 Bop Bop Baby Wade & Dick
24 Born To Love One Woman Don Johnston
25 55 Chevy Hoyt Stevens
Related: Remembering Sleepy LaBeef
Disc 3
Track Artist
1 Speed Crazy Slick Slavig
2 My Pink Cadillac Hal Willis
3 Drive in Movie Ron Hargrave
4 Red Hen Hop The Louvin Brothers
5 You Break Me Up Ben Hewitt
6 Scramble Jimmy Stevens
7 Is That ALL To The Ball (Mr Hall) Billy Riley
8 Rockin' Daddy Eddie Bond
9 Black Cadillac Joyce Green
10 Rock It On Down To My House Justin Tubb
11 It Ain't Me Ray Campi
12 How Come It, Thumper George Jones
13 Cry Baby Cry Narvel Felts
14 I Vibrate (From My Head to My Feet) Conway Twitty
15 Who Shot Sam George Jones
16 Jungle Rock Hank Mizell
17 Sputnik(Satellite Girl) Jerry Engler
18 Hot Rodder's Dream Ray Burden
19 Flip Flop Mama Eddie Bond
20 Turn Me Loose Sleepy LaBeef
21 Little Bit Janis Martin
22 All the Time Sleepy LaBeef
23 Rocking on the Dragstrip Johnny Lane
24 Pink Thunderbird Gene Vincent
Disc 4
Track Artist
1 Parkin' Lot Jim McCroy
2 Maybelle Jackie Cray
3 Love Bug Crawl Jimmy Edwards
4 Full Grown Cat The McCoys
5 Break Up Charlie Rich
6 Sitting On Top of the World Curtis Gordon
7 This Old Bomb Of Mine Jim Flaherty's Caravan
8 Crazy Love Dick Glasser
9 Fancy Dan Gene Summer
10 Bluejean Bop Gene Vincent
11 Big Blon' Baby Ronnie self
12 Blue Moon Baby Dave "Diddle" Day
13 Rock & Roll Fever Cecil Campbell
14 Completely Sweet Eddie Cochran
15 Dance Me To Death Hi-Liters
16 Draggin' Curtis Gordon
17 Bird-Dog Don Woody
18 Love Me The Phantom
19 Long Blonde Hair, Red Rose Lips Johnny Powers
20 My Bucket's Got a Hole In It Sonny Burgess
21 Ubangi Stomp Jerry Lee Lewis
22 You Made a Hit Ray Smith
23 My BabeNarvel Felts Narvel Felts
24 Shot Rod Conny and the Bellhops
Disc 5
Track Artist
1 20 Flight Rock Eddie Cochran
2 Hot Rod The Berry Brothers
3 I Ain't Givin' Up Nothin' Ben Hewitt
4 Please Give Me Something Bill Allen
5 You Don't Know My Mind Roy Moss
6 Put Your Cat Clothes On Carl Perkins
7 Big Green Car Jimmy Carroll
8 Rocky Road Blues Col Joye and the Joy Boys
9 Ford and Shaker James Gallagher
10 Let's Get Wild Rudy Grayzell
11 Brand New Cadillac Vince Taylor
12 Hot Rod Race Red Foley
13 Going Down That Road Ersel Hickey
14 Sugar Doll Johnny Jay
15 Juke Joint Johnny Red Sovine
16 Cool off Baby Billy Barrix
17 Drinkin' Scotch Gene Simmons
18 Let's Get It On Hershel Almond
19 Honey Hush Johnny Burnette Trio
20 Hep Cat Larry Terry
21 Curfew Steve Carl
22 Janis Will Rock The Rock-a-Teens
23 Shake Baby Shake Wayne Raney
24 Solid Sender Billy Mize
25 Honky Tonk Johnny Horton
Disc 6
Track Artist
1 Slip, Slip, Slippin' In Eddie Bond
2 Crazy Blues J.P. Richardson
3 Hot Rod Boogie Jack Kitchen
4 Jukebox Help Me Find My Baby Tommy Mitchell
5 Barefoot Baby Janis Martin
6 Big Fool Ronnie Self
7 I Need Your Lovin' Conway Twitty
8 I Want a New Girl Now Ben Hewitt
9 My Baby Done Left Me The Farmers Boys
10 You Nearly Lose Your Mind Roy Moss
11 Down the Line Jerry Lee Lewis
12 Jello Sal Benny Ingram
13 Flip, Flop & Fly Johnny Bell
14 Rock the Bop Brenda Lee
15 Why Did You Leave Me? Lou Josie
16 High School Blues Mack Vickery
17 40 days Ronnie Hawkins
18 Bobbin' Bonnie Eddie Bond
19 Burning the Wind Bill Wallace
20 Done Gone George & Earl
21 Hot Rod Boogie Howard W. Brady
22 Hot Rod Baby Rocky Davis
23 South's Gonna Rise Again Jesse James
24 Save It Mel Robbins
25 You Oughta See Grandma Rock Skeets McDonald
26 You're So Wild Pat Shannon
27 Rockin' Bones Ronnie Dawson
28 Rock, Roll, Jump & Jive Curtis Gordon
29 Little Mama Tommy Mitchell
30 Draggin' Curtis Gordon
Disc 7
Track Artist
1 Hot Rod Boogie Jack Kitchen
2 Blue Suede Shoes Carl Perkins
3 Pretty Linda Rudy Owen
4 Everybody's Trying to Be My Baby Carl Perkins
5 Long John's Flagpole Rock Lonesome Long John Roller
6 My Babe Dale Hawkins
7 Doing All Right Eddie Cash & the Cashiers
8 My Woman Burrie Manso
9 Teen Doll David Starr
10 Are You Ready Henry Wilson
11 True Love Come My Way Larry Diamond
12 Sloppy Sloppy Sue Curly Jim
13 I'm Gone Vic Gallon
14 Whole Lotta Shakin' Tony Garo
15 All Night Long Johnny Fuller
16 I've Got It Ralph
17 My Woman Burrie Manso
18 Honey Do You Think of Me The Lonesome Drifter
19 Run Rose Billy Miranda
20 Oh What Love Is Jack Bailey & the Naturals
21 Do The Fly The Rovin' Ramblers
22 Roses Are Blooming The Silva-Tones
23 Shake It Dave Osborn
24 If I Had Me A Woman Blacky Vale
25 Pardon Mr. Gordon Rod Bernard
26 A Date at Eight Ray King & The Kingsman
27 When You Said Goodbye Jerry Arnold
Disc 8
Track Artist
1 Boppin' Wigmam Willie Ray Scott
2 Be Bope Battlin' Ball Eddie Gains
3 Lend Me Your Comb Carl Perkins
4 Long Tall Sally Carl Perkins
5 I Need It Ray McCoy
6 Nothin' Shakin' But the Leaves Eddie Fontaine
7 Ballin' Keen Bobby & Terry Caraway
8 Lorraine Buddy Covelle
9 Little Pig Dale Hawkins
10 That's Baby Dale Hawkins, His Tomcats
11 Eager Lips Gary Huckaby
12 Take My Heart Dale Hawkins
13 Rockin' Beat The Neighbours
14 Blue Suede Shoes Delbert Barker
15 Confusion Lee McBride
16 Love Me Jimmy Lee & Wayne Walker
17 Lovin Baby Howard Perkins
18 Oh Yeah Tommy Danton & The Echoes
19 Gonna Have A Party Dickie Damron
20 Rock Yea Del Saint & The Devils
21 You Are the One Dennis Volk
22 Shoppin' Around Wayne Red Cobb
23 Rock Pretty Mama Billy Adams
24 Jet Tone Boogie Jet Tones
25 Cute Chick The Echomores
26 Carmen Sue Rock Lee "Red" Melson
27 She Left Me Crying Dinky Harris
Related: The Stray Cats' debut album and the rockabilly revival
Disc 9
Track Artist
1 Something Baby The Dazzlers
2 Pink Pedal Pushers Carl Perkins
3 Gone Gone Gone Carl Perkins
4 Everybodys Rockin' Billy Prager & His Caravans
5 Night Club Rock and Roll Gene Parson
6 Proof of Your Love Jackie Cannon
7 Come Along Baby The Astronauts
8 White Felt Hat Little Jackie Wayne
9 Crazy Love Dick Glasser
10 Midnight Dreams Tommy Bell
11 Let's Do It Lawrence Flippo
12 Jackso Dog Larry Brinkley
13 Jumpin' From Six to Six Al Barkle
14 Hungry For Love Baker Knight
15 Hubba Bubba Ding Dong Vince Maloy
16 Scream Ralph Nelson & The Chancellors
17 Betty Jo Nicky Brazell
18 Don't Ya Know Eddie Fontaine
19 Black Cadillac Joyce Green
20 That's The Way I Feel Jimmy Pritchett
21 BettyJean Rock J Mikel
22 Bad Boy Willie Gene Simmons
23 I Know Why Billy Clark
24 Hey Baby Johnny Denton
25 Bevy Mae Bobby Smith
26 Midnight Train Willie Tremains
27 Get It Off Your Mind Kenny Parchman
Related: First generation rockers–who's still with us?
Disc 10
Track Artist
1 Anyway Wesley Hardin
2 Wake Me Up Norman Witcher
3 Theyre Learning Lynn Pratt
4 Robinson Crusoe Bop Sonny Coloe & Rhythm Roamers
5 A Car Tony Chick
6 Matchbox Carl Perkins
7 Jello Sal Benny Ingram
8 Go Boy Go Jesse Stevens
9 Tennessee Carl Perkins
10 Three Years Harold & The Offbeats
11 You Shake Me Up Andy Anderson
12 Stop The World Gary Shelton
13 Go, Go, Go Bobby Sisco
14 Baby Baby Doll Stan Johnson
15 Have A Tear on Me Jim Wilson & The Flairs
16 I'll Be Leavin You Turner Moore
17 Save It Mel Robbins
18 Lonely Bobby McDowell
19 Babysitter Boogie Stan Gunn
20 Almost Billy Barrix
21 I Aint Gonna Rock Tonite Hender Saul
22 Curfew Steve Carl & The Jags
23 Shaken & Shuddern Jim Pike
24 Chill Bumps Jackie Cannon
25 Chick Chick Junior Dean
26 Cool Tom Cat Bill Carter
27 If You Want My Love Bobby Lawson
Disc 11
Track Artist
1 Who's That Big Man Lee Mitchell
2 Spin the Bottle Benny Joy
3 Why'd You Leave Me Jimmy Edwards
4 Ready Teddy Carl Perkins
5 Daddy Joe Pete Ciolino
6 Breezin' Out Lou Josie
7 All Massed Up Jess Hooper
8 Ooh Eee (What You Do To Me) Chuck Atha
9 Born to Ramble Keith Loren
10 Jive After Five Carl Perkins
11 Rockin' Spot Curley Coldron
12 Wicked Woman Johnny Gamble
13 Jam Up Jackie Carbone
14 Annie Mae Bobbie Dewit
15 I Can't Wait Ray Stanley
16 Rock Ya Baby Jim McCrory
17 No Good Robin Hood Delbert Barker
18 She's Gone From Me Bobby Smith
19 Tall Dark Handsome Man Bobby Sisco
20 I Thought About You Darrel Rhodes
21 Uh-Huh-Huh Jeff Daniels
22 Come On Baby Jimmy Kirkland
23 Lazy Susan Brothers
24 Love Me Baby Chavis Brothers
25 Woman Train Hank Davis
26 Why Did You Leave Me Lou Josie
27 Hey, Mr Porter Ralph Pruitt & His Rhythm Boys
Disc 12
Track Artist
1 Hong Kong Mississippi Henry Henry
2 Rockin' N My Sweet Baby's Arms Pete Peters, The Rhythmakers
3 I've Gotta Find Someone Tiny Tim
4 Dixie Fried Carl Perkins
5 Meet Miss Suzie Eddie Cleary
6 Hubba Bubba Ding Dong Vince Maloy
7 Rock Pretty Mama Billy Adams
8 Just Go Wild Over Rock And Roll Bobby Dean
9 Somethin' Baby The Dazzlers
10 You Shake Me Jimmy Wayne
11 Tutti Frutti Carl Perkins
12 Sugaree Rusty York
13 Bill Blevins Crazy Blues
14 Shook Shake Ken Davis
15 I'm Lonesome Baby Kenny Smith
16 Don't Treat Me This Way Dale Hawkins
17 Bang Bang Tommy Moreland
18 Hey Doll Baby Pat Kelly & The Shamrocks
19 Little Willie Ritchie Deran
20 Baby, Baby Dale Hawkins
21 Baby By Rock Winnnie Starr & The Omaha Kid
22 You Lied To Me Honey Junior Gravely
23 Hot Dog Dale Hawkins
24 Whoo-Oee And Oh O Fine Charles Jones & The Stardusters
25 I'm Gone Rick Rickels
26 Tutti Frutti Lawrence Shaul & The Aristocats
27 Mama Earl Reed

Latest posts by Best Classic Bands Staff
(see all)