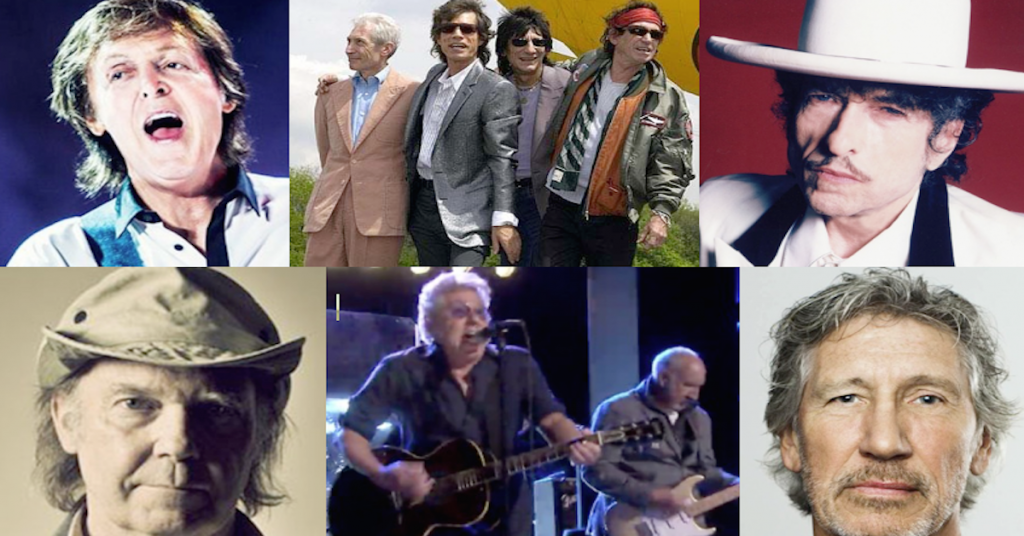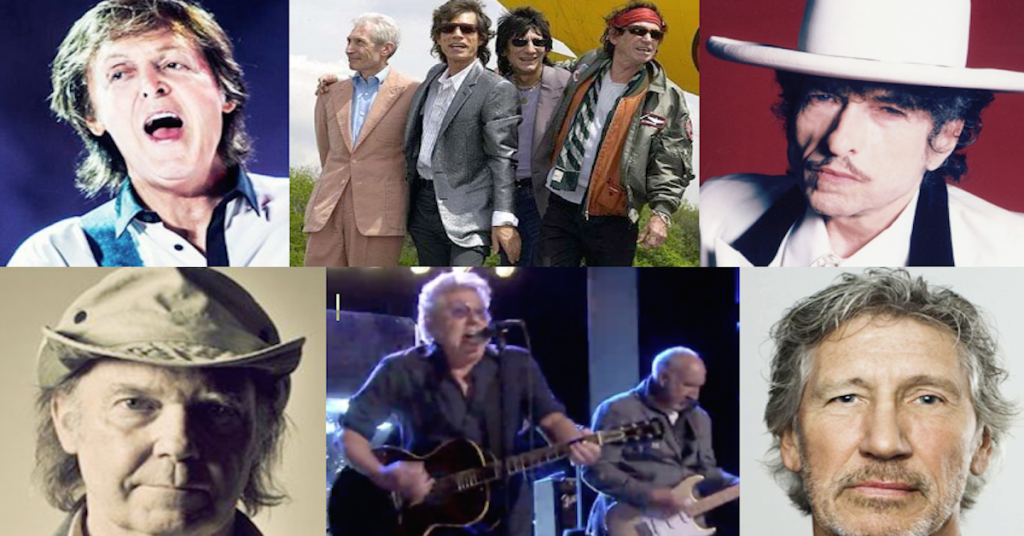 Some are disparagingly calling it Oldchella, others the greatest assemblage of classic rock royalty since Woodstock. Its official title is Desert Trip and it's taking place October 7-9 and 14-16 in Indio, California—where the annual Coachella Music & Arts Festival was launched in 1999—about 130 miles from L.A. or San Diego and 250 from Las Vegas.
The annual two-weekends-a-year Coachella has long been a springtime destination spot—call it a music-and-mating ritual—for a variety of mostly millennial rock and hip-hop fans, but this is something new. Put together by Paul Tollet and his Coachella people, Desert Trip extends the event's model both in terms of demographics and in booking.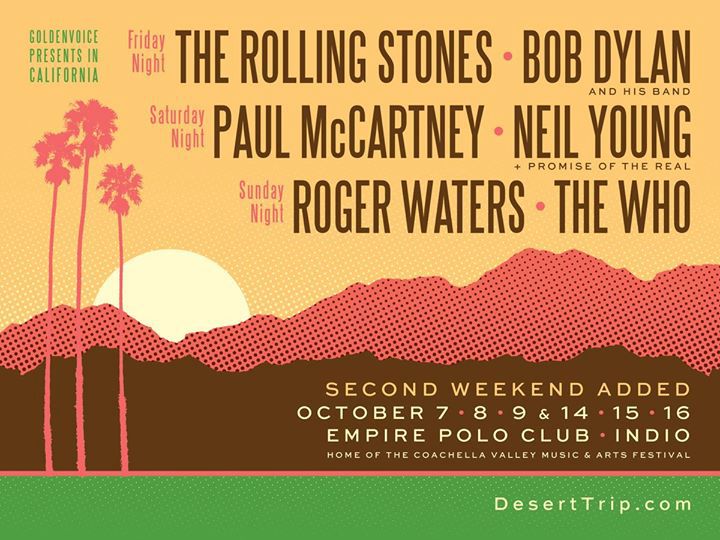 You get: The Rolling Stones and Bob Dylan on the Fridays, Paul McCartney and Neil Young (with Promise of the Real) on the Saturdays, and Roger Waters and The Who on Sundays. It sold out right off the bat, the face value of the three-day top-of-the-line "pit" tickets priced at $1,599. (Those now run about $5,500 on scalping—sorry, resale—sites; you can scoop up a G.A. weekend pass for around $470. Single-day tickets, G.A., start around $200.) The stars earn a big pile—some reports say $7 million a set—and you pay a big pile to see them. That's the deal. (Seeing that the scalpers are getting triple face, it would seem the promoters underestimated the wherewithal and financial clout of their demo.) Re-sale tickets are available via TicketNetwork.
Whatever you think of it, it's likely to be the first and last of its kind, six massively influential rockers together in one spot, even if it is over a three-day span: Dylan is 75, McCartney 74, Mick Jagger will turn 73 on July 26, Waters is 72, Pete Townshend is 71 and Neil Young is 70. They're in their eighth decade. They're old and most people going to the show will be old.
To which I'd reply: What of it? Or, alternately, may all of us live so long … and prosper. What we're learning is there's no sell-by date for (certain) rock 'n' rollers or rock fans, and that, like blues, folk and jazz musicians, these guys have earned the right to keep playing right up until they can't or they decide it's not worth the effort. Remember, folks, "Hope I die before I get old" was just a line in a song, the braggadocio of cocky youth.
The indignity! These people didn't have the good grace to leave the planet at 27. I first interviewed Townshend in 1985 and he told me this about "My Generation": "I played it but I didn't sing it. I wouldn't sing it. I look back at the man I was the night I wrote 'My Generation' with a sneer.' I don't sneer at the work, but I definitely sneer at the sentiments. I was a … hypocrite, really."
If you're a new Best Classic Bands reader, we'd be grateful if you would Like our Facebook page and/or bookmark our Home page.
Of the acts playing Desert Trip: The Who are seemingly done writing or recording new music. The Stones and Waters make noises about doing it (the Stones, in fact, are reportedly working on a blues album); Dylan has become a Great American Songbook kind of guy (but may still have gas in the songwriting tank). Young will keep making new music until he drops. McCartney hasn't abandoned his post-Beatles writing/collaborative pursuits.
Key questions to ponder approaching Desert Trip:
What does this music, this band or artist, mean to you? What do you want from a rock concert, a trip down memory lane? (Of course you do.) Do you want a hit parade or deep tracks? Do you hope that there's new(ish) material that suggests the artist is still creating top-notch music?
I've seen all six acts over the past few years and done some recent online upkeep. Some Desert Trip suppositions follow:
Paul McCartney: Macca's an entertainer whose mantra has long been, "Give the people what they want (and still leave them wanting more)." I mean, he's got the Beatles' catalog, for Chrissakes—who'd complain about any or all of it? He's got solo Paul and Wings, too, and he's not going to ignore the high points, silly and melodramatic as they may be ("Jet," the pyro-mad "Live and Let Die"). He's going to play two-and-a-half hours. But there are some new wrinkles on the current tour. Comparing the Fenway Park shows from July 2013 and this month, he opened the earlier show with "Eight Days a Week" and now starts off with "A Hard Day's Night." On the current tour he's been playing the 'round-the-campfire-style "In Spite of All the Danger" (from the pre-Beatles Quarrymen days, 1958!), the 1980 electro-popper "Temporary Secretary" and his collaboration with Rihanna, "FourFiveSeconds." Vocals report: Mellifluous but a tad more raspy and raw. And, yeah, as he's done for years, he still closes with that side two Abbey Road blitz.
Never miss a post! Sign up for Best Classic Bands' Newsletter; form is on every page.
Bob Dylan: Just one more stop on the Never Ending Tour. If everybody's gotta serve somebody, Dylan's been implicitly saying he's going to serve himself first. Of course, he's been saying this for years—rearrangement is his calling card and he's not hung up on the hits. You're welcome to come along, as long as you check your nostalgia at the door and ready yourself for 21st century Bob. He does play 1965's "She Belongs to Me" and '63's "Blowin' in the Wind" on his current tour, but that's it for the early years. Nowadays, you're getting a gruff-voiced singer that goes deep into Tom Waits territory. (If you comprehend lots of Dylan lyrics at his shows, you're a sharper listener than I.) You'll likely be getting lots of Sinatra (those last two covers albums, Shadows in the Night and Fallen Angels) and some bits from his last album of originals, The Tempest. Don't expect to see him play guitar—he's planted at the keyboards if he's playing anything—and don't expect the kind of wrenching drama of the old days, or for that matter many surprises. A Boston critic/friend, Paul Robicheau (Improper Bostonian), caught the latest Dylan shed show this month. The stage was dimly lit, as always. I asked about his voice. "Definitely clearer," Paul said. "Not that you could catch every lyric, and he's still got that dark, gravelly sound. But not sub-Waits or frog-like. I was surprised."
The Who: The show I saw in May was a ripping good time and a fabulous crowd-pleaser. Chance of new/unreleased material: nil. The Who didn't play anything from 2006's Endless Wire, the "newest" song being "Eminence Front" from 1982's It's Hard. (It's not like there was any demand for songs from either album.) They—Roger Daltrey and Townshend plus six—focused on the mid-'60s-to-mid-'70s sweet spot. A 21st century Who show is about looking back—lots of accompanying video and stills from their younger years—while proving that there's nothing antiquated about them playing those songs now. Daltrey, following his throat surgery in Boston, can hit notes he thought he'd never hit again. If Townshend doesn't do much scissor-kicking, so be it. He'll still windmill for ya. Ringo's kid, Zak Starkey, plays the drums like Keith Moon Jr. There's a lot of majesty in the music and usually some self-deprecating, possibly naughty, comments from Townshend.
The Rolling Stones: It's a tossup between "Jumpin' Jack Flash" or "Start Me Up" to begin and from there on … it's headlong into the entirety of Their Satanic Majesties Request. (Just kidding, although they have recently performed that 1967 psychedelic album's "She's a Rainbow"!) Like The Who, the Stones aren't likely to muck up the fun with anything recorded past 1981's Tattoo You. Songs from 2005's A Bigger Bang have disappeared, although 1997's "Out of Control" has shown up on rare occasions. In other words, if your Stones heyday matches my Stones heyday, you can get (most of) what you want: "Satisfaction," "It's Only Rock 'n' Roll," "Sympathy for the Devil," etc.
Related: Review of the Stones' October 7 Desert Trip headlining performance
Neil Young: The wild card, the (sometimes cranky) contrarian of the bunch. Young could sit at his harmonium, he could thrash and wail on "Down By the River" for 20 minutes, he could go all Harvest and Harvest Moon folk-rock, he could harangue us with "The Monsanto Years," he could revert to synth-pop Neil and play Trans. (Well, the latter's not too likely.) He is playing with the young band Promise of the Real and they've got about 80 potential tunes, and as such are capable of going into most phases of Young's career. July sets have been fairly consistent—"After the Gold Rush" and "Heart of Gold" at the start, "Mansion on the Hill," "Human Highway." "Like a Hurricane" and "Words" in the mix, maybe an encore of "Cortez the Killer" or "Fuckin' Up." A three-hour show is not out of the question at all.
Roger Waters: Waters has been touring (and reinventing) The Wall for what seems like forever, but he played Coachella in 2008, and featured Dark Side of the Moon in the middle, bracketing it with everything from the early days to songs from Wish You Were Here and Animals. This time, we do know he'll be joined on backup vocals by the singers of Lucius, Holly Laessig and Jess Wolf, as he was at the Newport Folk Festival in 2015. Waters unveiled a new one there, a sad/hopeful, very Waters-y piano-and-voice song, "Crystal Clear Brooks." He reportedly has had more new music in the works for eons: a concept album about a granddad and grandchild searching for answers, he told the NME last year. But nothing's come out yet, and it's unlikely he'd pick Desert Trip to unveil and unleash it.

Latest posts by Jim Sullivan
(see all)