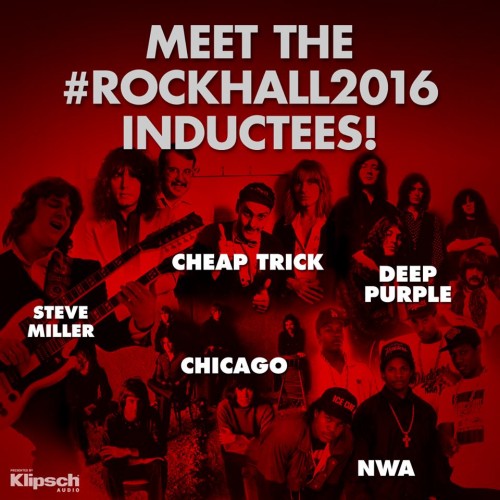 Update (March 18): The Black Keys have joined the Class of 2016 induction ceremony as presenters. We also have a date of the HBO broadcast premiere: April 30 at 8 pm. (See teaser clip below.)
The lineup of presenters and performers (and non-performers) at the Rock and Roll Hall of Fame's Class of 2016 induction ceremony is becoming clearer. Today the Hall announced that Kid Rock has been chosen to induct Cheap Trick at the April 8th event at Brooklyn's Barclays Center. Kendrick Lamar will induct hip hop act N.W.A. They join previously announced presenters including The Black Keys (for Steve Miller), Rob Thomas (for Chicago) and Lars Ulrich of Metallica (for Deep Purple).
As Best Classic Bands reported, Ritchie Blackmore will not be joining his former bandmates Deep Purple at the induction ceremony. (The official induction list is Blackmore, Jon Lord, Ian Paice, Ian Gillan, Roger Glover, Rod Evans and David Coverdale.)
Neither will former Chicago lead singer Peter Cetera when that band is honored. He reiterated his position again today that he will "NOT" be participating. He indicates "the only reply I ever received back from them was a very snarky 'Take a chill pill dude!' Click here for BCB's coverage. (The official Chicago induction list is Cetera, Terry Kath, Robert Lamm, Lee Loughnane, James Pankow, Walter Parazaider, and Danny Seraphine.)
This year's other inductee is Ahmet Ertegun Award for Lifetime Achievement Inductee Bert Berns. (Berns co-wrote such enduring classic rock songs as "Twist and Shout," "Hang on Sloopy" and "Piece of My Heart." He produced such recordings as the Isley Brothers' version of "Twist and Shout," the Drifters' "Under the Boardwalk" and Van Morrison's "Brown Eyed Girl.")
Cheap Trick will also perform live in Cleveland for the 13th annual It's Only Rock and Roll Spring Benefit on May 6th at the historic Public Hall. Tickets are available here.
The 2016 Rock and Roll Hall of Fame Performer Inductees were chosen by more than 900 voters of the Rock and Roll Hall of Fame Foundation. Artists are eligible for inclusion in the Rock and Roll Hall of Fame 25 years after the release of their first recording.
Tickets for the April 8th induction ceremony are still available. Click here for the Ticketmaster page.
The Rock and Roll Hall of Fame and Museum in Cleveland, Ohio, will also open a special exhibit on the 2016 Inductees in conjunction with the 2016 Induction Ceremony. The Museum is a nonprofit organization that tells the story of rock and roll's cultural influence through its exhibits, public events, educational programs and a world-class Library and Archives.

Latest posts by Best Classic Bands Staff
(see all)