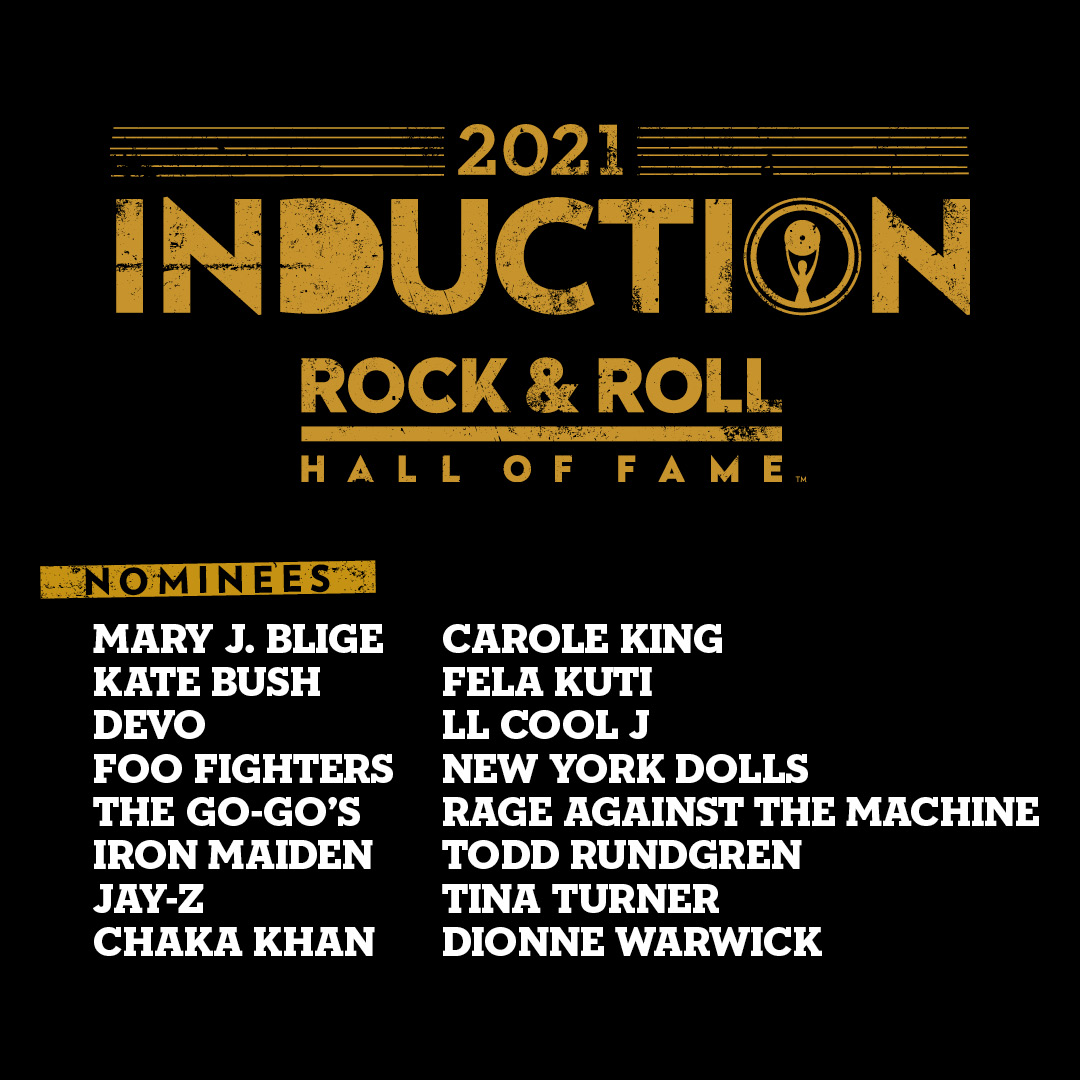 Update (May 12): When the Rock and Roll Hall of Fame announced its nominees for the class of 2021, we made predictions on who would make the cut and who would be left out in the cold (see below). Our predictions were not based on our own favorites but, rather, who we thought the voters would actually choose. Now that the Hall has announced the winners, we can say that we did pretty well! In fact, we hit a home run, correctly predicting that all six of the artists to be inducted in the Performer category would in fact be chosen!
The six are:
The Foo Fighters
The Go-Go's
Jay-Z
Carole King
Todd Rundgren
Tina Turner
We only missed one. We had also predicted that the New York Dolls would be inducted this year, but they've gotten the cold shoulder once again.
Several other artists and music industry figures will be inducted via specially created "Awards," only one of whom, rapper LL Cool J, was actually nominated this time around. We did not predict that he would be inducted, and technically we were correct because he is being named by a panel, not the voters.
Here is our original article with our predictions noted at the end of each entry:
It's that time again! The Rock and Roll Hall of Fame has announced its Class of 2021 inductees, and that means the arguments have begun. How could they have left out (put favorite artist's name here)?! Why did they induct (name of someone I don't like goes here)?! That artist isn't even rock! And who cares about the Rock Hall anyway??!!
This year the HoF nominated 16 artists spanning various musical eras and genres, everything from Afrobeat (Fela Kuti) to metal (Iron Maiden) to proto punk/glam (New York Dolls), new wave (the Go-Go's), art-rock (Kate Bush) to pop (Carole King), R&B (Chaka Khan, Mary J. Blige) and hip-hop (Jay-Z and LL Cool J—the first time two rappers were nominated in the same year)—even some mainstream rock (hello, Foo Fighters, earning their first nod).
Regardless of how you personally feel about the Hall's choices, there's no denying that it's one of the most diverse groups of nominees to date: Seven of the nominees are female acts, more than ever before, while nine feature people of color. Several have been nominated at least twice before (LL Cool J just nabbed his sixth!). Several are first-time-nominees.
Three people from the 2021 group have already been inducted: Tina Turner (as a member of Ike and Tina Turner), Foo Fighters' Dave Grohl (as a member of Nirvana) and Carole King (as part of the songwriting team of Goffin and King). Will they be recognized a second time or will the voters go for those who haven't won anything yet? Only one artist, Chaka Khan, is a returnee from last year's nominee class, and that was with her group Rufus.
From the annual list of nominees, traditionally the Hall chooses around five to seven new inductees, depending on the percentage of votes the artist receives. (The nominations are made by a committee of a few dozen music industry folks, artists and critics; a ballot is then sent out to 1000+ voters, also involved in the music biz. There's zero transparency; neither the nominating committee or the voters are ever identified.)
What that means is that some of these people are going to be in the Hall of Fame's Class of 2021, and many more won't be. But which ones will make it and which ones will be shunned?
Your guess is as good as ours (it really is—we have no spies inside the Hall), but each year we like to look at the overall list and try to determine who we think will be celebrating and who will be bummed. Every fan should find at least a few artists they desperately want to see inducted and probably just as many that trigger a head-scratching (or a shout of indignation).
Please don't shoot the messenger: This article doesn't reflect which artists we personally like or don't like or think should/shouldn't be inducted. It's all about who we think the voters will choose, based on our knowledge of how they usually vote.
The fan vote, which is essentially meaningless, continues through May 7. You can view the current rankings here. The winners will be announced later that month. (The induction will be held in Cleveland on October 30.) We'll return to this list after the announcement and see how we fared.
Related: Who did we think would win in 2020?
Mary J. Blige—She's been a phenomenally successful artist since her emergence in the mid-'90s, with a string of chart-topping singles and albums, and she owns shelves loaded with awards. There's no denying that Mary J. Blige is a big deal, but we simply don't think that the Rock Hall voters will go for her when they have so many others to choose from. Odds: Not a Chance
Kate Bush—There is no one else like Kate Bush. She's an original, for sure. Terrific songwriter, engaging singer. She's always pushing the envelope and refuses to bow to conventions. You could easily lose yourself in her music; her artistry is so rich. But her eclecticism has also kept her from large-scale mainstream success (in America, at least), and we're guessing that the voters, while acknowledging Bush's gift, will skip her in favor of others. Odds: Not a Chance
Devo—They came up in the post-punk era with their flower pot hats and quirky rhythms, tossed in some performance art elements and more than a bit of camp and silliness, and wrapped it up in a faux-losophy they called "de-evolution" (as it turns out, they were on to something). Songs like "Whip it" and their cover of "Satisfaction" are still fun to listen to, and Mark Mothersbaugh has had a prolific film and TV music career but he's not the one being considered. We're guessing that most voters will still not be in any hurry to induct them. Odds: Not a Chance
Foo Fighters—When Nirvana fell apart in the wake of Kurt Cobain's death, how many honestly thought that their drummer, Dave Grohl, would switch to guitar-slinging frontman and lead a new band that would far eclipse the success of his earlier one? Well, obviously, that's happened—with nearly a dozen albums in their discography and as many Grammys, Foo Fighters have long been established as one of rock's keepers of the flame. If there's one name on this list that's guaranteed to get in, we think it's them. Odds: Welcome to the Hall!
The Go-Go's—When they first emerged in the early '80s, the all-female new wave quintet quickly proved that their blend of rock attitude and power pop hooks could appeal to a mass audience: Their debut album, Beauty and the Beat, sold phenomenally well, and songs like "We Got the Beat" and "Our Lips Are Sealed" have been perennial favorites ever since. They broke up a few years later but have reunited a bunch of times since then and the fans still love them. Odds: Welcome to the Hall!
Iron Maiden—The Hall has had a spotty track record when it comes to popular heavy metal bands. Several have been inducted, while many others have repeatedly been ignored. Iron Maiden has been a consistent favorite of mainstream metal fans though, and even many stubborn rock critics have acknowledged the consistent quality of their output. We do think they will get in, but we don't think that will happen this time. Odds: Soon, But Not Now
Jay-Z—The Hall of Fame has proven very open to the inclusion of hip-hop artists in its ranks, and few are as famous and powerful as Jay-Z, who has parlayed his music career into a massive business empire. He's sold tens of millions of albums and even more singles, and his influence has been tremendous. He's already been inducted into the Songwriters Hall of Fame (the first rapper in there), and we think the rock voters will follow suit. Odds: Welcome to the Hall!
Chaka Khan—The R&B singer has been nominated previously both solo and with the band Rufus—as if anyone knows any members of Rufus other than her. Either way, we're still not convinced. As we wrote about Chaka before, "Long career? Check. Sales galore? Some 70 million. Awards? Ten Grammys. Crossover appeal? From the start. Household name? Your mom probably digs her. And when it comes to influence, we can't blame Chaka for all the over-singers who followed." But, compared to the other acts on the list this year, we just don't think she's going to get enough love. Sorry, Chaka. Oh yeah, and Rufus too. Odds: Not a Chance
Carole King—She's already an inductee, but not as a recording artist. She was previously recognized for her contributions with her late songwriting partner Gerry Goffin. Together they wrote a whopping 114 Billboard Hot 100 hits, among them "The Loco-Motion," "Take Good Care of My Baby," "(You Make Me Feel Like) A Natural Woman," "Up on the Roof" and "Pleasant Valley Sunday." But King's career was only beginning: In 1971 she released Tapestry, one of the most popular and influential albums of all time. For that alone, we believe she deserves the second induction as a solo artist. Odds: Welcome to the Hall!
Fela Kuti—In the days following the announcement that the Nigerian bandleader, songwriter, singer and activist had been nominated, we saw many comments online from perplexed rock fans, most of them variations on the question, "Who is he?" Well, Fela Kuti was a force of nature, and one of the most influential artists ever to emerge from Africa. And although he never attained mainstream popularity in America, he made enough of an impact that he was the subject of a Broadway musical. Still, as funky as he was, the late Fela simply doesn't have the widespread name recognition to elevate him to inductee status.  Odds: Not a Chance
LL Cool J—Let's put aside, for now, the argument over whether rap artists "belong" in the Rock and Roll Hall of Fame. We know that a lot of rock fans don't think so, but that's a debate for another time. Accepting that the Hall recognizes hip-hop, and has already inducted several rappers, the question at hand is whether LL Cool J deserves to be the next one. Our feeling is that while he's become something of a mainstream artist over the years, very visible on mainstream TV, and will get the nod one of these days, this year there are too many others that stand a better chance. Odds: Not a Chance
The New York Dolls—There isn't a soul in the world who would deny the impact that the New York Dolls had on the emergence of punk. With their outrageous appearance and take-no-prisoners pure rock 'n' roll, they livened up the early '70s music scene just when things were starting to get pretty stale and pretentious. The problem was, they only made two albums, neither of which sold very much, and then they were gone, so not that many folks ever got to hear them in their own time. Now that most of the band members are deceased, though, we think the Hall will finally acknowledge them. Odds: Welcome to the Hall!
Rage Against the Machine—We're going to do some politicizing here. Rage Against the Machine is an impressive, potent modern rock band. They fused elements of metal, punk, hip-hop and more. Former frontman/lyricist Zack de la Rocha was a commanding presence and guitarist Tom Morello, especially, is a monster musician and songwriter. One of his biggest fans, in fact, is Bruce Springsteen, who has basically made him a member of the E Street Band in recent years. Which is where our "politics" comment comes in. We're going to presume (and we could be wrong, of course) that some folks on the nominating committee have a special place in their hearts for Rage because of that Boss association, hence their nomination. But will enough voters agree that they're a good fit? Odds: Soon, But Not Now
Todd Rundgren—Every time Best Classic Bands runs an article about potential Hall of Famers we get complaints from readers about those who've been snubbed. Todd has repeatedly been near the top of that list. How is he not in already?! Still, he's told Billboard, "It doesn't matter how many times they nominate me. It's not gonna make me care." Still, the beloved innovator since his early days should have been inducted long ago, for his production work (Grand Funk, Meat Loaf's Bat Out of Hell, New York Dolls, etc.) alone. So, what are they waiting for? We think his time has finally arrived. Odds: Welcome to the Hall!
Tina Turner—Her partnership with her late ex-husband Ike Turner earned Tina her first induction. It was a troubled relationship, which has been covered extensively, but the most important thing was that Tina re-emerged as a major solo star in the '80s and enjoyed a second career that far eclipsed the first one commercially. Her 1984 album Private Dancer, and its mega-selling single "What's Love Got to Do With It" will always be what she is best known for, and we think the voters will want to honor her for her accomplishments outside of the duo. Odds: Welcome to the Hall!
Dionne Warwick—We love Dionne Warwick. Who doesn't? Those R&B/pop hits like "Walk on By," "I Say a Little Prayer" and "Do You Know the Way to San Jose?," most of them co-written by Burt Bacharach and Hal David, remain perennial favorites. (Speaking of which, why aren't they in?). But we're afraid that there's just too much competition this year, and the voters are likely to make her wait for another time. Odds: Soon, But Not Now

Latest posts by Best Classic Bands Staff
(see all)