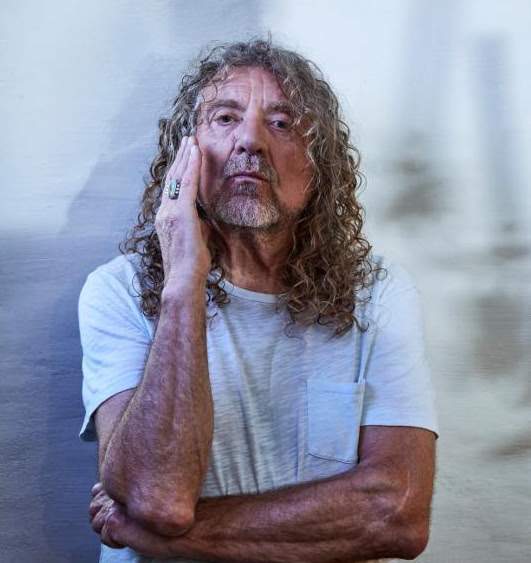 Opening with a song from his latest album and sending the audience home with an all-time rock classic, Robert Plant and his band the Sensational Space Shifters launched their 2018 U.S. tour on Feb. 9 at the Raleigh Memorial Coliseum in Raleigh, N.C. The 15-song set was heavy at first with Plant's more recent solo material, but before long the singer was dipping into the Led Zeppelin catalog. Overall, the show offered a cross-section of the types of music Plant has visited throughout his career—including several surprising deep catalog tracks.
Backed by the musicians he's used since 2012—guitarists Liam "Skin" Tyson and Justin Adams, bassist Billy Fuller, keyboardist John Baggott and drummer Dave Smith—Plant dipped into his two latest albums, 2014's Lullaby and…The Ceaseless Roar and last year's Carry Fire, before unveiling the first Zep song of the evening, "That's the Way," from 1970's Led Zeppelin III album. "Please Read the Letter," from Plant's 1998 album with ex-Zep mate Jimmy Page, Walking Into Clarksdale, came next but then it was back to Led Zeppelin III for "Gallows Pole," a traditional number arranged by Plant and Page.
Watch Plant and the band perform "Gallows Pole" in Raleigh
"Carry Fire," the new album's title track, led to "Babe, I'm Gonna Leave You," the folky second track on Zeppelin's 1969 debut.
"Little Maggie," the opening track from Lullaby, was next. "Fixin' to Die," a traditional blues number penned by Bukka White—titled "Funny in My Mind (I Believe I'm Fixin' to Die)" on Plant's 2002 Dreamland set)—was followed by Led Zeppelin's "Misty Mountain Hop," before Plant returned for his encore. A John Lee Hooker song, "I'm in the Mood," which Plant performed often in the early 2000s, preceded the show closer, "Whole Lotta Love," a tune that presumably every member of the Raleigh audience was able to identify within five seconds, even though Plant was careful to rearrange all of the Led Zeppelin material to suit the Sensational Space Shifters' more world-music-oriented approach.
Watch the encore of "Whole Lotta Love"
Plant turned 70 on August 20, 2018.
Related: Dennis Elsas' interview with Robert Plant
Plant's 2018 tour continues through October. (Tickets are available here and here.)
Robert Plant and the Sensational Space Shifters Raleigh, N.C., Set List
New World…
Turn It Up
The May Queen
Rainbow
That's the Way
All the King's Horses
Please Read the Letter
Gallows Pole
Carry Fire
Babe, I'm Gonna Leave You
Little Maggie
Fixin' to Die
Misty Mountain Hop
Encore:
I'm in the Mood
Whole Lotta Love
Related: Led Zeppelin are readying plans to celebrate their 50th anniversary

Latest posts by Best Classic Bands Staff
(see all)