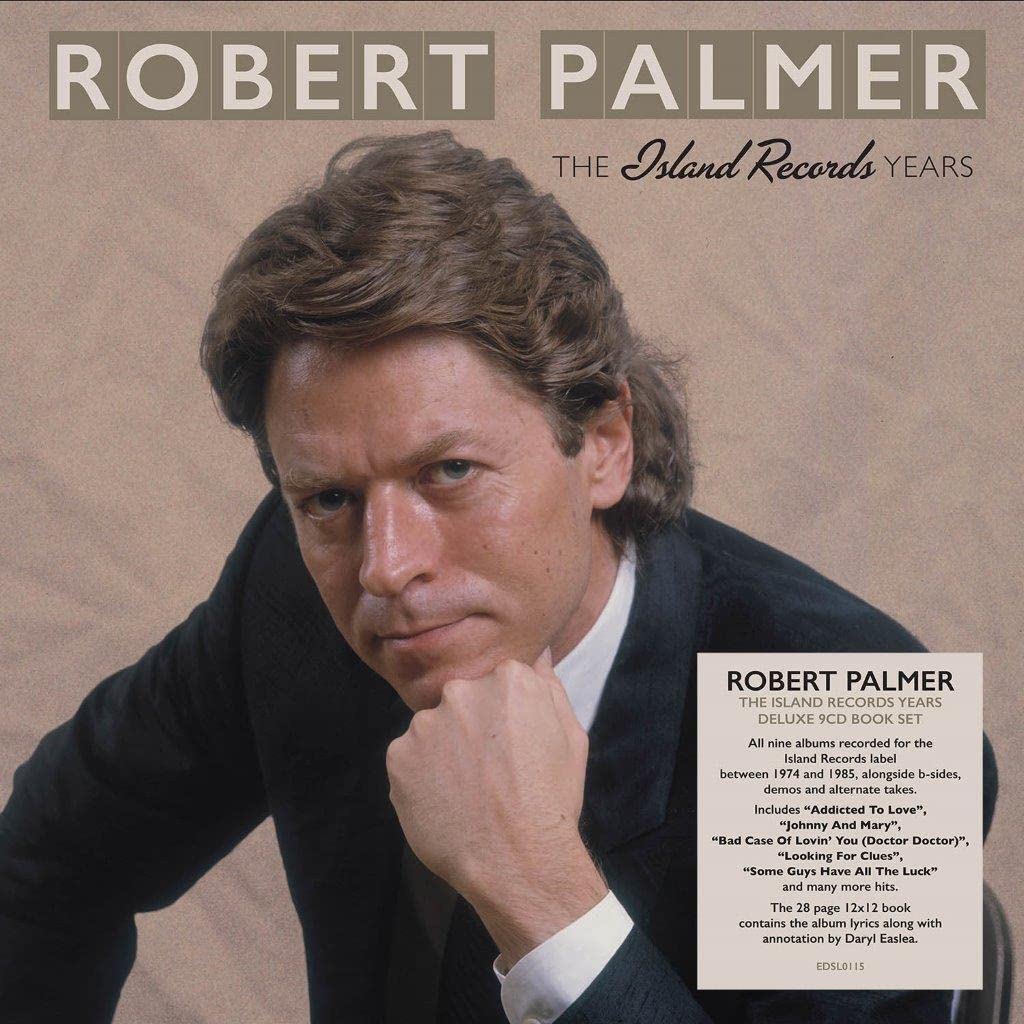 Robert Palmer is the subject of a box set, The Island Records Years, that contains all nine albums that he recorded for the label between 1974 and 1985, along with B-sides, demos and alternate takes. The 9-CD set arrived on Feb. 17, 2023, via Edsel Records.
Palmer was born on Jan. 19, 1949, in Yorkshire, U.K. but at three months old he moved with his family to Malta, where his father, a naval intelligence officer, was based. Upon returning to the U.K. in his teens, he performed with several bands. He recorded his first solo album, 1974's Sneakin' Sally Through the Alley, in New Orleans, backed by The Meters and Little Feat's Lowell George, among many other musicians.
From the November 2022 announcement: Palmer never stopped being a music fan first and foremost, often racing to record something he'd just heard a snatch of on the radio or had caught in a club. His astute mixture of originals and well-selected covers gave him a song palette at times so eclectic that he became impossible to pigeonhole.
After spells with The Alan Bown! and Dada, and three albums with Vinegar Joe, Island Records signed Palmer to a solo deal in 1973.
Aside from the worldwide hit "Addicted To Love," the set also contains "Johnny And Mary," "Bad Case Of Lovin' You (Doctor Doctor)," "Looking For Clues," "Some Guys Have All The Luck," and many more.
The 28 page 12×12 booklet contains lyrics and album credits, along with extensive annotation by Daryl Easlea. The set has been newly mastered by Phil Kinrade at AIR Mastering using digital sources provided by the Universal archive.
Palmer earned five Grammy Award nominations, winning twice for Best Rock Vocal Performance, Male, for "Addicted to Love" and "Simply Irresistible." He went on to form the Power Station with fellow stars John Taylor and Andy Taylor of Duran Duran, and Chic drummer Tony Thompson. They were joined by Bernard Edwards. When Palmer departed, he was replaced by Michael Des Barres. (Their recordings are not on this collection.)
Palmer died of a heart attack in a Paris hotel room in 2003. He was just 54.
The complete track listing is below the Amazon links.
Disc: 1
1 Sailin' Shoes
2 Hey Julia
3 Sneakin' Sally Through the Alley
4 Get Outside
5 Blackmail
6 How Much Fun
7 From a Whisper to a Scream
8 Through It All There's You
9 Sneakin' Sally Through the Alley [Single Mix]
10 Epidemic
11 Blackmail [Alternate Take]
12 Get Outside [Alternate Take]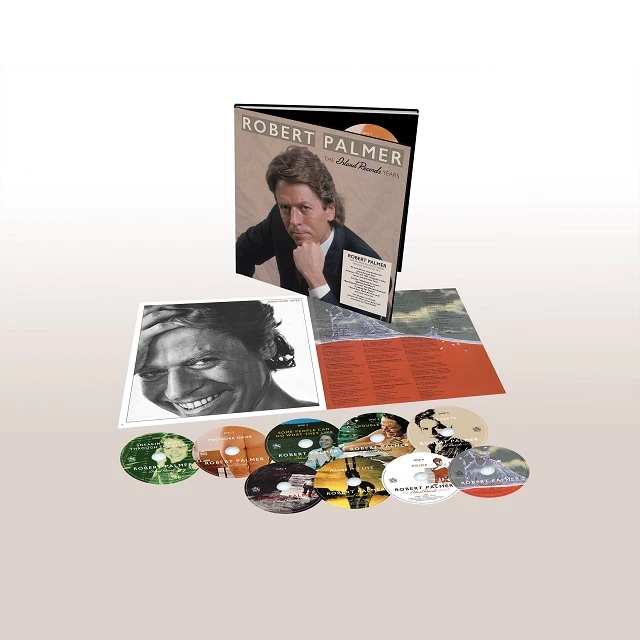 Disc: 2
1 Give Me An Inch
2 Work to Make It Work
3 Back in My Arms
4 River Boat
5 Pressure Drop
6 Here with You Tonight
7 Trouble
8 Fine Time
9 Which of Us Is the Fool
10 Willin' [Demo]
11 Hope We Never Wake [Demo]
Disc: 3
1 One Last Look
2 Keep in Touch
3 Man Smart, Woman Smarter
4 Spanish Moon
5 Have Mercy
6 Gotta Get a Grip on You (Part II)
7 What Can You Bring Me
8 Hard Head
9 Off the Bone
10 Some People Can Do What They Like
Disc: 4
1 Every Kinda People
2 Best of Both Worlds
3 Come Over
4 Where Can It Go?
5 Night People
6 Love Can Run Faster
7 You Overwhelm Me
8 You Really Got Me
9 You're Gonna Get What's Coming
Disc: 5
1 Bad Case of Loving You (Doctor, Doctor)
2 Too Good to Be True
3 Can We Still Be Friends?
4 In Walks Love Again
5 Mean Old World
6 Love Stop
7 Jealous
8 Under Suspicion
9 Woman You're Wonderful
10 What's It Take?
11 Remember to Remember
12 Bad Case of Loving You (Doctor, Doctor) [12″ Mix]
Disc: 6
1 Looking for Clues
2 Sulky Girl
3 Johnny and Mary
4 What Do You Care
5 I Dream of Wires
6 Woke Up Laughing
7 Not a Second Time
8 Found You Now
9 Good Care of You
10 Johnny and Mary [Alternate Take]
11 What Do You Care [Alternate Mix]
Disc: 7
1 Sneakin' Sally Through the Alley [Live]
2 What's It Take? [Live]
3 Best of Both Worlds [Live]
4 Every Kinda People [Live]
5 Bad Case of Loving You (Doctor, Doctor) [Live]
6 Some Guys Have All the Luck
7 Style Kills
8 Si Chatouillieux
9 Maybe It's You
10 What Do You Care [Live]
Disc: 8
1 Pride
2 Deadline
3 Want You More
4 Dance for Me
5 You Are in My System
6 It's Not Difficult
7 Say You Will
8 You Can Have It (Take My Heart)
9 What You Waiting for
10 The Silver Gun
11 You Are in My System [12″ Remix]
12 Ain't It Funky [Si Chatouillieux – Extended Version]
13 Pride [12″ Mix]
14 Parade of the Obliterators
15 You Can Have It [12″ Mix]
16 You Are in My System [Instrumental Mix]
17 Deadline [12″ Mix]
Disc: 9
1 Riptide
2 Hyperactive
3 Addicted to Love
4 Trick Bag
5 Get It Through Your Heart
6 I Didn't Mean to Turn You on
7 Flesh Wound
8 Discipline of Love
9 Riptide (Reprise)
10 Discipline of Love [12″ Mix]
11 Riptide Medley
12 Sweet Lies [12″ Mix]
13 Let's Fall in Love
14 I Didn't Mean to Turn You on [12″ Mix]
15 No Not Much [Live on the Tube]
16 Trick Bag [Live on the Tube]
17 Les Planches
Related: Our story on 1979's "Bad Case of Loving You (Doctor Doctor)"

Latest posts by Best Classic Bands Staff
(see all)