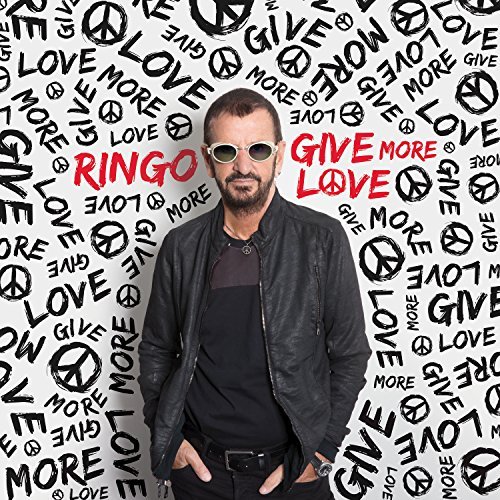 He used social media many times this spring to tease the names of the friends that were helping out on his next studio album. On his 77th birthday (July 7), Ringo Starr shared details of Give More Love. The album, being released by UMe on September 15 on digital and CD, includes 10 new tracks and four bonus tracks of some of Ringo's biggest solo hits. (Pre-order here.)
Listen to the title track below.
Guests on Give More Love include Paul McCartney, Eagles' Joe Walsh and Timothy B. Schmit, Jeff Lynne, Edgar Winter, Steve Lukather, Peter Frampton, Dave Stewart, Richard Marx and All Starr Band members Richard Page and Gregg Bissonette. The vinyl version will be available on September 22.
Others performing on Give More Love include Benmont Tench, Nathan East and Don Was.
According to the announcement, Give More Love was originally envisioned as a Country album. "Dave Stewart and I were going to go down to Nashville and do a country album there," Starr explains. "So we thought we should write a few country songs for when we get there. The first one we wrote here in the house was called 'So Wrong for So Long.' Then I got offered another tour with the All Starr Band, and it was an offer I couldn't resist. That's how I ended up making another album at home and writing all kinds of songs with all kinds of friends – everybody giving more love, and just letting the music flow."
The album now rocks, as evidenced by the opener, "We're on the Road Again," co-written with Lukather and featuring Paul McCartney on bass.
On July 27, Starr shared the song with his fans. And while we're not quite turning the clock back to the days of Beatlemania, it's a rare opportunity in recent years to hear Starr and McCartney recording together.
Give More Love Track Listing
We're on the Road Again (with McCartney, Walsh, Winter and Lukather)
Laughable (Frampton, Tench, Schmit, Page and Amy Keys)
Show Me the Way (Lukather, McCartney)
Speed of Sound (Lukather, Frampton, East, Marx)
Standing Still
King of the Kingdom (Stewart, Winter)
Electricity (Walsh, Was, Tench)
So Wrong For So Long (Stewart)
Shake it Up (Was, Winter)
Give More Love (Schmit, Page, Bissonette)
Back Off Boogaloo (Lynne, Walsh)
Don't Pass Me By
You Can't Fight Lighting
Photograph
On August 17, Starr shared the country-tinged "So Wrong For So Long"
Listen to the title track
This version of "Back Off Booglaloo" is based on the original recording Ringo made when he wrote the song. He recently discovered the tape when he moved houses. The three other bonus tracks are collaborations based on performances from Starr's 2016 Peace & Love Birthday event. Alberta Cross performed "You Can't Fight Lightning" and Vandaveer performed "Photograph" and "Don't Pass Me By." Starr loved their renditions and asked them to each record them for his new album, also adding his own vocals.
Watch Starr celebrate his recent birthday with his annual Peace & Love event in front of the Capitol Records Tower in Hollywood, CA
Among those joining this year's event: Walsh, David Lynch, Edgar Winter, Eric Burdon, Jim Keltner, Nils Lofgren, drummer Matt Sorum, Howie Mandell, All Starr Band members Page and Gregg Bissonette, and others.
Related: Our feature story on Ringo
Starr will hit the road in the U.S. with his All Starrs, the same beloved lineup he has performed with since 2012: Steve Lukather, Todd Rundgren, Gregg Rolie, Richard Page, Warren Hamm and Gregg Bissonette.
Ringo Starr & His All Starr Band 2017 Tour Dates (Tickets are available here and here)
Oct. 13-14, 17, 20-21, 24, 27-28 – Las Vegas, NV @ Planet Hollywood Resort & Casino
Oct. 30 – El Paso, TX @ Abraham Chavez Theatre
Oct. 31 – Austin TX @ Moody Theater
Nov. 2 – Sugarland, TX @ Smart Sugarland Civic Center
Nov. 4 – Thackerville, OK @ Global Events Center at Winstar
Nov. 7-8 – Ft Lauderdale, FL @ Parker Playhouse
Nov. 11 – Atlanta, GA @ Fox Theater
Nov. 12 – Norfolk, VA @ ODU Pavilion
Nov. 14 – Morristown, NJ @ Mayo Performing Arts Center
Nov. 15 – New York City, NY @ Beacon Theater
Nov. 16 – Newark, NJ @ New Jersey Performing Arts Center

Latest posts by Best Classic Bands Staff
(see all)