Update (July 27): Ringo has added a batch of tour dates in the western U.S. (See below.)
"I just love playing with these musicians, " Ringo said.  "We've been together for five years. We know what to do. … We're getting longevity as a band now. It's so far out.  This group of All Starrs has worked so well and is so supportive. It has just been a dream for me."
It's become an annual (since 2008) event: Ringo Starr spread a message of peace and love on his birthday – his 76th (!) – today (July 7) in front of the Capitol Records building in Hollywood with a little help from his A-List friends (see video highlights below).
Special guests, family, and friends took part in his "Peace and Love" salute. This year's guests included Benmont Tench, Dave Stewart, David Lynch, Ed Begley Jr., Edgar Winter, Eric Burdon, Glen Ballard, actor Joe Mantegna, Jim Keltner, Joe Walsh, Richard Lewis, actor Bud Cort, Richard Marx, and the current All Starrs: Steve Lukather and Gregg Bissonette.
This year's celebration also included musical tribute performances of several Starr songs. Vandaveer played "Don't Pass Me By" and "Photograph," Alberta Cross performed "It Don't Come Easy and "You Can't Stop Lightening" and Dave Stewart and Jon Stevens collaborated on "With A Little Help From My Friends" and "No No Song."
Ringo also revealed a new set of tour dates with the current and longest running All Starrs (Lukather, Gregg Rolie, Todd Rundgren, Richard Page, Warren Ham and Bissonnette) that takes them to Japan, Korea bookended by dates up and down the West Coast.
Related: Review of Ringo and His All Starr Band
Don't miss a post! Sign up for Best Classic Bands' Newsletter; form is on every page.
Starr got the idea for "Peace and Love" when someone simply asked him what he wanted for his birthday one year. "And out of the blue I thought, 'You know what would be great if everybody at noon on the 7th of July went 'peace and love,'" he has said. "Wherever you are, on the bus, down the mine, wherever. You could just go 'peace and love.' That would be a great gift to me."
Ringo Starr and His All Starr Band's 2016 Tour (click here for tickets; more to be announced):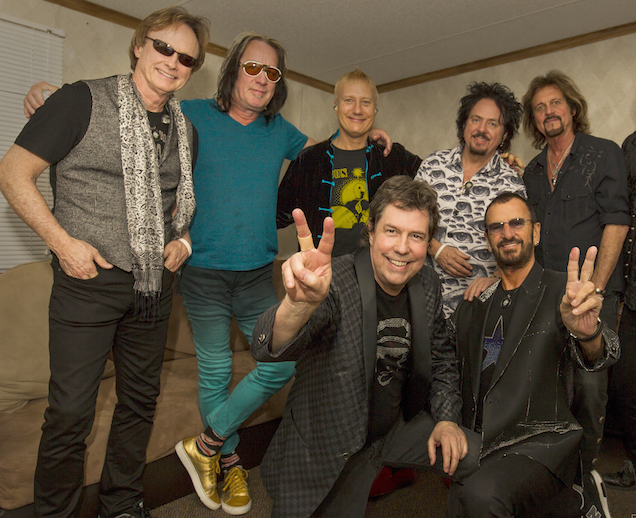 United States:
Oct 15 – Snoqualmie Casino – Sonqualmie, WA
Oct 16 – Spokane Arena Star Theatre – Spokane, WA
Oct 18 – Keller Auditorium – Portland, OR
Oct 19 – Grand Sierra Casino Theater – Reno, NV
Oct 20 – Segerstrom Center For The Arts – Costa Mesa, CA
Nov 8 – Blaisdell Arena – Honolulu, HI
Nov 11 – Thousand Oaks Civic Arts Plaza – Thousand Oaks, CA
Nov 12 – Fantasy Springs Resort and Casino – Indio, CA
Nov 13 – Smith Center – Las Vegas, NV
Nov 15 – Celebrity Theatre – Phoenix, AZ
Nov 17 – Bob Hope Theatre – Stockton, CA
Nov 19 – Marin Center Veteran's Memorial Auditorium – San Rafael, CA
Japan:
Oct 24 – Orix Gekijo – Osaka
Oct 25 – Aichi-Ken Geijutsu Gekijo – Nagoya
Oct 27 – Sun Palace Hall – Fukuoka
Oct 28 – Bunkagakuen HBG Hall – Hiroshima
Oct 30 – NHK – Tokyo
Oct 31 – Orchard Hall – Tokyo
Nov 01 – Orchard Hall – Tokyo
Nov 02 – Orchard Hall – Tokyo
South Korea:
Nov 5 – Olympic Gymnasium – Seoul

Latest posts by Best Classic Bands Staff
(see all)