Rick Wakeman Performs and Shares Wondrous Stories: Review
by Greg Brodsky
Though Rick Wakeman billed his fall 2021 U.S. visit as "The Even Grumpier Old Rock Star Tour," the keyboardist was anything but curmudgeonly. On the final show of his 14-date solo swing through the northeast, in bucolic Woodstock, New York, the prog rock legend had the sold-out audience at the Bearsville Theatre enthralled with his marvelous keyboard playing and in stitches with his engaging (and often ribald) stories.
For the latter, that Wakeman delivered in-between every performance, he shared stories from throughout his 50-plus-year career. In one such tale, he delightfully told how he was invited to provide a piano arrangement for Cat Stevens' 1971 recording of "Morning Has Broken." Though the song was a massive hit in the U.K., Wakeman's session fee was the equivalent of 12 U.S. dollars. "And I never got paid," he said, with a comedian's timing. He had his revenge, of sorts, when he declined Stevens' manager's request to share the arrangement with the BBC's union musicians for the singer-songwriter's performance on Top of the Pops.
Watch Wakeman share the full story and play the song, in 2019
The classically trained Wakeman was a much in-demand session musician in Britain in the late '60s and early '70s, performing on such well known recordings as David Bowie's "Space Oddity" and T. Rex's "Get It On," while simultaneously performing with the English rock group, the Strawbs. In 1971, Wakeman joined Yes and his public awareness grew, just as the group was taking off.
On the autumn 2021 tour, Wakeman performed a Yes medley that including such favorites as "And You and I" and "Wonderous Stories" on piano, and after switching to a Korg Nautilus that offers church organ samples, he dipped into his own solo catalog, with two selections from 1973's The Six Wives of Henry VIII.
When he introduced two Bowie performances ("Space Oddity" and "Life on Mars"), he allowed that of all the musicians he's played with, "my favorite has to be David Bowie. It was an honor to work with him." Wakeman noted that they had been neighbors for years. "I miss the old bugger," he said, wistfully.
Two Beatles covers were turned completely upside down. While in school, a professor had challenged him to try to perform contemporary songs in the style of a classical composer. On this evening, he played "Help!" in the style of the French composer, Saint-Saëns. "Eleanor Rigby," normally in a melancholy arrangement, was a revelation, with lively flourishes in the manner of Prokofiev.
Watch Wakeman perform "Eleanor Rigby" in 2018, in a clip released in 2021
He cheerfully read questions that the audience had submitted in advance and his spontaneous answers would make a seasoned stand-up comic jealous. "Do you ever give lessons?" earned a quick-witted response, "In what?"
Wakeman, born May 18, 1949, told a funny story of a live television interview that he did several years ago when on tour with fellow Yes alums Jon Anderson and Trevor Rabin. Some of his bawdy anecdotes likely made some audience members blush. (Best Classic Bands asked Wakeman if that A-R-W lineup would reunite. "Something will happen," he said. "I'm sure." He also allowed that he and Yes guitarist Steve Howe would be having dinner together the following week.)
Wakeman's wickedly irreverent acceptance speech when YES was inducted in the Rock and Roll Hall of Fame in 2017 has become legend.
Related: Our coverage of that induction, including Wakeman's speech
Wakeman was recognized by Queen Elizabeth II in 2021, who named him a Commander of the Order of the British Empire (CBE) in her annual Birthday Honours.
When the keyboardist tours, tickets are available here.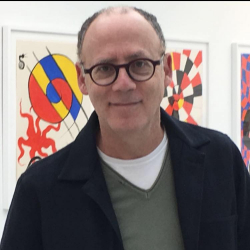 Latest posts by Greg Brodsky
(see all)