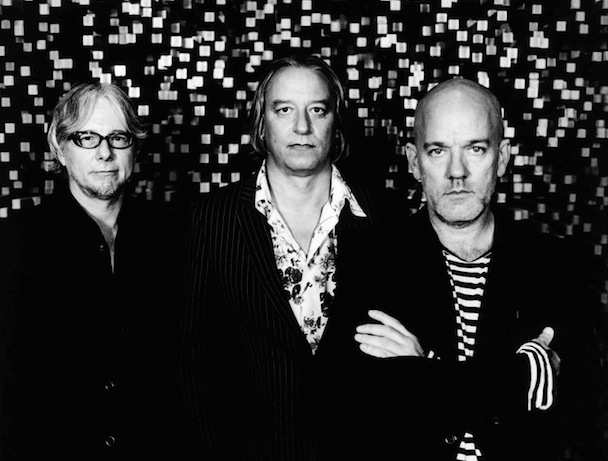 In keeping with REM's determination to not fall prey to the usual rock band clichés, the Athens, GA-based threesome – after the exit of founding drummer Bill Berry in 1997 – simply call it a day. No grand final farewell world tour. No walkouts, fistfights, recriminations, lawsuits, flame wars in the media. Just an announcement on their website that read: "We have decided to call it a day as a band." With some thanks to those who may have enjoyed their music, and a few comments by band members Mike Mills, Michael Stipe and Peter Buck. So long, and thanks for all the fish.
From the band's beginnings in 1980, R.E.M. were not just alternative in their music, and can be credited as founding fathers of what came to be called alternative rock. Run as a genuine democracy with shared credit for all songs, they eschewed flash and dazzle for substance and depth. And they became one of the best selling rock bands in the world, selling some 85 million albums over the course of 15 LP releases.
They started their rise with a 1981 single "Radio Free Europe," on a small independent label, and steady touring of clubs and colleges. The next year they sign with the large independent record company I.R.S. Records, owned by Miles Copeland, manager of The Police.
They grow organically via a combination of play on college and alternative radio and MTV, live appearances, grassroots fan support and consistently zealous music press coverage, finally scoring a gold album in 1986 with Lifes Rich Pageant. The song "The One I Love" from 1987's Document becomes a #9 hit.
Related: Our Album Rewind of Document
The group signs with Warner Bros. Records for a reported advance of some $8-12 million. More Top 10 hits follow with "Stand" (#6) in 1989, "Losing My Religion" (#4) and "Shiny Happy People" (#10) in 1991. R.E.M.'s album sales become multi-platinum. When drummer Bill Berry leaves in '97 after suffering a brain aneurysm on tour two years earlier, it's only under the condition that his departure does not break-up the band.
As they do finally call it quits in 2011, Mills notes in his comments, "We've made this decision together, amicably and with each other's best interests at heart. The time just feels right." The announcement says they walk away with a sense of… "finality." Anyone expecting an R.E.M. reunion will likely have their desires left unfulfilled.
"I'm really proud of the way that we did it," Stipe later says. Yep, they did it their way. For some fans, though, it was the end of the world.

Latest posts by Best Classic Bands Staff
(see all)