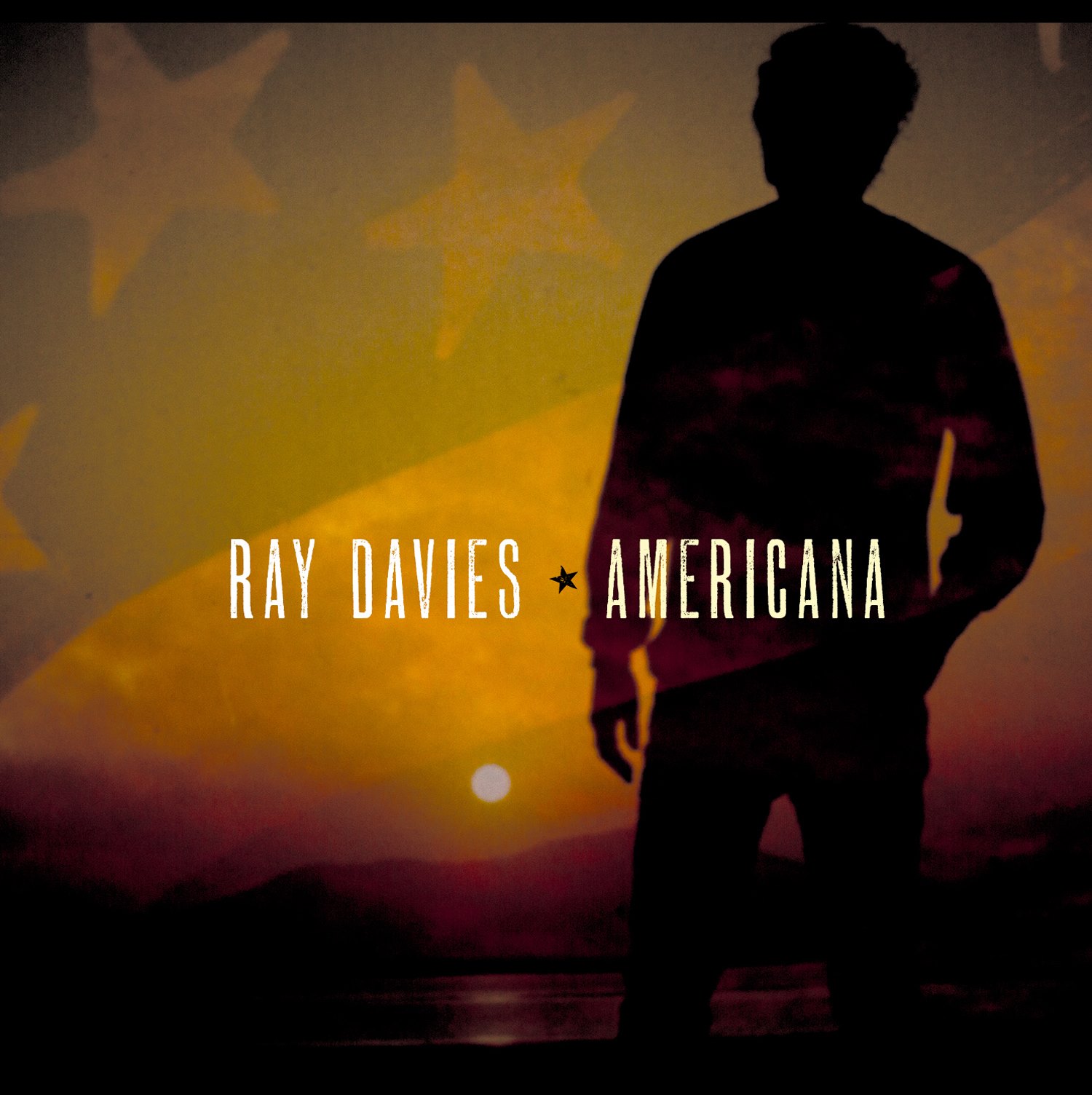 (Update Mar. 1): A second song has been released from Americana. "Rock 'N' Roll Cowboy" asks Do you live in a dream or do you live in reality? (Have a listen below.)
Our original item about the new album…
Ray Davies' first new album in over nine years – Americana – will be released on April 21 via Legacy Recordings. The 15-track collection of originals announced today (Jan. 23) is inspired by his years touring the U.S. with the Kinks, beginning with the British Invasion years of the mid-60s. The album, a companion piece to Davies' 2013 memoir of the same name, uses the book as both source material and creative catalyst. The Jayhawks perform as the album's backing band.  A great initial track, "Poetry," debuted on NPR today. Have a listen below.
The album was recorded in London at Konk, the studio founded by the Kinks in 1973.
Americana was written, conceived, and arranged by Davies, and co-produced with Guy Massey and John Jackson. From the announcement: "The album is an autobiographical work, chronicling the inextricable role America has played in Davies' life. From his earliest days touring the U.S. with the Kinks and subsequent blacklisting by the American Musicians Union, to his years playing stadiums and eventually staying in New York and New Orleans for a time, America has served as both muse and tempest to Davies.
"The songs on Americana dig into the rich American musical tapestry, through the lens of Davies' own wholly unique American experience. The music swerves from the open-road manifesto of 'The Great Highway' to a delicate duet with The Jayhawks' Karen Grotberg on "Message From The Road.' The album also features a number of short spoken-word passages from Davies' memoir." Pre-order is available here.
The announcement notes that a second volume to the book will be a released later in 2017.
Since his last studio album of new material, 2007's Working Man's Café, Davies released a 2010 collaborative project See My Friends, which featured Bruce Springsteen, Mumford & Sons, Metallica and Spoon; performed at the closing ceremonies of the 2012 London Olympics; served as inspiration, collaborated on the hit U.K. musical Sunny Afternoon, which earned the 2015 Olivier Award for Best New Musical. On December 31, the 72-year-old Davies was named to HRH Queen Elizabeth's New Year Honours List, and will shortly be receiving a knighthood for his service to the arts.
Related: Davies receives knighthood
Americana tracklisting:
1. Americana
2. The Deal
3. Poetry
4. Message From The Road
5. A Place In Your Heart
6. The Mystery Room
7. Silent Movie
8. Rock 'N' Roll Cowboys
9. Change For Change
10. The Man Upstairs
11. I've Heard That Beat Before
12. A Long Drive Home To Tarzana
13. The Great Highway
14. The Invaders
15. Wings Of Fantasy
Don't miss a post! Sign up for Best Classic Bands' Newsletter; form is on every page.

Latest posts by Best Classic Bands Staff
(see all)