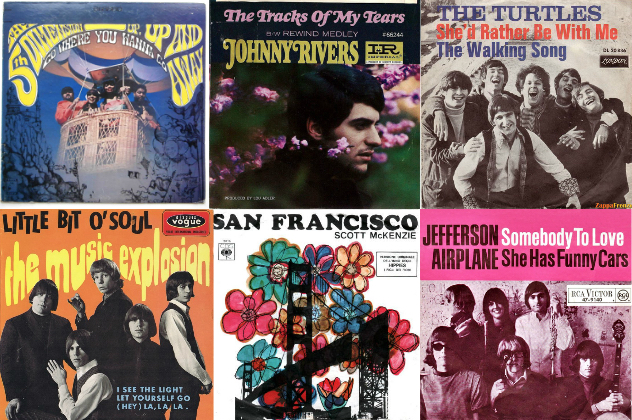 Spring 1967… The Beatles released Sgt. Pepper's Lonely Hearts Club Band. The Six-Day War took place. Elvis Presley married 21-year-old Priscilla Beaulieu in Las Vegas. The Summer of Love was right around the corner. And the biggest songs on Top 40 radio this week on Boston's WRKO included several all-time classic rock greats.
Bubbling under the Top 10…
Debuting at #28 was The Tremeloes' biggest hit, "Silence Is Golden," at #28. The beat group are perhaps best known for having been picked by Decca Records over The Beatles in 1962. They would ultimately earn 11 Top 10 singles in their native U.K. and two #1s including this Four Seasons cover.
Also making its debut was the Association with what would become their second #1 smash in two years. "Windy" was at #26 this week.
The Fifth Dimension were on their way to their first of seven Top 10 singles with the Jimmy Webb-penned "Up, Up and Away." The song debuted at #23 this week on WRKO.
Johnny Rivers was in the midst of his big chart run with his cover of the Smokey Robinson & the Miracles hit, "The Tracks of My Tears." The song jumped this week from #26 to #21 and would ultimately become his seventh Top 10 hit of the Sixties.
Related: Our feature story on Johnny Rivers
British singer Petula Clark released her first single in 1949! She went on to earn 12 Top 10 U.K hits and six in the U.S. including "Don't Sleep in the Subway," at #15 this week.
Related: Our concert review of Petula Clark
Spanky and Our Gang took their name from the popular comedy shorts that are also known as The Little Rascals. In this case, "Spanky" was Elaine McFarlane, who led the folk-rock band. Though we still hear several of their biggest hits on oldies stations, surprisingly, the group had only one Top 10 hit: "Sunday Will Never Be the Same," which was at #10 this week and peaked nationally at #9.
Ray Charles had a big pop hit with "Here We Go Again," a song which he re-recorded with Norah Jones on his 2004 Genius Loves Company album. The song was at #9 on WRKO this week.
At #8, was Aretha Franklin's "Respect." Give yourself props if you knew the song was written by Otis Redding two years' earlier. And if you knew this was the Queen of Soul's only #1 solo pop hit, you're obviously a chart aficionado.
The Jefferson Airplane scored two huge pop hits in 1967. "Somebody To Love" was the first and it would reach #5 nationally. Here they are performing it on the Dick Cavett Show, with special guest David Crosby.
One of the signature songs of the Summer of Love was Scott McKenzie's "San Francisco (Be Sure to Wear Some Flowers in Your Hair)." It may have been his only chart hit but what an impact! It would spend almost the entire month of July locked-in at the #4 spot and in the years to come was one of the handful of songs to be synonymous with that memorable summer. And if you knew it was written by McKenzie's childhood pal, the Mamas and the Papas' John Phillips, treat yourself to some love beads!
Related: All about McKenzie's big hit and its impact on the Summer of Love
Frankie Valli and the Four Seasons were so dominant on the pop charts in the early-to-mid-'60s that we think there should be a Broadway musical based on the New Jersey group's success. Their extraordinary lead singer stepped out for the occasional solo release, one of which was "Can't Take My Eyes Off You," which became a #2 pop hit. The song was used brilliantly in one of the bar scenes in The Deer Hunter as a young De Niro, Walken and Savage prepared to head to Vietnam.
Related: What were the biggest radio hits of 1967?
Although their name sounds like the title of a K-Tel album, Music Explosion was actually a garage rock band. Their memorable (and only) hit, "Little Bit O' Soul," begins with the lyrics: Now when you're feelin' low and the fish won't bite.
At #1 this week on WRKO? The Turtles' great "She'd Rather Be With Me." The group would enjoy five Top 10 singles including this one, our personal favorite.
28. "Silence is Golden" – The Tremeloes
26. "Windy" – The Association
23. "Up, Up and Away" – The Fifth Dimension
21. "The Tracks of My Tears" – Johnny Rivers
15. "Don't Sleep in the Subway" – Petula Clark
10. "Sunday Will Never Be The Same" – Spanky and Our Gang
9. "Here We Go Again" – Ray Charles
8. "Respect" – Aretha Franklin
7. "Somebody To Love" – Jefferson Airplane
6. "All I Need" – The Temptations
5. "San Francisco (Be Sure to Wear Some Flowers in Your Hair)" – Scott McKenzie
4. "Can't Take My Eyes Off You" – Frankie Valli
3. "New York City Mining Disaster 1941" – The Bee Gees
2. "Little Bit O' Soul" – Music Explosion
1. "She'd Rather Be With Me" – The Turtles

Latest posts by Best Classic Bands Staff
(see all)