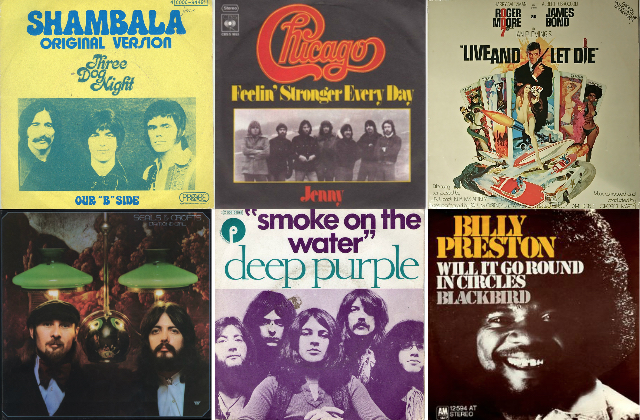 As summer heated up in 1973, these topics were dominating the news: a former White House aide revealed to the U.S. Senate Watergate committee that President Nixon had secretly recorded some Oval Office conversations. Actor and martial artist Bruce Lee died of a cerebral edema one week after Enter the Dragon was released. And some all-time great hits were dominating Top 40 radio.
From the mid-1960s into the 1970s, New York City's WABC called itself "Musicradio." It not only dominated the New York metro area, but its 50,000 watt, clear-channel frequency at 77 on the AM dial allowed it to reach listeners throughout the East Coast (especially at night), significantly influencing the national charts.
Classic rock dominated this week's survey. Entering at #35 was Chicago's great "Feelin' Stronger Every Day," which would ultimately reach #10 nationally.
Jumping from #22 to #16 was Seals and Crofts with "Diamond Girl." The duo would earn three U.S. Top 10 singles in their career, each of which peaked at #6.
Just outside the Top 10 but flying up the charts (from #26 to #15) was Wings' theme song to the just-released James Bond film Live and Let Die. It would eventually reach #2 on the Hot 100.
Deep Purple's "Smoke on the Water" jumped from #18 to #12. It would peak at #4 nationally.
Related: How "Smoke on the Water" came to be
At #9, the Doobie Brothers were coming into their own as a hit-making machine with their first Top 10 hit, "Long Train Runnin'."
Related: Our feature story on the Doobies' classic
Paul McCartney's "My Love" was on its way down the chart at #8 paving the way for "Live and Let Die." His former Beatle bandmate, George Harrison, was enjoying his second recent solo #1 with "Give Me Love (Give Me Peace on Earth)," at #6 this week.
One of many so-called fifth Beatles, Billy Preston, was at #5 with his first of two #1 chart hits, "Will It Go Round in Circles."
Moving up to #4 (also on its way to #1) was Jim Croce's rollicking "Bad, Bad Leroy Brown" (which was ultimately ranked #2 for all of 1973.
Related: Jim Croce: What might have been
Paul Simon's ultra-catchy "Kodachrome" was at #3 (it peaked at #2). Somehow he earned only one #1 solo hit: 1975's "50 Ways to Leave Your Lover."
Three Dog Night was at #2 with "Shambala," one of their remarkable 11 Top 10 singles in a six-year period.
Related: Our feature story of Three Dog Night – Under the Covers
35. "Feelin' Stronger Every Day" – Chicago (Columbia)
16. "Diamond Girl" – Seals and Crofts (Warner Bros.)
15. "Live and Let Die" – Wings (Apple)
12. "Smoke on the Water" – Deep Purple (Warner Bros.)
10. "Boogie Woogie Bugle Boy" – Bette Midler (Atlantic)
9. "Long Train Runnin'" – The Doobie Brothers (Warner Bros.)
8. "My Love" – Paul McCartney (Apple)
7. "Yesterday Once More" – The Carpenters (A&M)
6. "Give Me Love (Give Me Peace on Earth)" – George Harrison (Apple)
5. "Will It Go Round in Circles" – Billy Preston (A&M)
4. "Bad, Bad Leroy Brown" – Jim Croce (ABC)
3. "Kodachrome" – Paul Simon (Columbia)
2. "Shambala" – Three Dog Night (Dunhill)
1. "Playground in My Mind" – Clint Holmes (Epic)
(Courtesy of www.musicradio77.com)

Latest posts by Best Classic Bands Staff
(see all)