No doubt that October 2016's Desert Trip concerts were a tremendous collection of A-List classic rock talent with a lineup featuring the Rolling Stones, Paul McCartney, The Who, Bob Dylan, Neil Young and David Gilmore. It was a for-profit event that likely made a ton of dough for its organizers and the talent involved.
But back in 1979, over a series of four nights in London, another phenomenal collection of A-Listers performed at the Hammersmith Odeon between Christmas and New Year's, to benefit the victims of war-torn Cambodia. The Concerts for the People of Kampuchea, as they were known, featured a lineup brimming with British musical talent, many at the peak of their skills.
The concerts were organized by Paul McCartney and then-Secretary General of the United Nations Kurt Waldheim.
Night #2 featured new wave act Ian Dury and the Blockheads whose "Hit Me With Your Rhythm Stick" was an enormous hit in England earlier that year. The evening's headliner was The Clash, whose London Calling album had just been released to huge acclaim.
December 28th's third night opened with The Pretenders. British buzz for the band's self-titled debut was huge and it would debut on the British album charts at #1 in early January. Ska band The Specials did a set and the evening closed with a 25-song set from The Who.
Elvis Costello & the Attractions opened the final night and were followed by the great Dave Edmunds/Nick Lowe-led power pop band Rockpile. (The latter's set included a cover of "Little Sister" with guest vocalist Robert Plant.) Paul McCartney and Wings did a 20-song set followed by the McCartney-organized Rockestra, which closed the show. The grand finale featured a huge assemblage of British rock talent: Led Zeppelin's Plant, Jimmy Page and John Paul Jones, The Who, Wings and more. A two-LP set of highlights from the four concerts was finally released in 1981 but is long out-of-print.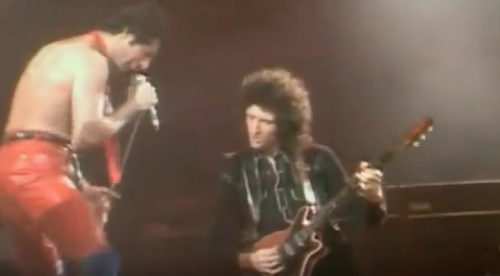 Related: Our feature on the entire series of concerts
The opening night show, on December 26, was all Queen. The concert was held on Boxing Day, a big national holiday observed on the day after Christmas, and represented the final night of the band's 20-date U.K. "Crazy" tour, named for their hit at the time "Crazy Little Thing Called Love." Their 25+ song set also included "Somebody to Love," "Killer Queen," "39," "Bohemian Rhapsody," "We Will Rock You"/"We Are the Champions."
Here's a wild fact: the final seven dates of Queen's brief November-December tour were all held at different London venues, culminating in the Hammersmith Odeon benefit performance. What a great stunt… never mind the expense of setting up and removing their equipment each day.
Enjoy our Classic Video of Queen's performance of "Now I'm Here." One of the all-time great bands at the height of their powers. (Note: your computer isn't broken… the stage isn't lit until around 30 seconds in.)

Latest posts by Best Classic Bands Staff
(see all)