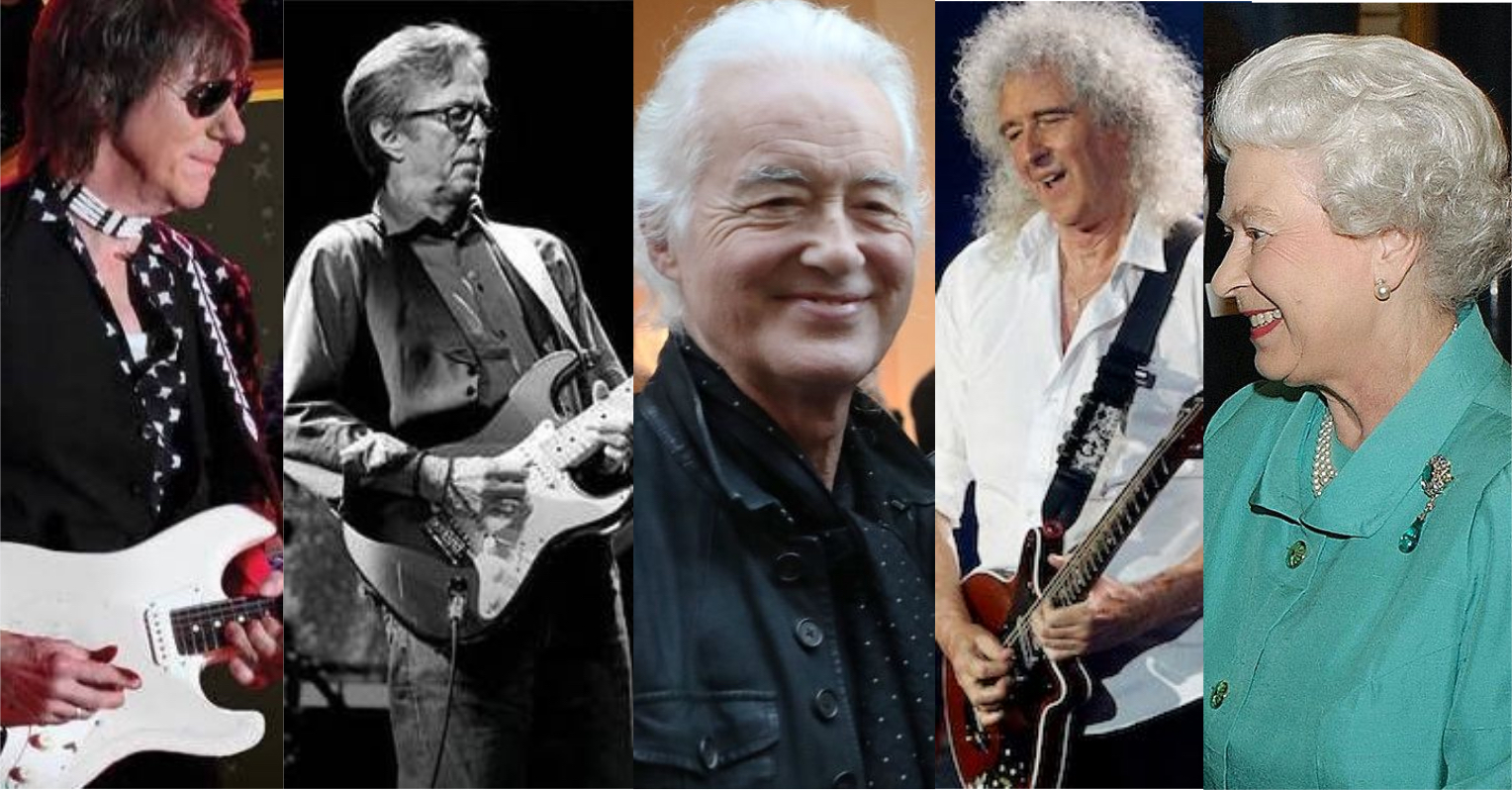 Four of the most famous British guitar legends met Queen Elizabeth II when they attended an event she hosted to honor the British music industry in 2005. And so Brian May, Jimmy Page, Eric Clapton and Jeff Beck dutifully lined up for small talk with the then-79-year-old monarch.
In this classic video, the four legends, dressed in suit and tie, are seen chatting, when in walks Her Majesty!
May is the first one she greets. "Very pleased to meet you," he says, while bowing.
The pair share a laugh but awkwardness quickly ensues as Page, just to May's right, isn't included in the discussion. Although just seconds have passed, it becomes apparent that he knows the protocol and can't simply join the conversation with the British Monarchy until invited to do so, so he simply stands there.
Finally, the Queen takes a few steps to her left to acknowledge Page. As she begins to ask, "Are you also a… ", Page interrupts her. "I'm a guitarist as well, yes."
"… a guitarist," she, too, says. As they figure out what to say to each other next, Clapton comes into view. It's now his turn to stand uncomfortably while the Queen engages May and Page. "Jimmy is already on season three of The Queen," says May. "I'm only up to season two, when you were much younger."
She resumes working the line. "Mister Eric Clapton," says Slowhand, whose had plenty of time to rehearse what he wants to say. "Nice to see you," she nods and continues on. Beck doesn't do much better than his predecessor, barely mustering a near-inaudible "Beck."
Her Majesty recognizes that she's going to have to lead the conversation. At one point, Clapton gestures to Page and Beck and explains that "we were all in the same band." Apparently, she was never a Yardbirds fan.
Watch as rock royalty meets the Queen on March 1, 2005
On the day The Queen died, Clapton opened his brief U.S. tour by performing "God Save the Queen."
Related: When rock stars performed for the Golden Jubilee

Latest posts by Best Classic Bands Staff
(see all)