Fellow musicians went to social media to pay tribute to the legendary Prince when the pop-rock-funk-R&B songwriting and guitar-playing genius died April 21, 2016 at just 57 at his Minnesota estate.
Here's one from the hometown Minnesota Twins that gave us chills…
Fitting that it's raining in Minneapolis today. pic.twitter.com/s5KFurDhHi

— Minnesota Twins (@Twins) April 21, 2016
Madonna's career closely paralleled Prince's, in a number of aspects. Both acts were promoted to radio by the Warner Bros. Records staff throughout the 1980s when their careers took off.
He Changed The World!! A True Visionary. What a loss. I'm Devastated. This is Not A Love Song. pic.twitter.com/x4JaSxRraC

— Madonna (@Madonna) April 21, 2016
Eric Clapton (via Facebook): I'm so sad about the death of Prince, he was a true genius, and a huge inspiration for me, in a very real way….
In the the eighties, I was out on the road in a massive downward spiral with drink and drugs, I saw Purple Rain in a cinema in Canada, I had no idea who he was, it was like a bolt of lightning!…
In the middle of my depression, and the dreadful state of the music culture at that time it gave me hope, he was like a light in the darkness…
I went back to my hotel, and surrounded by empty beer cans, wrote Holy Mother….
I can't believe he's gone….
An inspired ad from Chevrolet appeared in several major newspapers on Friday, April 22…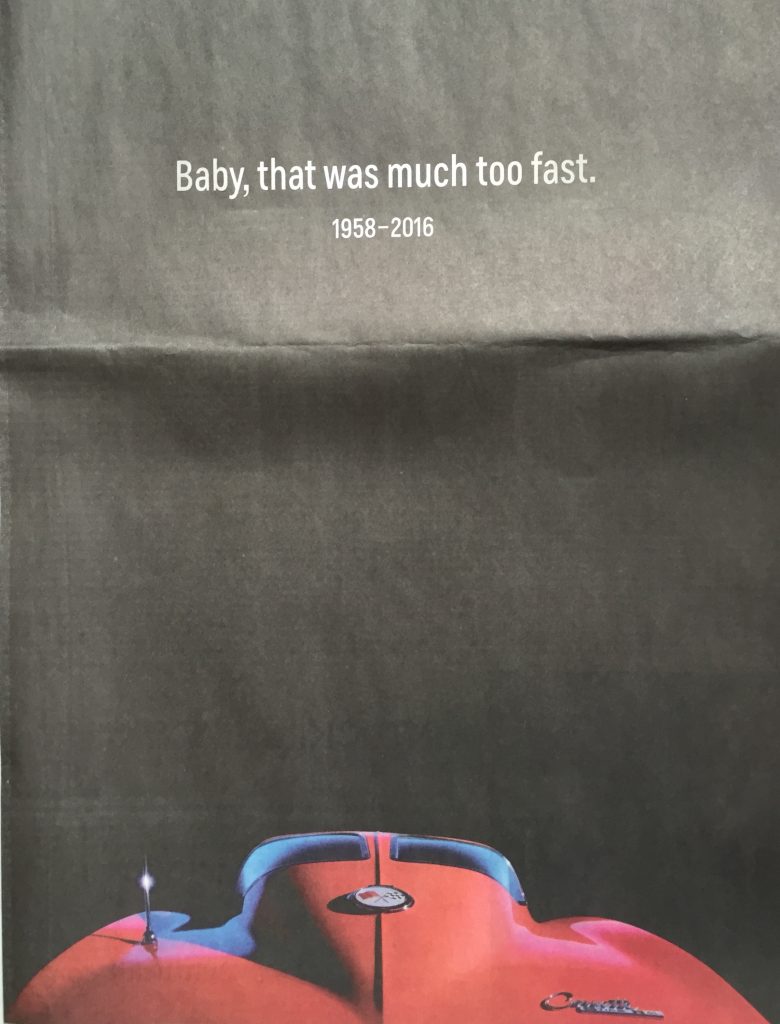 Pete Townshend (via Facebook): Goodbye sweet Prince. Pure, certified genius at the highest level. Too soon.
Prince, NOTHING COMPARES… #RIPPrince… https://t.co/KAserIRfgD pic.twitter.com/6qyF7VqNtV

— Justin Timberlake (@jtimberlake) April 21, 2016
The final tweet from Prince's Twitter account was on April 18 to promote the longtime Minneapolis indie record store Electric Fetus. He had apparently visited the store for last Saturday's annual Record Store Day. Minnesota Public Radio reports that he purchased six CDs there: Stevie Wonder's Talking Book, Chambers Brothers' The Time Has Come, Joni Mitchell's Hejira, Swan Silvertones' Inspirational Gospel Classics, Missing Persons' Best Of and the new Santana IV.
https://t.co/KM1aONgz6D pic.twitter.com/EweYseXDex

— Prince (@prince) April 18, 2016
My musical brother… My friend… The one who showed me the possibilities within myself,… https://t.co/UumElgEgFg

— Lenny Kravitz (@LennyKravitz) April 21, 2016
Stevie Wonder (to CNN): "He could play classical music if he wanted to, country music if he wanted to, jazz… rock… blues… pop… everything. He was just a great musician."
My heart is broken. There are no words.
I love you!

— SheilaEdrummer (@SheilaEdrummer) April 21, 2016
Carlos Santana (via Facebook): Dear Prince,
We thank you for sharing your luminous,
Brilliant spirit with us all, uplifting and healing.
I will always cherish and honor our oneness
And we will both always cherish our moments with you.
We keep playing over and over, our favorite song
'The Last December '
And we feel your presence deeply.
We know that you are now in the ever so vast and magnificent hands of the Almighty.
Our deepest gratitude, respect, honor and love,
Carlos and Cindy
From Susanna Hoffs, who enjoyed a Bangles hit with the Prince composition (credited to "Christopher") with "Manic Monday"…
peace and love pic.twitter.com/X7azBtLh4o

— Susanna Hoffs (@SusannaHoffs) April 21, 2016
My friend is gone…This is what it sounds like, when doves cry. He was my
dove…Stevie Nicks

— Stevie Nicks (@StevieNicks) April 21, 2016
Robert L. Johnson said: "As the founder of Black Entertainment Television (BET) to which the musical genius of Prince contributed so much, I am deeply saddened by his untimely death. The music world and a world of fans will miss this musical genius. Prince was one of the most brilliant and creative artists and performers, and he was also one of the smartest business music guys I met.
"I will miss his idiosyncratic and quirky ways which fascinated me during the times we met when I was running BET, and of course his indelible imprint on the world of music. Purple Rain is falling all over the world today!"
Keith on Prince: "A unique talent. A true original. So sad, so sudden and, I will add, a great guitar player. We are all going to miss him."

— Keith Richards (@officialKeef) April 22, 2016
"In memoriam, rest in peace" – Tom Petty pic.twitter.com/nNQA8Qk3hQ

— Tom Petty (@tompetty) April 22, 2016
I was devastated to hear about Prince. I was honored when he recorded my song Crimson and Clover and so pleased that he had a hit with it.

— Tommy James (@TJShondells) April 21, 2016
Mick Jagger (via Facebook): I am so saddened to hear of Prince's passing. Prince was a revolutionary artist, a wonderful musician and composer. He was an original lyricist and a startling guitar player. His talent was limitless. He was one of the most unique and exciting artists of the last 30 years.
Prince and Michael were the only artists I actually followed around the world to see their stellar performances live.

— Earvin Magic Johnson (@MagicJohnson) April 21, 2016
Peter Gabriel (via Facebook): Bowie, George Martin and now Prince – music is suffering such significant losses.
Prince gave me some of the best live music I have ever witnessed.
He had a prodigious talent, as a musician, writer, guitarist and bandleader.
I was introduced to him early by Carole Childs, then my A&R at Geffen.
She said you have to check out this young kid, he plays and records everything himself and he's very rude.
It was obvious that he was already totally in charge of his medium and I've been a fan ever since.
He will be badly missed.
– pg
Good night, sweet Prince. He really was, too. Sweet, kind, unbelievably talented, a joy to watch and to hear. I can't believe it.

— Bette Midler (@BetteMidler) April 21, 2016
Aretha Franklin (to MSNBC): It's such a blow. It's really surreal. It's just kind of unbelievable. He was definitely an original and a one-of-a-kind. Truly there was only one Prince.
Steve Winwood (who famously performed with Prince at the 2004 Rock and Roll Hall of Fame induction ceremony honoring George Harrison, via Facebook): "Prince, a truly great musician, producer and writer whom I had the privilege to play with, also managed to orchestrate his business affairs within what was, and is, an exploitative industry." – SW
Bonnie Raitt (via Facebook): So very sorry to hear of the tragic loss of Prince, one of our most unique, influential and talented artists… Gone far too soon. My condolences to all those close to him…may he rest in Peace.
We were all in tears. Greatest show of the tour. Z https://t.co/qBDIwkAhIJ

— Bobby Z (@BobbyZ1999) April 23, 2016

Latest posts by Best Classic Bands Staff
(see all)