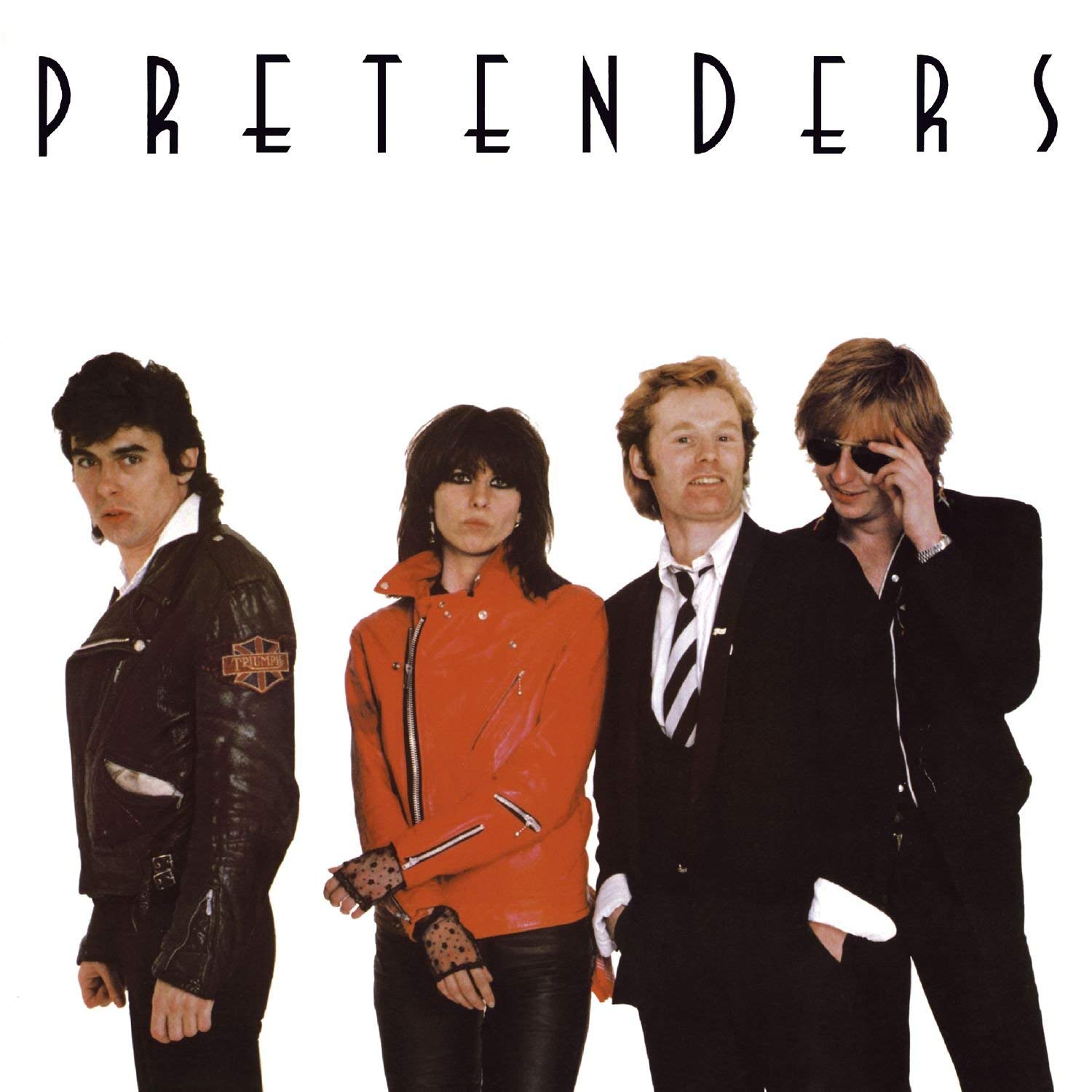 Pretenders' highly acclaimed first two albums are receiving deluxe editions with some previously unreleased live recordings from the era, as well as demos and rarities. Both titles, Pretenders and 1981's Pretenders II, are being expanded in conjunction with the 40th anniversary of the band's sophomore release. The new editions arrive November 5, 2021, via 3-CD collections on Rhino. The albums include such classic rock favorites as "Brass in Pocket," "Talk of the Town," "Message of Love," "Mystery Achievement," and their cover of the Kinks' "Stop Your Sobbing." Listen to a previously unreleased demo of the latter, below.
Pretenders first two albums featured their most famous line-up with Chrissie Hynde (vocals and guitar), James Honeyman-Scott (guitar), Pete Farndon (bass), and Martin Chambers (drums), that perfectly blended glistening guitar hooks and striking vocals with undertones of punk that still sounds fresh to this day.
The new editions were curated by Hynde and will also be available on limited edition red and white vinyl respectively.
The 12×12 3-CD deluxe sets feature a high-quality book with brand-new liner notes by acclaimed journalist Will Hodgkinson. They also include a rare and unseen photos of the band. Pretenders contains the original album remastered by Chris Thomas, alongside demos, rarities, and many live performances. These include BBC sessions on The Kid Jensen Show, and performances at the Paris Theatre, London, and Paradise Theater in Boston.
Listen to a great live performance of "Mystery Achievement"
Listen to the demo of "Stop Your Sobbing," from the collection
Pretenders II also features a remastered version of the album by Chris Thomas, demos, and alternates alongside two live performances; one from New York City's Central Park in 1980, and a concert at the Santa Monica Civic Auditorium in 1981.
The debut was released on January 19, 1980 in the U.S., where it was certified Platinum. It went Gold in the U.K. and several other countries.
The album traded on its frontwoman's substantial punk bona fides. An American expat who fled her middle-class upbringing in Akron, Ohio, Hynde had followed her rock 'n' roll dreams to London in 1973. There she had worked in the King's Road boutique run by impresario and future Sex Pistols mastermind Malcolm McLaren and designer-cum-punk-muse Vivienne Westwood, stumbled into rock journalism under the wing of mercurial NME editor Nick Kent, and befriended future members of the Sex Pistols, the Clash and the Damned.
Several years later, she recruited three Hereford, England, musicians—Honeyman-Scott, Farndon and Chambers—to the band she envisioned.
Related: Our Album Rewind of Pretenders
See the complete track listing after the links.
Pretenders (Deluxe Edition) – 3-CD Track Listing
CD1 – Original Album & B-Sides
1. Precious
2. The Phone Call
3. Up the Neck
4. Tattooed Love Boys
5. Space Invader
6. The Wait
7. Stop Your Sobbing
8. Kid
9. Private Life
10. Brass in Pocket
11. Lovers of Today
12. Mystery Achievement
B-Sides
13. Cuban Slide
14. Porcelain
15. The Wait (Nick Lowe Version)
16. Nervous But Shy
17. Swinging London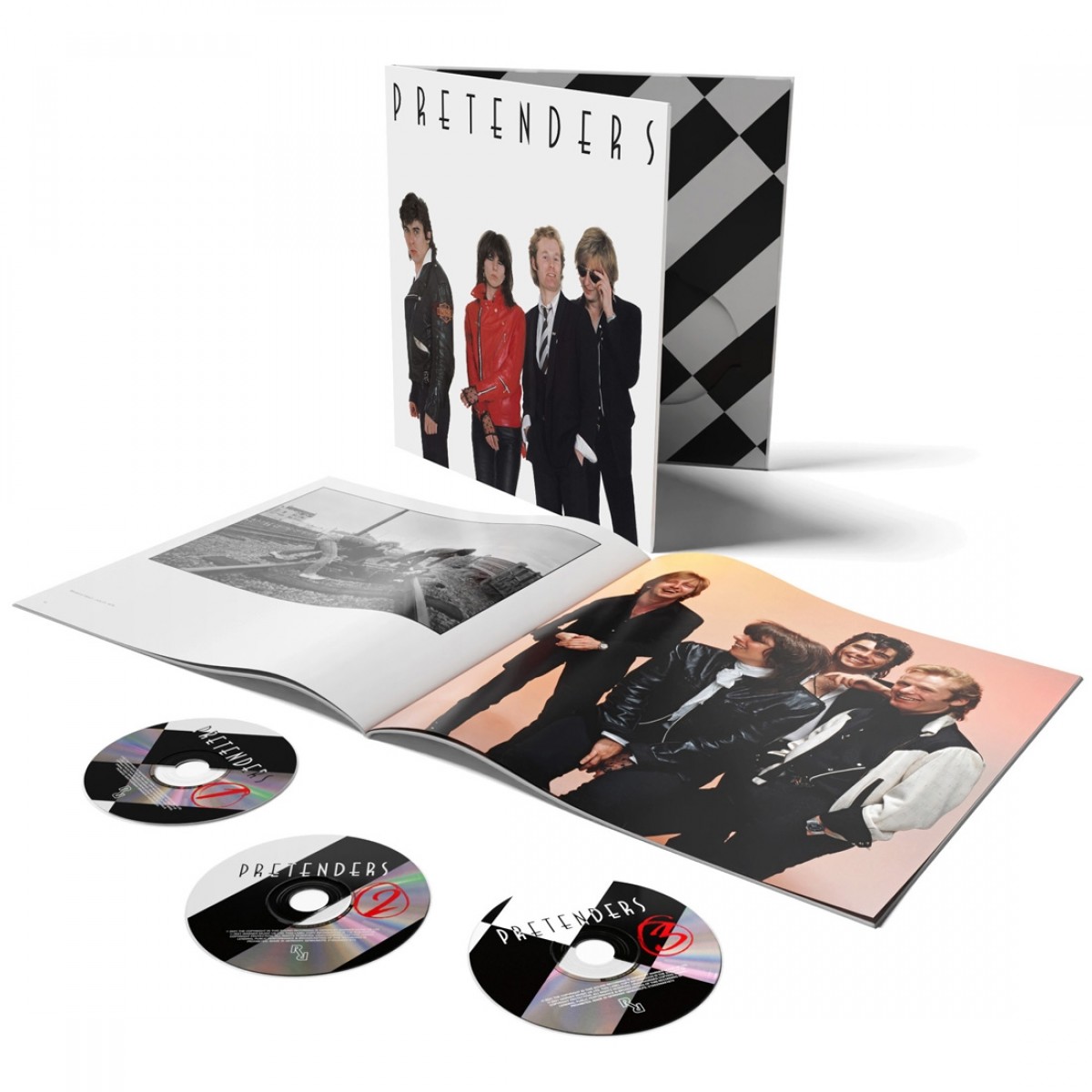 CD2 – Demos & BBC In Studio
Demos
1. The Phone Call
2. Suicide*
3. Brass in Pocket
4. Precious
5. The Wait
6. I Can't Control Myself
7. Stop Your Sobbing
8. Tequila
9. Kid
10. I Go to Sleep*
11. Do I Love You*
BBC in Session: The Kid Jensen Show, February 5th, 1979*
12. The Wait
13. Up The Neck
14. Stop Your Sobbing
15. Private Life
16. Cuban Slide
BBC In Session: The Kid Jensen Show, July 2nd, 1979
17. Mystery Achievement
18. I Need Somebody
19. Tattooed Love Boys*
CD3 – Live
BBC In Session: Live at The Paris Theatre, London, January 2nd, 1979*
1. The Wait
2. Stop Your Sobbing
3. Kid
4. Cuban Slide
5. Brass In Pocket
6. Tattooed Love Boys
7. Mystery Achievement
Warner Bros. Music Show: Live at the Paradise Theater, Boston, March 23rd, 1980)*
8. Space Invader (Live at the Paradise Theater, Boston, March 23rd, 1980)**
9. The Wait (Live at the Paradise Theater, Boston, March 23rd, 1980)**
10. Precious (Live at the Paradise Theater, Boston, March 23rd, 1980)
11. Kid (Live at the Paradise Theater, Boston, March 23rd, 1980)**
12. Private Life (Live at the Paradise Theater, Boston, March 23rd, 1980)**
13. Cuban Slide (Live at the Paradise Theater, Boston, March 23rd, 1980)**
14. The Phone Call (Live at the Paradise Theater, Boston, March 23rd, 1980)*
15. Talk Of The Town (Live at the Paradise Theater, Boston, March 23rd, 1980)**
16. Tattooed Love Boys (Live at the Paradise Theater, Boston, March 23rd, 1980)
17. Up The Neck (Live at the Paradise Theater, Boston, March 23rd, 1980)**
18. Mystery Achievement (Live at the Paradise Theater, Boston, March 23rd, 1980)**
19. Stop Your Sobbing (Live at the Paradise Theater, Boston, March 23rd, 1980)**
Pretenders II (Deluxe Edition) – 3CD
CD1 – Original Album
1. The Adultress
2. Bad Boys Get Spanked
3. Message Of Love
4. I Go To Sleep
5. Birds Of Paradise
6. Talk Of The Town
7. Pack It Up
8. Waste Not Want Not
9. Day After Day
10. Jealous Dogs
11. The English Roses
12. Louie Louie
CD2 – Studio Demos, Singles & Alternates
1. Talk Of The Town (Demo)
2. What You Gonna Do About It
3. I Go To Sleep (Guitar Version – Outtake)
4. Pack It Up (Radio Mix – Outtake)
5. Day After Day (Single Mix)
6. In The Sticks
7. Louie Louie (Monitor Mix)*
Live in Central Park, NYC, August 30th, 1980
8. Precious (Live in Central Park, NYC, August 30th, 1980)
9. Space Invader (Live in Central Park, NYC, August 30th, 1980)*
10. Cuban Slide (Live in Central Park, NYC, August 30th, 1980)*
11. Porcelain (Live in Central Park, NYC, August 30th, 1980)*
12. Tattooed Love Boys (Live in Central Park, NYC, August 30th, 1980)*
13. Up The Neck (Live in Central Park, NYC, August 30th, 1980)*
CD3 – Live At The Santa Monica Civic, September 4th, 1981
1. The Wait (Live at the Santa Monica Civic, September 4th, 1981)
2. The Adultress (Live at the Santa Monica Civic, September 4th, 1981)
3. Message Of Love (Live at the Santa Monica Civic, September 4th, 1981)
4. Louie Louie (Live at the Santa Monica Civic, September 4th, 1981)
5. Talk Of The Town (Live at the Santa Monica Civic, September 4th, 1981)
6. Birds Of Paradise (Live at the Santa Monica Civic, September 4th, 1981)
7. The English Roses (Live at the Santa Monica Civic, September 4th, 1981)
8. Stop Your Sobbing (Live at the Santa Monica Civic, September 4th, 1981)
9. Private Life (Live at the Santa Monica Civic, September 4th, 1981)
10. Kid (Live at the Santa Monica Civic, September 4th, 1981)
11. Day After Day (Live at the Santa Monica Civic, September 4th, 1981)
12. Up The Neck (Live at the Santa Monica Civic, September 4th, 1981)
13. Bad Boys Get Spanked (Live at the Santa Monica Civic, September 4th, 1981)
14. Tattooed Love Boys (Live at the Santa Monica Civic, September 4th, 1981)*
15. Precious (Live at the Santa Monica Civic, September 4th, 1981)*
16. Brass In Pocket (Live at the Santa Monica Civic, September 4th, 1981)
17. Mystery Achievement (Live at the Santa Monica Civic, September 4th, 1981)*
18. Higher And Higher (Live at the Santa Monica Civic, September 4th, 1981)
*previously unreleased
**first time on CD

Latest posts by Best Classic Bands Staff
(see all)