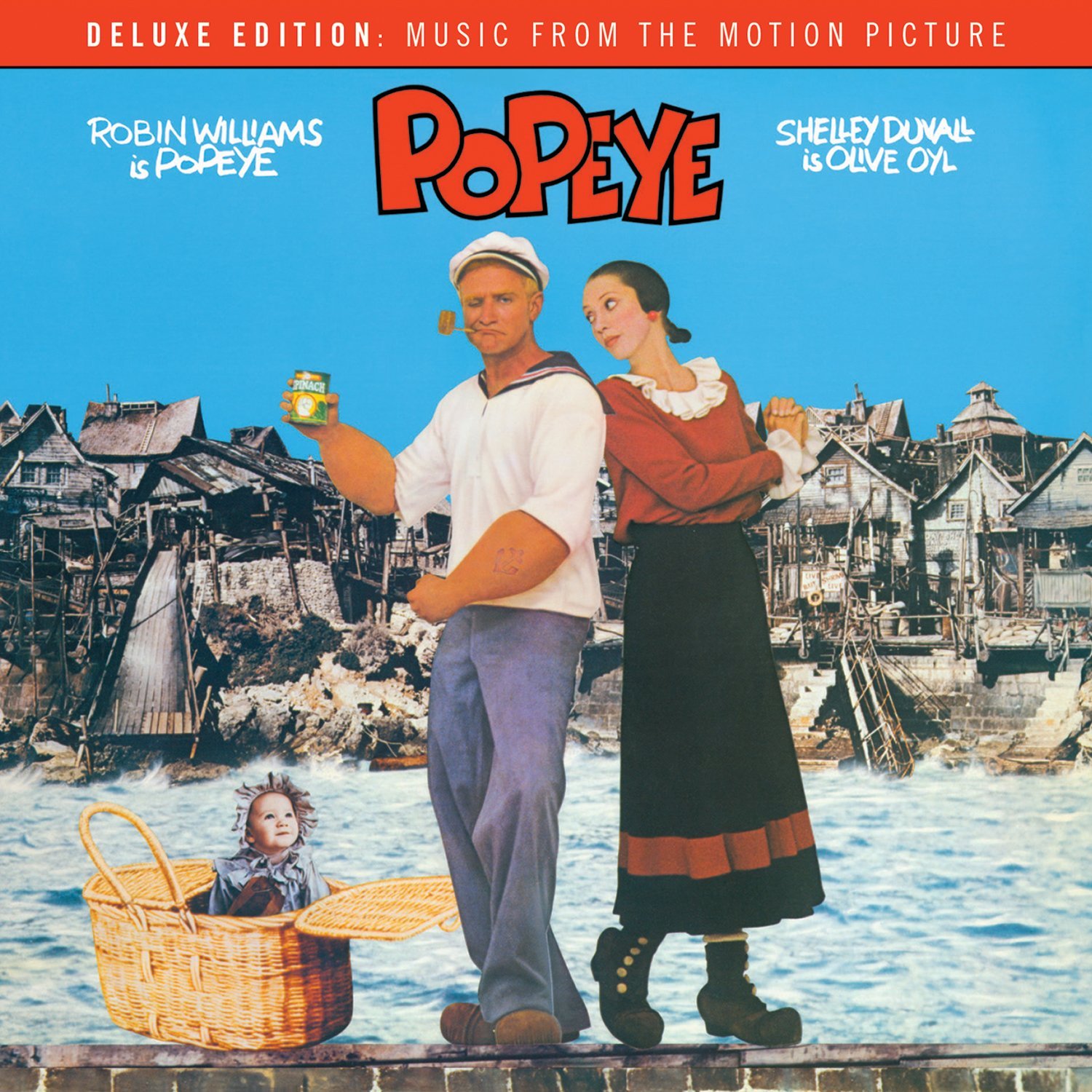 The most comprehensive version of the Popeye soundtrack ever assembled, featuring the film's beloved songs by Harry Nilsson, performed by the cast (including Robin Williams, Shelly Duvall, and Ray Walston), never-before released original score composed by Thomas Pierson, and an entire disc of demos performed by Nilsson, is being released by Varèse Sarabande. Popeye – Deluxe Edition, Music From the Motion Picture, which also includes newly discovered images and extensive liner notes, will be released on September 29.
"I think Harry liked the working class aspect of it – Popeye, the Man in Crisis," Van Dyke Parks, who starred as Hoagy the Piano Player and arranged/conducted the music, said of Nilsson's involvement in the film. "[Director Robert] Altman gave Harry an incredible carte blanche for the music, and that was wonderful. Altman and Harry shared a lot of things, for example, a deep understanding about the abstraction of the creative process, understanding that a concept might be revealed, rather than planned. Both had that skill, that extemporaneous air."
The songs written by Nilsson were recorded on location in Malta, with Parks being charged to "sweeten" the score in Los Angeles. But a musician's strike would lead to a change in tactics, with composer Thomas Pierson being brought on board and the recording moved to London. "They needed somebody to bring things to a conclusion," Pierson explained. "And they wanted to use a lot of the traditional Popeye/nautical sort of themes, and they basically didn't have any of that."
Listen to "It's Not Easy Being Me"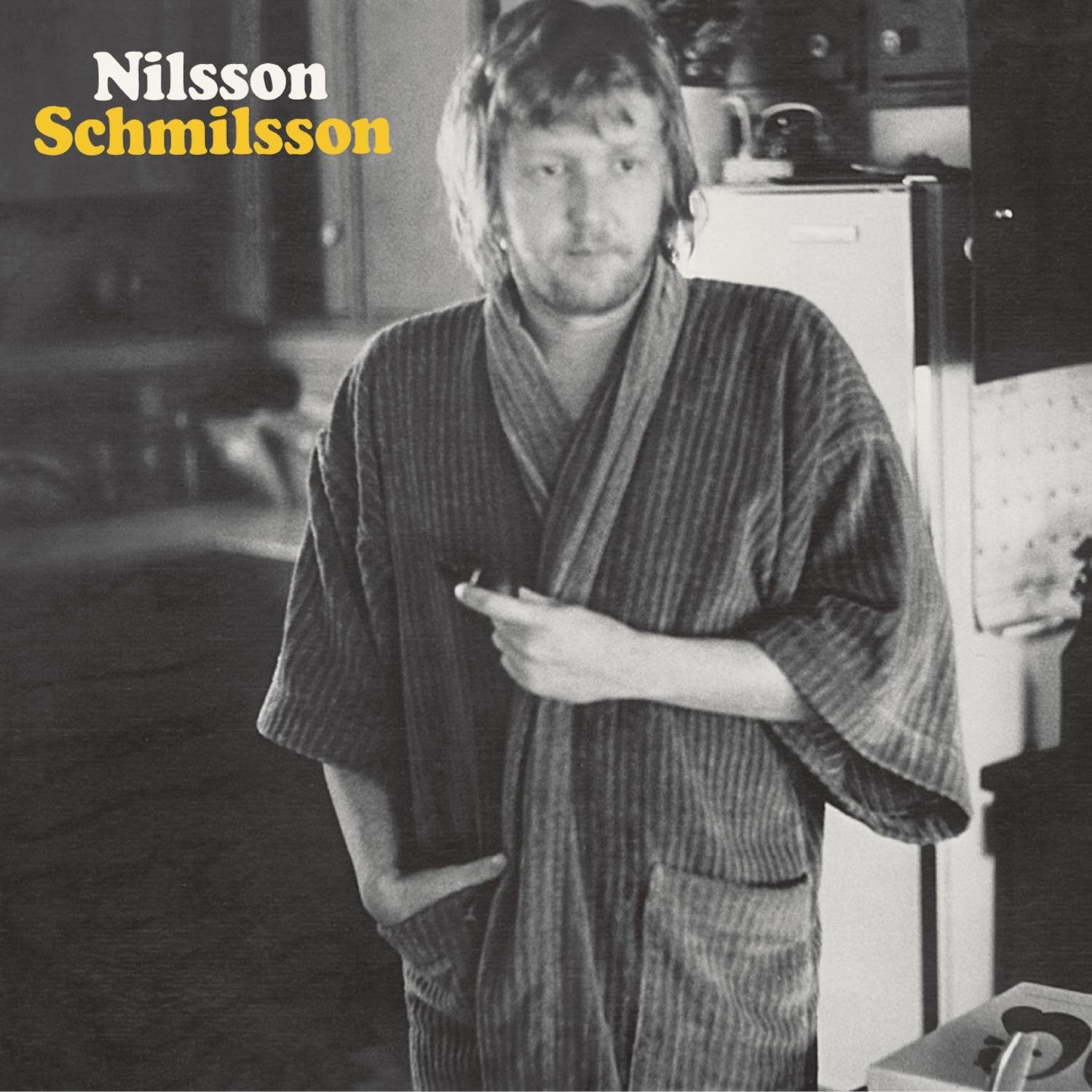 See the complete track list below. Order the CD here.
Acclaimed as a prodigious songwriter ("One," "Coconut," among them), Nilsson ironically earned his biggest hits recording songs by others. "Everybody's Talkin'," written by Fred Neil, reached #6 in the U.S. His recording of "Without You" became a #1 hit in 1972, and was written by Pete Ham and Tom Evans of Badfinger. Both earned Nilsson Grammy Awards. His 1971 album, Nilsson Schmilsson, was nominated for four Grammys including Album of the Year.
Related: Album Rewind: Nilsson Schmilsson
The 1980 film was a live-action musical version of E.C. Segar's classic comic strip, directed by Altman and produced by Robert Evans. The idea was first presented to him by Evans during a party at the producer's home in mid-1977. Nilsson's initial response, "We shared two or three vodkas, and then I told him I didn't think it was such a good idea to do Popeye."
Watch the original movie trailer
Eventually though he came on board – though the team at Paramount still needed convincing. In May 1979 Nilsson was given three weeks to write three songs for the film. He would present home demos for the tracks "He Needs Me," "I'm Mean," "Swee'Pea's Lullaby," among others.
Listen to "I'm Mean" and "Swee'Pea's Lullaby"
Popeye – Deluxe Edition Track Listing
CD 1
Sweethaven – Performed by The Citizens of Sweet Haven
Blow Me Down – Performed by Robin Williams as Popeye
Everything Is Food – Performed by Paul Dooley as Wimpy, Allan F. Nichols as Roughhouse, The Toughs, Barbershop and The Steinettes
Rough House Fight* – Composed by Thomas Pierson
He's Large – Performed by Shelley Duvall as Olive Oyl
I'm Mean – Performed by Paul L. Smith as Bluto
Sailin' – Performed by Shelley Duvall as Olive Oyl and Robin Williams as Popeye
March Through Town* – Composed by Thomas Pierson
I Yam What I Yam – Performed by Robin Williams as Popeye
The Grand Finale* – Composed by Thomas Pierson
He Needs Me – Performed by Shelley Duvall as Olive Oyl
Swee'Pea's Lullaby – Performed by Robin Williams as Popeye
Din' We ** – Performed by Robert Fortier as Bill Barnacle – the Town Drunk
It's Not Easy Being Me – Performed by Ray Walston as Poopdeck Pappy
Kids – Performed by Ray Walston as Poopdeck Pappy
Skeleton Cave* – Composed by Thomas Pierson
Now Listen Kid/To The Rescue/Mr. Eye Is Trapped/Back Into Action* – Composed by Thomas Pierson
Saved/Still At It/The Treasure/What? More Fighting/Pap's Boy/Olive & The Octopus/What's Up Pop/Popeye Triumphant* – Composed by Thomas Pierson
I'm Popeye The Sailor Man – Performed by Robin Williams as Popeye, Written by Sammy Lemer
End Title Medley* – Composed by Harry Nilsson and Thomas Pierson
* Not included on the original soundtrack album
CD 2 (The Harry Nilsson Demos):
Sweethaven
I'm Mean
Swee'Pea's Lullaby
Blow Me Down
Everything Is Food
He Needs Me
Everybody's Got To Eat**
Sail With Me
I Yam What I Yam
It's Not Easy Being Me
Kids
I'm Popeye The Sailor Man
I'm Mean – Harry Nilsson with Paul L. Smith
He Needs Me – Shelly Duvall audition Harry Nilsson
Everybody's Got To Eat** – performed by Paul Dooley (Bonus Track)
Din We** (Bonus Track)
Sailin'
I'd Rather Be Me**
** Track or song not included in the film

Latest posts by Best Classic Bands Staff
(see all)