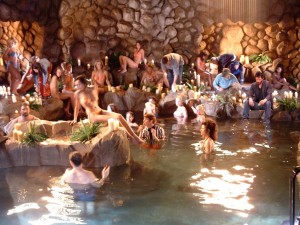 The Playboy Mansion is apparently about to have a "For Sale" sale out front. The rumored asking price of the iconic address? $200 million, according to TMZ. The other catch is that you'll have to share it with Hugh Hefner, now 89, who is entitled to stay there until he dies. But just focus on the positives and how it could change your life: the Playboy Mansion For Sale!
The fabled 22,000-square-foot, 29-room mansion with its legendary grotto sits on more than five acres in the Holmby Hills neighborhood of Los Angeles, and it's welcomed no shortage of classic rock stars for salacious gatherings during its heyday.
It's rumored that during John Lennon's drunken "Lost Weekend" in the '70s, the Beatles star put out a cigarette on one of Hefner's original Matisse paintings – and the painting is still on display to this day. There's also a secret Elvis room that's off-limits to the public, which is where Elvis Presley reportedly spent the night with eight Playboy bunnies. Meanwhile, Jane's Addiction frontman Dave Navarro is one of the few who managed to get himself banned from the party palace. As he paid a visit to the "orgy room" with three female companions, it's said he decided to shoot up heroin in the middle of the proceedings and then used blood from the syringe to write on the walls.
On the Rolling Stones' 1972 U.S. tour, a shortage of hotel rooms in Chicago led to Hefner inviting the band to stay at his mansion, which was then located in the city. Keith Richards and sax player Bobby Keys almost burned the place to a crisp. Richards relates in his memoir, Life: "Bobby and I played it a little far when we set fire to the bathroom. Bobby and I were just sitting in the john, comfortable, nice john, sitting on the floor, and we've got the doc's bag and we're just smorgasbording. 'I wonder what these do?' Bong. And at a certain point… Bobby says, 'It's smoky in here.' And the drapes are smoldering away; everything was just about to go off big time…There was a thumping on the door, waiters and guys in black suits bringing buckets of water. I said, 'We could have done that ourselves. How dare you burst in on our private affair?'"
The famed Rock 'n' Roll Fantasy Camp has also held destination camps at the mansion, offering fans a once-in-a-lifetime opportunity to jam with rock legends like Kiss' Gene Simmons, write and perform an original song and play live. In 2012, Steven Tyler made his first ever visit to the Playboy Mansion to participate in the camp.
Although the asking price for the iconic mansion is steep, real estate insiders say that comparable lots have sold more in the area of $60 million. Because of its history, Playboy Enterprises could probably get between $80 and $90 million. Even at that price, Hef stands to make a tidy profit: it's said that his purchase price in 1971 was just over $1 million.

Latest posts by Best Classic Bands Staff
(see all)