One week. That was it. Pink Floyd's landmark classic rock album, The Dark Side of the Moon, released on March 9, 1973, hit the top of the U.S. sales chart just six weeks later, on April 21, never to return again to #1. [Billboard also had them at the top for just one week, on April 28.] Pretty ironic for one of the best-selling albums ever, with worldwide sales of some 45 million copies. (Estimates put it behind only Michael Jackson's Thriller, Eagles' Their Greatest Hits (1971-1975) and AC/DC's Back in Black in worldwide sales.)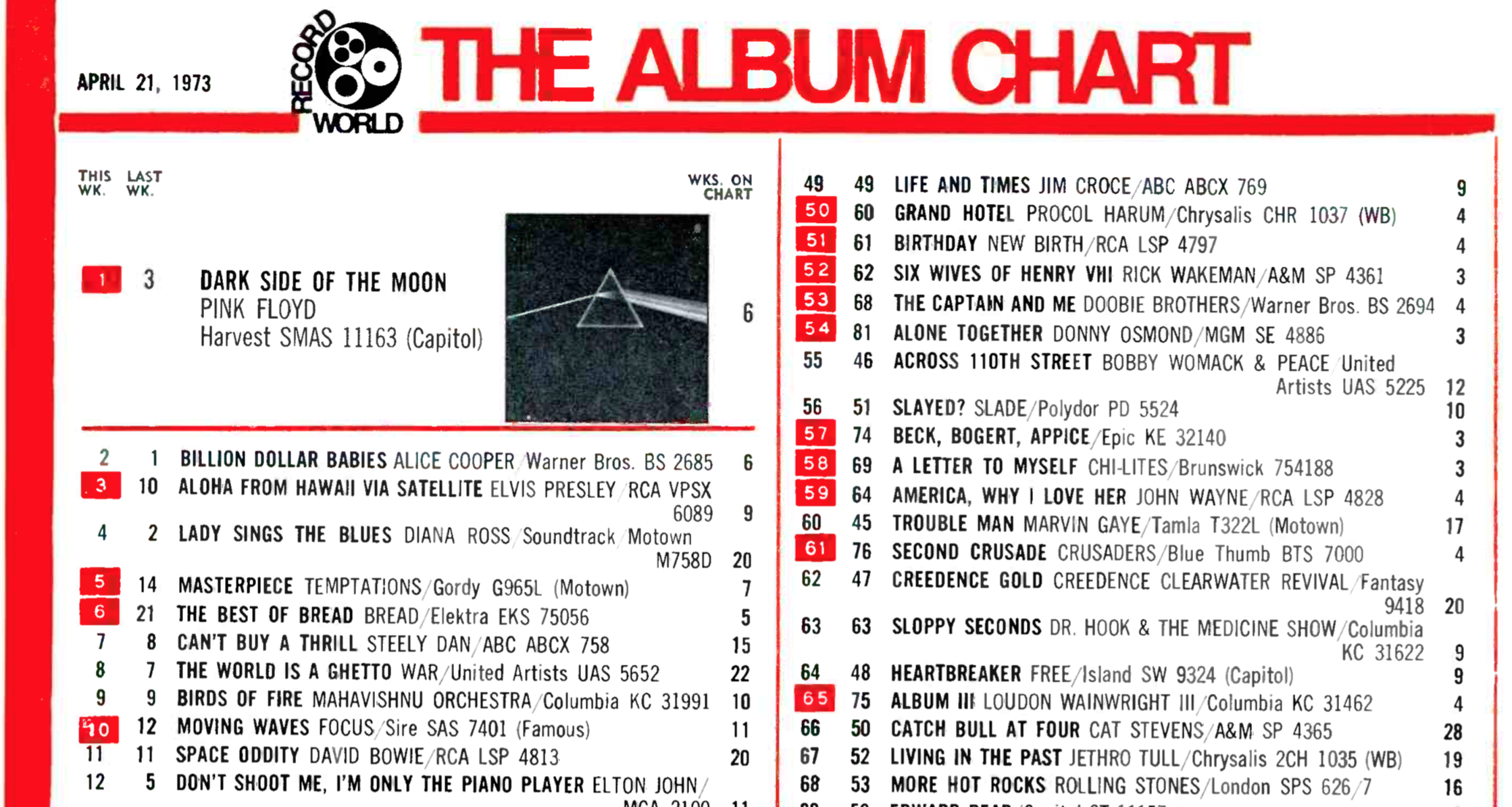 But first, the chart backstory. The band had never had a song reach the U.S. pop charts. (1967's "See Emily Play" reached #6 in the U.K. but barely caused a ripple in the U.S.) Their previous album, 1972's Obscured by Clouds had sold well enough, topping out at #46 in America, representing their chart peak up until then.
Pink Floyd toured DSOTM's material extensively in the U.K. and even previewed it live for the press in February 1972 at London's Rainbow Theatre before recording sessions at EMI's famed Abbey Road Studios in the summer of that year and January 1973. The album utilized some of the most cutting-edge recording technology and instruments (like analog synthesizers) of the day.
Its themes were hardly the usual stuff of pop music. Madness and by inference the deteriorating mental state of founding member Syd Barrett are one of its concerns. Serious notions like greed, mortality and human conflict are also among its lyrical messages.
Related: Pink Floyd's early years
It debuted on the Record World Album Chart at #48 on March 27 and jumped to #26 the next week. By its third week it was #18 and on April 7 it stood at #14. It leaped to #3 on April 14.
On April 21, 1973, just six weeks after it was released, Dark Side of the Moon topped the Record World album chart. It was replaced at the top the next week by Elvis Presley's Aloha From Hawaii via Satellite and never returned to #1.
The album yielded two U.S. singles. "Money" became their first American chart hit, reaching #10 on Record World (#13 on Billboard). "Us and Them," the follow-up released in February 1974, never reached the Hot 100.
Pink Floyd toured North America the month the album was released, playing such venues as the Montreal Forum and New York's Radio City Music Hall. They returned to the U.S. for two weeks in June.
Dark Side of the Moon stayed on the Billboard chart – Record World ceased publishing in 1982 – for years. On Oct. 29, 1983, it marked its 491st week, breaking the number set by Johnny Mathis for his greatest hits collection. DSOTM fell off the Billboard chart in July 1988, after 741 weeks. From May 1991 until December 2009, the trade magazine didn't allow catalog titles to chart on the Billboard 200. It's since occasionally returned to the chart and has been a constant fixture there, extending a streak that will likely never be broken.

Latest posts by Best Classic Bands Staff
(see all)