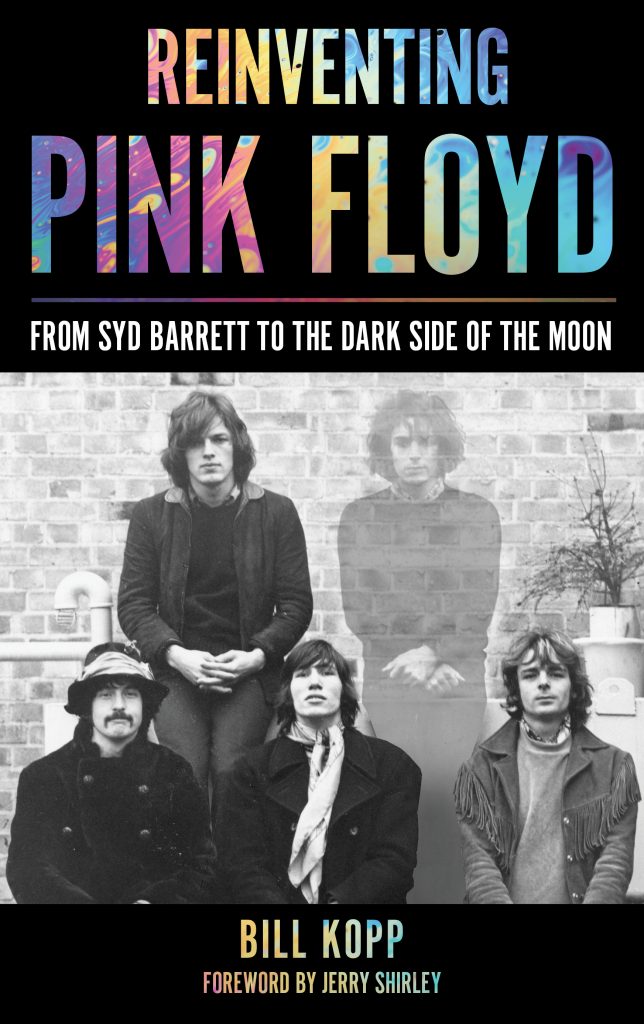 In February, Rowman & Littlefield will publish Bill Kopp's Reinventing Pink Floyd: From Syd Barrett to the Dark Side of the Moon. The book will be available both as a hardcover and an e-book.
In celebration of the 45th anniversary of The Dark Side of the Moon, Kopp "explores the ingenuity with which Pink Floyd rebranded themselves following the 1968 departure of Syd Barrett," says a press release. "Not only did the band survive Barrett's departure, but it went on to release landmark albums that continue to influence generations of musicians and fans."
Pre-order Reniventing Pink Floyd here.
Related: Syd Barrett and the early days of Pink Floyd
Reinventing Pink Floyd, the release states, "follows the path taken by the remaining band members to establish a musical identity, develop a songwriting style, and create a new template for the manner in which albums are made and even enjoyed by listeners. As veteran music journalist Bill Kopp illustrates, that path was filled with failed experiments, creative blind alleys, one-off musical excursions, abortive collaborations, a general restlessness and—most importantly—a dedicated search for a distinctive musical personality."
Kopp includes the following trivia in the book: "David Gilmour was brought into Pink Floyd in January 1968, initially as a second guitarist to support his childhood friend, Syd Barrett. But Syd's erratic, unreliable behavior soon made his membership in the band untenable. But for a very short period in early 1968 — likely no more than four gigs — Pink Floyd was a five-man group. The photo on the book jacket (see above) is one of a very rare few documenting that lineup."
Listen to author Kopp discuss the book here.
The book includes a foreword by Humble Pie's Jerry Shirley, who played on some of Syd Barrett's solo recordings.
This volume guides readers through the works of 1968 through 1973, highlighting key innovations and musical breakthroughs of lasting influence. Kopp places Pink Floyd into their historical, cultural, and musical contexts "while celebrating the test of fire that took the band from the brink of demise to enduring superstardom," according to the press release.
Watch a video of the early Pink Floyd tune "See Emily Play"

Latest posts by Best Classic Bands Staff
(see all)