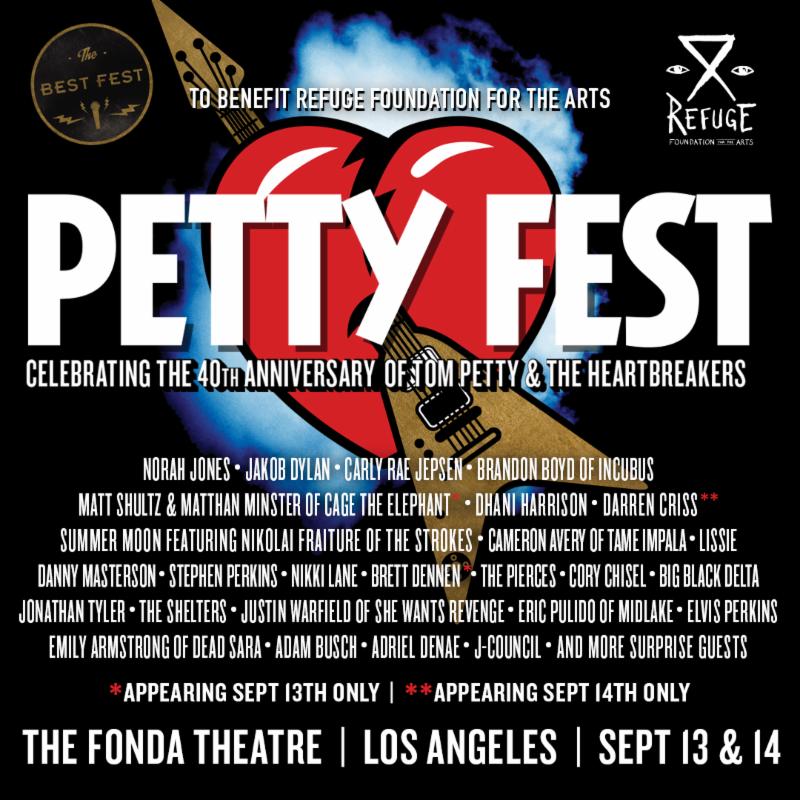 Petty Fest, a two-night celebration of the 40th anniversary of Tom Petty and the Heartbreakers, will take place at L.A.'s Fonda Theatre September 13 and 14. The shows, presented by Best Fest, will feature as always, the Best Fest's acclaimed house band, The Cabin Down Below Band, with performances by Norah Jones, Jakob Dylan, Carly Rae Jepsen, Brandon Boyd of Incubus, Matt Shultz and Matthan Minster of Cage The Elephant*, Dhani Harrison, Darren Criss **, Cameron Avery of Tame Impala, Summer Moon featuring Nikolai Fraiture, the Shelters, Eric Pulido of Midlake, Elvis Perkins, Emily Armstrong of Dead Sara, and many more surprise guests. Expect the unexpected.
Ticket sale proceeds will benefit Refuge Foundation for the Arts, a non-profit organization supporting the creation of music and art. Located in Appleton, Wisconsin, the 10-acre sanctuary houses recording and art studios and residences. "Celebrating the living legacy of Tom Petty & the Heartbreakers with an amazing line-up is a lot of fun," said Best Fest founder Austin Scaggs in a press release. "But raising money for Refuge Foundation, and doing our part to help support and nurture a new wave of musicians and artists makes this all worthwhile."
Read Our mini-bio of Tom Petty
"Refuge Foundation is a way for musicians and artists to take care of our own," said singer and songwriter Cory Chisel, who created the Refuge Foundation with his partner, Adriel Denae. "Our goal is to free the artist's creative and business process from the strictures of the current model, which can often become an economic stranglehold for artists, especially when it comes to musicians, record labels, and the business of making records," Chisel said.
According to the announcement, "While Refuge Foundation provides opportunities for so many facets of the arts—photography, sculpture, film, dance, wood and metal working, and more—the Best Fest will focus its partnership on emerging musicians and the Refuge Artist in Residence Program."
Tickets are scarce but may be available here.
* Appearing September 13th ONLY
** Appearing September 14th ONLY
Watch a very early clip of Tom Petty and the Heartbreakers

Latest posts by Best Classic Bands Staff
(see all)