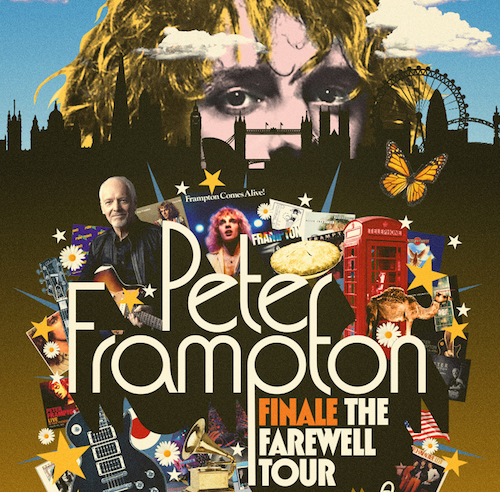 Peter Frampton has performed his first concerts in three years with the start of the 2022 dates of the brief European edition of his farewell tour. The classic rock legend had cancelled the 2020 concerts of his finale tour of Europe and the U.K., due to the Covid-19 pandemic. Frampton had completed the North American edition in October 2019 and at the time they were thought to be his final dates. Then in Dec. 2019, news arrived of five 2020 shows in the U.K. as well as concerts in many European countries.
For this tour, Frampton is seated throughout the concert. Watch several performances from the early November shows below.
In the news shared on his 72nd birthday (April 22, 2022), Frampton announced five November concerts across Europe. On March 28, he revealed dates in Stoke and Glasgow, and a third at London's Royal Albert Hall. Tickets for the remaining dates are available here.
"Great news!! I am continuing my PF Finale Tour this November across the continent," Frampton wrote at the time. "My band and I have been chomping at the bit to play and can't wait to keep our promise to play for you again. Thanks for your patience."
Watch him open the 2022 tour's third show at London's Royal Albert Hall, following a brief photo montage on the big screen
Frampton had announced the original cancellation of the Europe/U.K. 2020 dates on his Facebook page on April 21, 2020, writing, "I am so sorry to have to announce that at this time because of the COVID-19 virus my UK/EU tour has now been cancelled. All ticket holders should be in touch with their point of purchase for refunds. I couldn't be more disappointed. My apologies to all."
Watch him perform (on opening night) "Lines On My Face" from his 1973 LP, Frampton's Camel
After that first concert, he wrote, "Thank you Stoke!! What a great first night with you. Much love to you all. Never say never, right?!"
Watch him perform "Show Me the Way" in London on Nov. 8
Peter Frampton, Stoke, U.K., Nov. 5, 2022 Setlist
Baby (Somethin's Happening)
Lying
Lines on My Face
Show Me the Way
The Lodger
It's a Plain Shame
Georgia (On My Mind)
All I Wanna Be (Is By Your Side)
Breaking All the Rules
Black Hole Sun
(I'll Give You) Money
Baby, I Love Your Way
Do You Feel Like We Do
Encore
Four Day Creep
I Don't Need No Doctor
While My Guitar Gently Weeps
"Do You Feel Like We Do" closes the main set each night.
The North American edition of Finale—The Farewell Tour began June 18, 2019 in Tulsa, Okla. Its final date was Oct. 12 in Concord, Calif., near San Francisco.
At the Concord Pavilion that night, Frampton played a 16-song set, including such classic rock favorites as "Show Me the Way," "I Don't Need No Doctor," and "Baby, I Love Your Way."
Watch Frampton perform a classic at the final North American show
On Feb. 21, 2019, a few months before he turned 69, Frampton revealed in an interview that aired on CBS This Morning: Saturday that he has a rare and incurable muscular disease that causes the muscles to weaken slowly.
He published the 304-page Do You Feel Like I Do?: A Memoir in 2019, via Hachette Books.
Related: Thank you, Peter Frampton
Peter Frampton 2022 Tour (Tickets are available here and here)
Nov 10 – Paris, France – Grand Rex
Nov 12 – Brussels, Belgium – Cirque Royal
Nov 13 – Haarlem, Netherlands – Philharmonie Haarlem
Nov 15 – Berlin, Germany – Verti Music Hall
Nov 16 – Dusseldorf, Germany – Mitsubishi Electric Halle
Jan 3-7, 2023 – Henderson, Nevada – Joe Satriani's G4 Experience
Related: Listings for 100s of classic rock tours
Related: When the Rock Hall announced its Class of 2022 nominees, once again, inexplicably, Frampton did not make the initial cut

Latest posts by Best Classic Bands Staff
(see all)