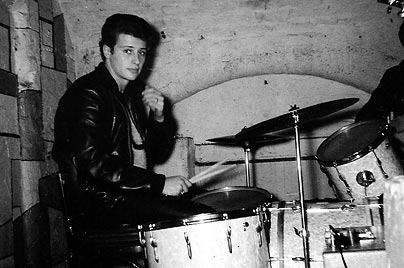 The Silver Beatles had a problem. They were due to leave Liverpool for a residency at the Indra club in Hamburg in just a few days, but lacked one vital element – a drummer. The solution was someone they already knew.
One of the venues where they played when still the Quarrymen was the Casbah Coffee Club, run in the basement of her home by Mona Best. Lennon, McCartney and Harrison had helped decorate the space and played there on its opening night. Mona's son Pete Best, was a drummer who, like the members of The Quarrymen, was taken in by the beat group craze.
John, Paul & George had seen Best play with his group the Black Jacks. An audition at the Casbah was arranged on this day and Pete was hired. The next day they headed to Hamburg, where Best made his debut with the band that became The Beatles on August 17.
In Hamburg, Best had a leg-up on the other band members because he had passed his O-levels in German. A somewhat taciturn loner, he didn't bond with Lennon, McCartney and Harrison. When the band's fan Astrid Kirchherr – whose photos of The Beatles in the Hamburg days became iconic images – persuaded John, Paul and George to let down their slicked-back hairstyles into the bowl cut that became a Beatles trademark, Best retained his quiff.
Following the June 1962 Beatles audition for George Martin, the producer had concerns about the steadiness of Best's time. In August the band's manager Brian Epstein informed the drummer he was being let go. Ringo Starr was hired to replace him.
Best's sacking stirred up controversy with the avid Liverpool Beatles fans, especially the female ones. As McCartney said in The Beatles Anthology documentary, "He was a very good-looking guy, and out of all the people in our group, the girls used to go for Pete."
He never spoke again to his onetime bandmates. His role in the band's development was acknowledged in 1995 by the inclusion of 10 tracks on which he played on the first audio disc of the set, which reportedly earned Best an estimated £1-4 million in royalties. Missing out on worldwide fame and fortune at first took its toll on the drummer – he attempted suicide in the mid-1960s. But over time he has come to accept his fate and even enjoy the measure of fame that once being a Beatle brought him, and still performs with the Pete Best Band.
Watch an appearance Best made on Late Night with David Letterman in 1982
Related: Best appeared on the TV show I've Got a Secret in 1964

Latest posts by Best Classic Bands Staff
(see all)