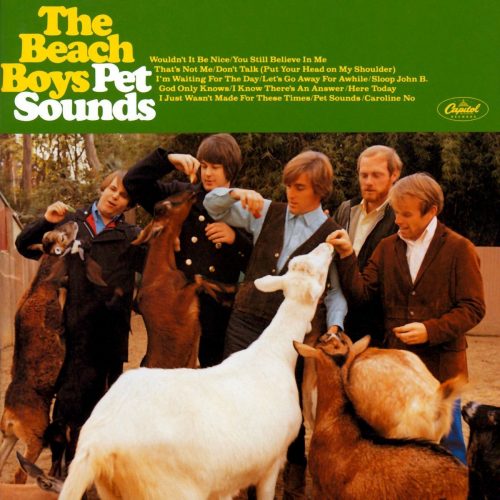 On this day, Capitol Records released the 11th studio album by The Beach Boys, Pet Sounds. Long considered by many to be Brian Wilson's masterpiece, it was created after he stopped touring to concentrate on writing songs and producing. The album featured such now timeless songs as "Wouldn't It Be Nice" (a #8 pop hit) "God Only Knows"(#39), "Caroline, No" (#36) and "Sloop John B" (#3) and reached #10 on the album charts, which, compared to the band's previous successes, caused it to be considered a failure.
Over time it has come to be revered as one of the most sophisticated works of pop-rock music ever, and rates highly on numerous greatest album lists.
In 1965, with the Beach Boys out on tour, Wilson began session work on some of the most deeply personal recordings of his career. Inspired by The Beatles' Rubber Soul, he challenged himself to create an immaculate musical masterpiece. A vast departure from the band's then-commercial sound, the resulting "concept album" Pet Sounds achieved great critical success, helping usher in a new musical landscape and hit the Top 10 in the U.S. while topping the charts in the U.K.
"It was a big leap from where we were," says Al Jardine. "We'd been out on tour for a long time [minus Brian, who'd stopped traveling with the band in 1964 to concentrate on writing and recording, his place in the road band taken by new recruit Bruce Johnston]. There was a lot of adjustment. But it wasn't that we didn't want to do it."
Related: Our complete interview with Al Jardine
Pet Sounds wasn't initially met with the enthusiasm it has subsequently received. The band's five preceding studio releases all charted higher. Yet its impact as a concept album came to be appreciated in later years. It entered the Grammy Hall of Fame in 1998 and was ranked #2 on Rolling Stone's list of the 500 Greatest Albums of All Time.
For Wilson himself, the album represents part of a continuum, the latest development in his evolution as an artist. "I decided to experiment with a new kind of music," Wilson tells Best Classic Bands. "I was young and creative and we really did good. I'm glad that people still like the album. It makes me proud."
To commemorate the album's 50th anniversary in 2016, Capitol Records released the masterpiece worldwide in several configurations with numerous alternate takes and live recordings.
Movie lovers know why we're posting this scene.
Related: Pet Sounds, still sounds awesome
If you're a new Best Classic Bands reader, we'd be grateful if you would Like our Facebook page and/or bookmark our Home page.

Latest posts by Best Classic Bands Staff
(see all)