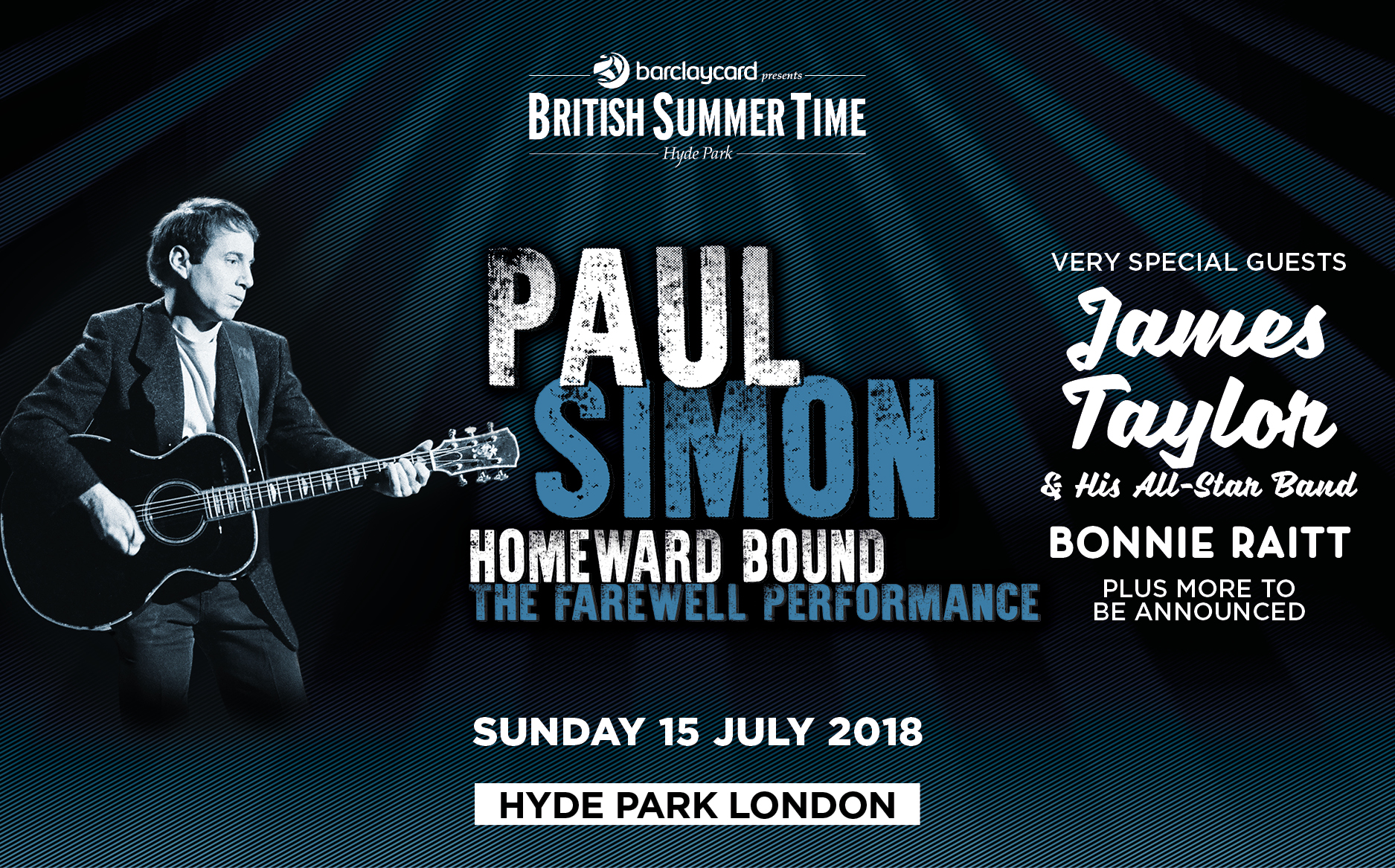 On Jan. 30, 2018, nearly a week before the official announcement of Paul Simon's farewell tour, the British Summer Time series in London's Hyde Park shared the news that the acclaimed singer-songwriter would be headlining a concert there. On Feb. 5 came news of Homeward Bound – The Farewell Tour across North America, the U.K. and Europe, with Simon and his band bringing a career-spanning repertoire of timeless hits and classic songs.
On July 15, with fellow performers James Taylor and Bonnie Raitt filling out a memorable London bill, Simon played a 26-song set, as he has been doing thus far on his tour. Simon, who had played Hyde Park in 2012, closed this evening's two encores alone onstage with Simon & Garfunkel's "The Sound of Silence." (See below for his complete setlist.)
Watch Simon begin his set
Watch Simon perform two songs from Graceland as the final songs of his main set
When he announced the final tour, Simon said: "I've often wondered what it would feel like to reach the point where I'd consider bringing my performing career to a natural end. Now I know: it feels a little unsettling, a touch exhilarating and something of a relief. I love making music, my voice is still strong, and my band is a tight, extraordinary group of gifted musicians. I think about music constantly. I am very grateful for a fulfilling career and, of course, most of all to the audiences who heard something in my music that touched their hearts."
Watch Simon perform "The Boxer" in Hyde Park
During his career, Simon has earned 29 Top 40 singles in the U.S. alone, with 14 of those reaching the Top 10, including "50 Ways to Leave Your Lover" (which reached #1), "Kodachrome," "Loves Me Like A Rock," "Mother and Child Reunion," "Late In The Evening" and "You Can Call Me Al."
Watch the evening's final performance, Simon & Garfunkel's "The Sound of Silence"
After a lengthy break, Simon began the final leg of his farewell tour on Sept. 5. It concluded, fittingly, with three concerts in New York later that month.
Paul Simon, July 15, 2018, Hyde Park, London Setlist
America
50 Ways to Leave Your Lover
The Boy in the Bubble
Dazzling Blue
That Was Your Mother
Rewrite
Mother and Child Reunion
Me and Julio Down by the Schoolyard
Rene and Georgette Magritte With Their Dog After the War
Can't Run But
Bridge Over Troubled Water
Wristband
Spirit Voices
The Obvious Child
Questions for the Angels
The Cool, Cool River
Diamonds on the Soles of Her Shoes
You Can Call Me Al
Encore
Late in the Evening
Still Crazy After All These Years
Graceland
Encore 2
Homeward Bound
Kodachrome
The Boxer
American Tune
The Sound of Silence
Taylor, who resumed his tour with Raitt later that same week, played a 13-song, hit-driven set that included such favorites as "Sweet Baby James," "Your Smiling Face" and "How Sweet it Is."
His third song was his cover of Carole King's "You've Got a Friend," a #1 hit for Taylor in 1971.
Taylor has a lengthy tour planned for 2021-2022. are available here and here.
Shortly before the first leg of her tour was scheduled to begin, Raitt revealed that a doctor's visit resulted in some unexpected surgery. She finally joined the tour on June 22 in St. Paul, Minn., for her first performance. At Hyde Park, the musician's set that included her now-familiar covers of INXS' "Need You Tonight," John Prine's "Angel From Montgomery" and Talking Heads' "Burning Down the House," as well as one of her signature tunes, "Something to Talk About."
Watch Raitt perform in Hyde Park

Latest posts by Best Classic Bands Staff
(see all)